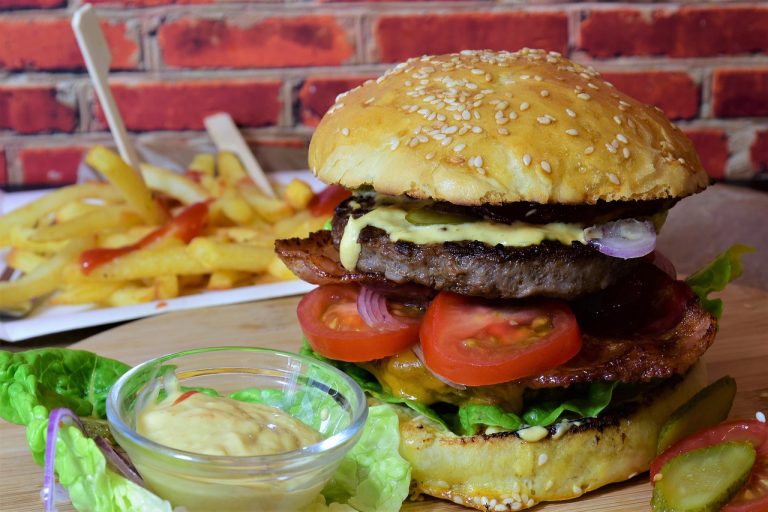 Lab-grown fake meat has become immensely popular in the last couple of years, thanks to plant-based products like Impossible Burger and Beyond Burger. Both Beyond Meat and Impossible Foods have been selling their faux meat products as environmentally-friendly and sustainable alternatives to real beef. They don't explicitly claim their products are healthier than red meat. So, which one is the healthiest option?

Both Beyond Burger and Impossible Burger are vegan products. And both of them have been created to look, feel, taste, and smell like real beef. Heck, they even "bleed" like beef. Their insides also look like beef rather than a veggie burger. According to Impossible Foods, its patties can easily replace ground beef in any recipe.
Since childhood, we have been told by everyone around us that plant-based food is healthy. And we have also been taught that red meat consumption puts us at an increased risk of heart diseases. But you should know that not all plant-based food items are healthy. Cakes, white bread, cookies, and many other vegan foods could send you to an early grave.
[Exclusive] ExodusPoint Is In The Green YTD Led By Rates And EM/ Macro Strategies
The ExodusPoint Partners International Fund returned 0.36% for May, bringing its year-to-date return to 3.31% in a year that's been particularly challenging for most hedge funds, pushing many into the red. Macroeconomic factors continued to weigh on the market, resulting in significant intra-month volatility for May, although risk assets generally ended the month flat. Macro Read More
Let's take a detailed look at the ingredients of all three options – Impossible Burger, Beyond Burger, and real beef – to find out which one is the healthiest.
Nutrients in Impossible Burger
The Impossible patties are made of soy and potato protein. The soy protein is called soy leghemoglobin, which also gives it a meaty feel. Though all the ingredients are derived from plants, the company fortifies its burgers to enhance their nutritional value. The burger is highly processed and contains preservatives, colorings, and extracts.
Other ingredients in the Impossible Burger include coconut oil, water, sunflower oil, natural flavors, yeast extract, methylcellulose, cultured dextrose, salt, Vitamin B1, Vitamin E, Vitamin C, Vitamin B2, Vitamin B6, and B12.
Here's the nutritional value of a 4-ounce Impossible Burger:
240 calories
14g fat (8 g saturated)
Zero cholesterol
370mg sodium
9g carbohydrate
3g fiber
19g protein
Nutrients in Beyond Burger
The Beyond Burger uses pea protein isolate instead of soy protein concentrate. It includes a mixture of refined coconut oil, canola oil, rice proteins, potato starch, salt, sunflower oil, yeast extract, natural flavor, and cellulose. Beyond Meat uses beet juice extract to give it the "meaty" red color.
It contains no GMOs and is gluten-free. This is the nutritional value of a 4-ounce Beyond Burger:
250 calories
18g fat (6g saturated fat)
390 mg sodium
3g carbohydrate
2g fiber
Zero cholesterol
20g protein
Nutrients in real beef
The 3.5-ounce (100g) lean ground beef contains the following nutrients:
217 calories
12g fat (5g saturated)
90mg cholesterol
70mg sodium
Zero carbohydrate
Zero fiber
26g protein
It's worth pointing out that the vegan burgers are also a rich source of iron. They serve up to 25% of your daily iron value, compared to less than 10% of the daily value in the lean ground beef patty.
Is fake meat really healthier?
When it comes to healthy choices, you can't ignore the fact that both Impossible Burger and Beyond Burger are highly processed food products. Another major concern is the extremely high sodium content. The Impossible Burger has 370mg sodium and the Beyond Burger has 390mg, roughly five times that of the real beef.
Vegan burgers also tend to have more saturated fat than the red meat. Both the Impossible and Beyond burgers are rich in protein. But that protein comes from processed ingredients instead of whole foods. If you do want to eat vegan burgers, the best option is to make veggie patties at home using vegetables and protein-rich beans. They won't be highly processed.
We are fully aware of the long-term effects of the red meat. Eating it in excess could cause serious health issues in the future. But we don't know the long-term effects of many of the additives in vegan burgers. The faux meat products are relatively new to the market, and independent researchers haven't yet given a clear verdict on their long-term health effects.
Just like eating real beef a few times a week won't hurt you, eating fake meat a few times a week won't be bad for your health. But both would be harmful if consumed in excess.
Conclusion
If you want to eat the Impossible Burger or Beyond Burger because you want to cut down on red meat for moral and ethical reasons, that's a good choice for you. But if you want to cut down on processed food products, real beef could satisfy your taste buds.
Updated on