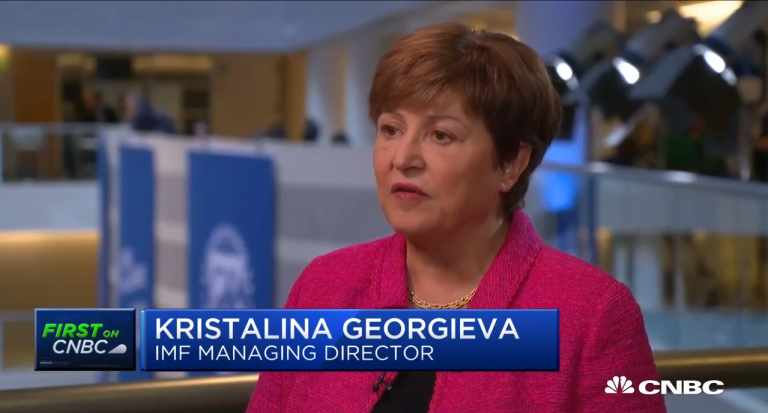 First On CNBC: CNBC Transcript: IMF Managing Director Kristalina Georgieva Speaks with CNBC's Geoff Cutmore on "Squawk on the Street" Today
WHEN: Today, Thursday, October 17, 2019
WHERE: CNBC's "Squawk on the Street" – Live from the IMF Fall Meeting in Washington D.C.
Robinhood 2021 Conference: Cathie Wood discusses her investment process with Lee Ainslie [Exclusive]
ARK Invest is known for targeting high-growth technology companies, with one of its most recent additions being DraftKings. In an interview with Maverick's Lee Ainslie at the Robinhood Investors Conference this week, Cathie Wood of ARK Invest discussed the firm's process and updated its views on some positions, including Tesla. Q1 2021 hedge fund letters, Read More
The following is the unofficial transcript of a FIRST ON CNBC interview with IMF Managing Director Kristalina Georgieva and CNBC's Geoff Cutmore on CNBC's "Squawk on the Street" (M-F 9AM – 11AM) today, Thursday, October 17th. The following is a link to video of the interview on CNBC.com:
Q3 2019 hedge fund letters, conferences and more
IMF's Kristalina Georgieva: US-China tariffs could equal economy of Switzerland by 2020
All references must be sourced to CNBC.
David Faber: all right. Let's get down to washington, d.C. Now our own Geoff Cutmoore setting down with a special guest.
Geoff Cutmore: a very good morning, guys thank you for that, kristalina georgieva is here with me. Managing director of the imf very nice to have you with us on cnbc if I may start by asking about the brexit breakthrough we appear to have here markets have been very encouraged, the pound is strengthening, the ftse is higher, yet there are plenty of political opponents lining up to say that they will vote this down at the parliamentary session on saturday. What words of advice would you give those lining up to reject this deal?
Kristalina Georgieva: we need to look into the implications of disorderly brexit, brexit with no deal. In april, the fund published the analysis it has done, and it is very simple very expensive for the uk. If there is no deal brexit, that would cost the uk between 3.5 and 5% of gdp. And it would also cost the eu much less, some half percentage point. So is it in the interest of the uk, primarily, the interest of the eu, and of course, the whole world, that there is a deal. Jean-claude juncker said, when there is a will, there is a deal now, we have to see whether this will can really hold
Cutmore: the arguments for investors, largely focus around deferred investment activity by companies and suspended consumption because of uncertainty as you look at the story unfolding, if this manages to survive the saturday session of parliament, do you think there is any prospect for an improvement in the gdp prospects for the uk and an opportunity to ride on the back of a strengthening pound and a stronger stock market?
Kristalina Georgieva: well, there are two factors to keep in mind. The first one is that the markets have already absorbed to a great degree brexit. We have been living with it now for three years. So, investors who have been impacted by the prospect of brexit have already integrated this in their decisions. What is the unknown? The unknown is, would there be a deal or there would be more uncertainty, more chaos? So, we have been patient for three years. I think you need to be patient for three more days.
I think the impact on investor sentiment would be a positive, if a deal is reached it would remove that uncertainty of what exactly that means it is also very important to recognize that not only the uk, the rest of the world is looking for removal of this uncertainty. Why? Because we have plenty of uncertainty, even without brexit
Cutmore: you have talked in the press conference, just a few moments ago, about progress in the U.S./China trade realm the markets seem to be confused. There was an announcement of a first step that now seems to have dissipated somewhat. That enthusiasm, at least. And there's a lack of clarity. You have deeper and more insightful conversations with both parties than I do what substantial progress do you believe has been made?
Kristalina Georgieva: what we understand from both sides, I actually started today with the governor xiaochuan of China, I met with secretary mnuchin yesterday. What we hear is very constructive attitude and commitment to identify remaining differences and then focus on those. In other words, cash what is already agreed on a number of issues there's 100% or close to 100% agreement if the focus is on the remaining differences, that's a good chance an agreement can be reached.
The interest in agreement is motivated by a very simple common objective. Harmful for economies of both countries, more harmful to China for obvious reasons. China is more open towards u.S. And more dependent on the trade relations with u.S but also negative for the u.S. We have done a calculation of what are we talking about, what is the impact, and it is significant.
By 2020, tariffs already imposed or announced would shrink global gdp by 0.8% that's the equivalent of the economy of switzerland so the motivation to find a pathway to a deal comes from the fact that the world economy is slowing down, we are in a synchronized slow down two years ago were in synchronized upswing. You can take battle attitude when the world is doing well, one has to be more careful when this is no more the case.
Cutmore: is there a time issue in your mind here? It seems that we are still waiting for ratification of the Mexico/Canada/U.S. trade deal, concerned it could be tied up to 2020 election campaigning. If there's no significant progress soon on a U.S./China, that could be lost in the 2020 election race.
Kristalina Georgieva: you put it so correctly in your question, the sooner the better and the sooner the better not only because of the political environment in u.S., the sooner the better because we are in a world environment that is too much loaded with uncertainty we have not only trade uncertainty in brexit, we have geopolitical uncertainty, we also have technology, creating disruption in the world economy faster than has been the case before so any agreement close to being reached bettre to wrap it up and move forward, and our advice has always been talk to each other, and even better, agree with each other.
Cutmore: Let me flag up two issues around financial markets and stability that you've raised here this week one is the high level of corporate debt as you see it, $17 trillion potentially exposed to recession that could be dangerous you also flagged up the risks around interest rates and investors that are stretching for yields right now, in parts of the market that may be liquid and don't understand is it fair to say there are now more risks in the financial economy than there were in 2007, 2008 how do you read it.
Kristalina Georgieva: that I would be cautious not to go that far I do believe that after the 2007, 2009, period of time of great financial stress for the world economy, a lot has been done to improve the protection of the financial sector and some would even argue too much has been done in that regard. I wouldn't go that far either but what we also have to recognize is that we are faced with a rather unique situation of low for longer interest rates and even negative interest rates. That inevitably creates two risks. One is the search for higher yield by taking higher risk. This is already materializing. And two, it is lack of investments where they would matter most, the financial sector not being able to boost growth through productive investments
Cutmore: Director I have to wrap you up. Im so sorry we will see each other shortly at a big sit down panel we are doing thank you for joining us David, back to you on the point, they're flagging up some challenges that the managing director sees for investors that may be tourists, part of the market they don't well understand back to you.
Faber: Jeff, thank you for bringing us that interview live in D.C.