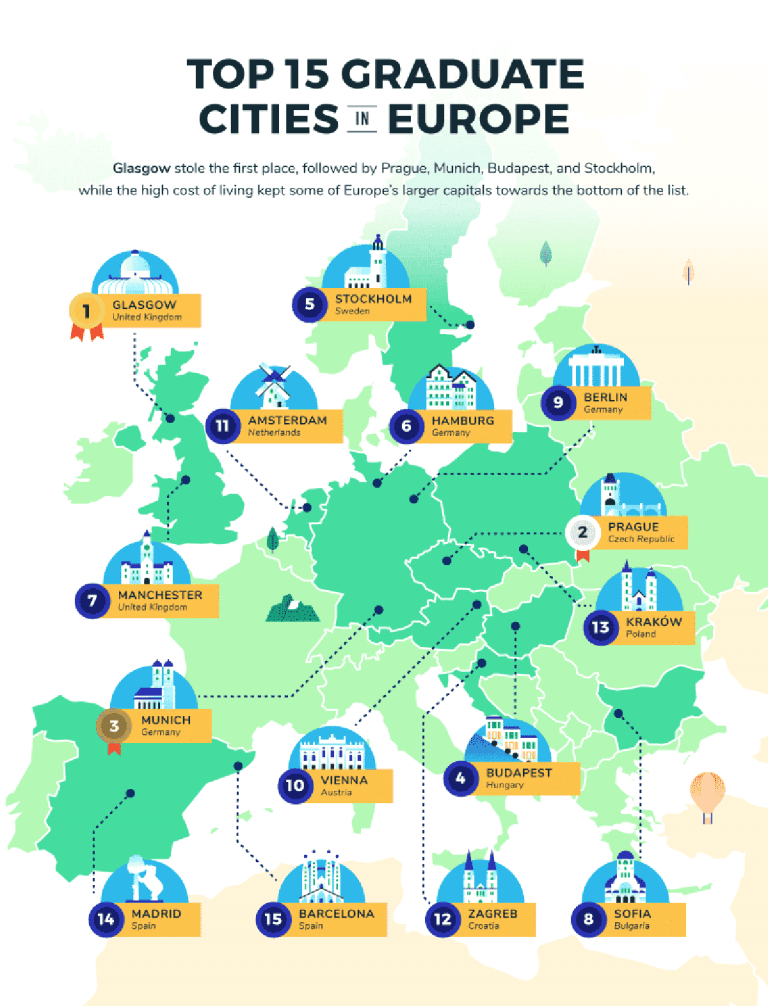 Enrolling on an MBA is an ambitious move, and most students have a reasonable idea what they want to achieve afterwards. But the process of studying business can be both life-changing and exhausting. When you graduate, moving somewhere new for a fresh start to launch your career can be a wise decision. So the question is which is the best city for graduates looking to get an MBA? Look no further, as we have the answer.

Europe is a fabulous destination for MBAs. A mainland expanse of more-or-less cooperating nations surrounded by islands and peninsulas with more than a toe in the pool of European business culture, Europe is a hotbed of diverse, tolerant cultures, sandwiched between the US, Africa, and Asia. And there is always something new to discover, as a new study into the best European cities for graduates shows.
How A Weakening PE Market Serves As Another Sign Of A Weakening Economy
Amid the turmoil in the public markets and the staggering macroeconomic environment, it should come as no surprise that the private markets are also struggling. In fact, there are some important links between private equity and the current economic environment. A closer look at PE reveals that the industry often serves as a leading indicator Read More
Q3 2019 hedge fund letters, conferences and more
Sure, you've heard of London, Berlin, Barcelona, Rome – and maybe even thought about moving to these centers of business and culture. But when the analysts over at Resume.io did the math, they figured that there are a number of less obvious cities that actually make better destinations for graduates to begin their new lives and careers.
The researchers looked at figures from the European Commission's Eurostat program and Numbeo to divine which cities in Europe (from a shortlisted pool) have the lowest rent, highest wages, and best sports and arts scenes. They also checked out the economy of these cities and had a look at the existing graduate culture to see if new inhabitants would fit in.
Best city for graduates: Madrid over London
Business students who might have considered Frankfurt or London as a place to get started might instead check out Madrid or Munich, according to Resume.io.
Madrid is the capital of Spain, but doesn't usually feature as highly on the radar as places like Barcelona, perhaps because of the latter's booming tourist trade. Madrid is also the capital of graduate social life, says Resume.io, as it is the home to the highest number of working graduates between the age of 25-64. The Autonomous University of Madrid, Computense University of Madrid, and Charles III University of Madrid are sources of many of these graduates, but many others flock to the city for its vibrant business and start-up scene.
Munich is a charming old city in Germany, and capital of the region of Bavaria. But it also has an economy that is highly amenable to young professionals, especially those with ambitions in business. Munich has the second lowest unemployment rate in the study, at 3.5%. Average wages are the highest among those that Resume.io looked at: €2,645.98 ($2,965.06) per month. Rent and cost of living aren't cheap, but with a starting wage like that you should come out on top. The strength of the local finance, engineering, and publishing scenes mean that if you're ambitious, you could soon be earning a lot more. Overall, Munich is rated the third best city for graduates in Europe.
Number one
The number one overall best city for graduates in Europe may surprise you: it is Glasgow, in Scotland. Glasgow is very much a city on the rise, with the energy of an underdog city and a fast-growing arts scene founded on strong working-class roots. Rent is very low, international cooperation is on the rise, and the city is also the highest rated by locals for its sports and fitness facilities – after all, it is essential to take care of body and mind while you make advances in your business career!
Wherever you choose to move as a graduate, it can take a while to settle in. You may want to start by applying for jobs in one or two target cities before you move, especially if you don't have any money to get started. And once you arrive, it is important to embrace the local community – and of course to use social media to find a supportive group of fellow immigrants!
Where do you see yourself working when you complete your MBA?
Updated on