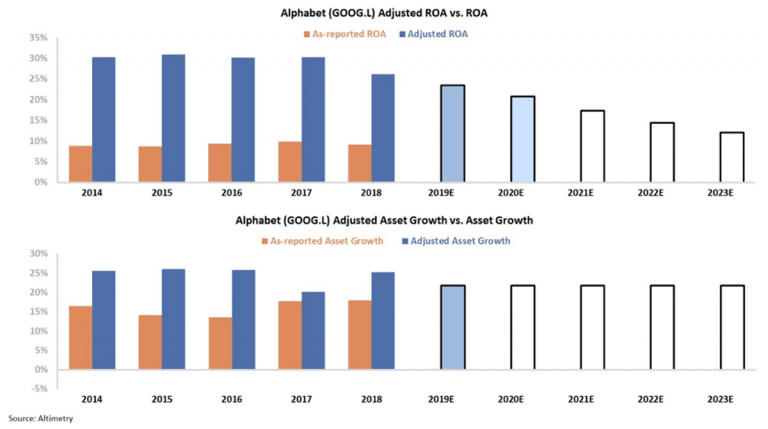 Whitney Tilson's email to investors discussing Joel Litman analyzes Alphabet Inc Class A (NASDAQ:GOOGL) using his Uniform Accounting methodology; Navy SEALs; Charity lunch with Bill Ackman; Class participation strategy No. 8.
1) Longtime Empire Financial Daily readers know that tech giant Alphabet is one of my favorite stocks.
Q3 2019 hedge fund letters, conferences and more
Axon Capital Up 60% In 2020; Says These Tech Stocks Are Value Stocks
Axon Capital was up more than 60% for the first 11 months of 2020 after making some changes to deal with the year's challenges. In his delayed third-quarter letter to investors, which was reviewed by ValueWalk, Axon's Dinakar Singh noted that the year was not only "incredibly stressful" but also "successful." Q4 2020 hedge fund Read More
While it doesn't appear cheap based on traditional valuation metrics, I don't think the market fully appreciates how fantastic this company is. It's one of the greatest cash-gushing machines of all time.
To see what the market might be missing, I asked my friend, Professor Joel Litman, to take a look at Alphabet using his proprietary "Uniform Accounting" methodology. Joel's system analyzes companies' financial statements, making dozens of adjustments to uncover their true earnings and financial health. He was gracious enough to let me share his findings with readers. Here's what he says...
Perhaps no company is a better example of the importance of Uniform Accounting than Google's parent company Alphabet.
Over the past 50-plus years, the long-run average corporate ROA has been 6%. As you can see from the following chart, Alphabet's ROA, based on GAAP numbers, show that the company's ROA of 8-10% over the last five years is barely above the long-term corporate average...
However, when I analyze the company using Uniform Accounting metrics, we're able to remove the distortions from as-reported accounting statements – including treatment of excess cash and research and development ("R&D") capitalization versus expensing. That gives us a much better look at Alphabet's true economics.
The following graphic shows the company's historical corporate performance levels, in terms of ROA and asset growth (dark blue bars) versus what sell-side analysts think the company is going to do in the next two years (light blue bars) and what the market is pricing in at current valuations (white bars).
Traditional accounting metrics (orange bars) can distort how investors view a stock. Without understanding a company's true profitability, it's impossible to properly analyze its stock.
Suddenly, the picture is much clearer...
Alphabet is more than twice as profitable as traditional accounting metrics indicate! This is no average company.
On top of that, the second chart – Asset Growth – shows that Alphabet is consistently investing massively in new opportunities.
This is a world-class, cash-gushing machine. And it keeps growing that machine to generate strong, growing cash flows.
Best of all, the market hasn't fully realized just how profitable Alphabet is. Take another look at the graphic above... the white bars indicate what the market expects in terms of future profitability. The market is pricing in a huge decline in ROA to well below Alphabet's historical levels.
Using as-reported metrics, Alphabet appears fully valued. But Uniform Accounting shows that its shares have significant upside potential from here.
Thank you, Joel! And if you're interested in learning more about his brand-new service, which – until midnight tonight – is being offered for 50% off the regular retail price, click here.
2) I'm a big fan of the Navy SEALs. A handful of them have gone rogue, resulting in some scrutiny and bad press. But overall, it's a remarkable organization filled with incredible people to whom every American owes a debt of gratitude.
To learn more from (and about) them, I let them inflict a lot of pain and suffering on me in a 62-hour program called "Leadership Under Fire," which I did in late 2014 (with 26 other members of the Young Presidents' Organization) and again in early 2015 (with Pershing Square's Bill Ackman and 22 of our friends – here's an article about it: Hedge fund and finance gods are spending their weekends doing an intense Navy SEAL training program). I'm the only person to have done the program twice...
I've also read pretty much all of the books written by and about the SEALs. I just finished and really enjoyed the latest one, Transformed: A Navy SEAL's Unlikely Journey from the Throne of Africa, to the Streets of the Bronx, to Defying All Odds, by Remi Adeleke. It's an only-in-America story of a kid born in Nigeria to a Nigerian father and an American mother.
When Adeleke was just five, his father died suddenly, leaving the family bereft. His mother moved them to the Bronx, where as a teenager, he grew up on the streets as a petty criminal and drug dealer. He turned his life around, however, when he joined the Navy at age 19 and eventually became a SEAL. Trust me, it's an inspiring story that you'll really enjoy!
3) Speaking of Bill, you can bid money to have lunch with him – and support a great charity. It sure worked out well for last year's winner! Eat with Bill Ackman, and help a charity: Lunch with billionaire investor hits the auction block . Excerpt:
Hedge fund billionaire William A. Ackman, the founder of Pershing Square Capital, will be the main attraction at a private lunch with two guests in New York City, as part of a charity auction...
4) Here's my eighth strategy for winning the class participation game:
First impressions are lasting ones.
Professors are human. If you make some killer comments early in the semester, they're more likely to think all the rest of your comments are brilliant as well. Building credibility with professors also increases the chances that they'll call on you every time you raise your hand. (Nothing is worse than preparing an insightful comment and then not getting called on!)
Best regards,
Whitney