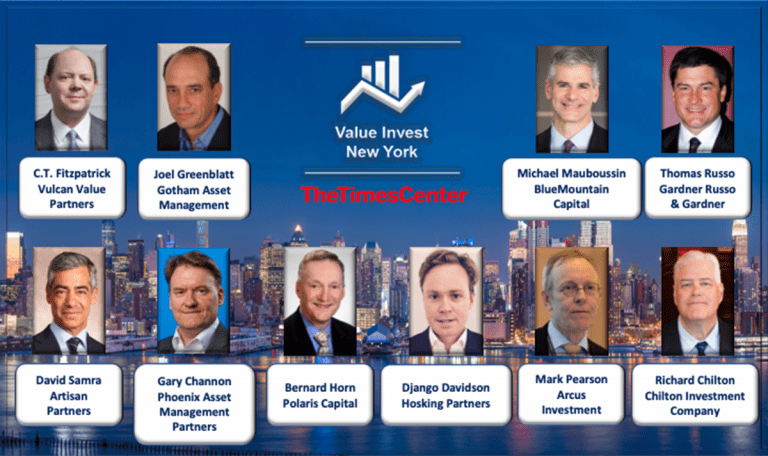 2019 Value Invest New York has unveiled an all star speaker line-up which includes David Samra, Joel Greenblatt, Gary Channon, Tom Russo, C.T. Fitzpatrick, Robert Hagstrom, Django Davidson and others.
2019 Value Invest New York will take place at The Times Center on December 3rd 2019
Stay tuned as we will have a lot of coverage of this great conference. Additionally, if you can attend we have an exclusive offer to get a discount on the tickets using this link or coupon code VALUEWALK_VINY19
Robinhood 2021 Conference: Cathie Wood discusses her investment process with Lee Ainslie [Exclusive]
ARK Invest is known for targeting high-growth technology companies, with one of its most recent additions being DraftKings. In an interview with Maverick's Lee Ainslie at the Robinhood Investors Conference this week, Cathie Wood of ARK Invest discussed the firm's process and updated its views on some positions, including Tesla. Q1 2021 hedge fund letters, Read More
The organizers of Value Invest New York have announced the speaker line-up for the 2019 conference which will take place at The Times Center on December 3rd 2019.
Q3 2019 hedge fund letters, conferences and more
The conference speaker line-up includes David Samra, Joel Greenblatt, Gary Channon, Tom Russo, C.T. Fitzpatrick, Robert Hagstrom, Django Davidson, Michael Mauboussin, Alex Roepers, Richard Chilton, Bernard R Horn Jr., Mark Pearson, Keith Ashworth-Lord, John Heins and David Shapiro – plus others to be announced. Click here to see the speaker line-up so far
As a partner of the conference, ValueWalk can offer a $500 discount on tickets until the end of October using the discount code VALUEWALK_VINY19
You can also see an overview of the inaugural conference in December 2018 below:
The top performing investment ideas presented at the 2018 conference are below:
If you have any questions about the Value Invest New York please direct them to the organizers at [email protected]
2019 Value Invest New York Agenda
Tuesday, December 3rd 2019
7.30-8.30 – Registration and Breakfast
8.30-11.00 – First presentation session
11.00-11.30 – Coffee and networking break
11.30-1.10 – Second presentation session
1.10-2.20 – Lunch
2.20-4.00 – Third presentation session
4.00-4.30 – Coffee and networking break
4.30-6.00 – Fourth presentation session
6.00-7.00 – Drinks reception
2019 Value Invest New York Speakers
Thomas Russo
Joel Greenblatt
C.T. Fitzpatrick
David Samra
Gary Channon
Django Davidson
Jennifer Wallace
Richard Chilton
Michael Mauboussin
Bernard Horn
Alex Roepers
Keith Ashworth-Lord
Mark Pearson
John Heins
Robert Hagstrom
David Shapiro