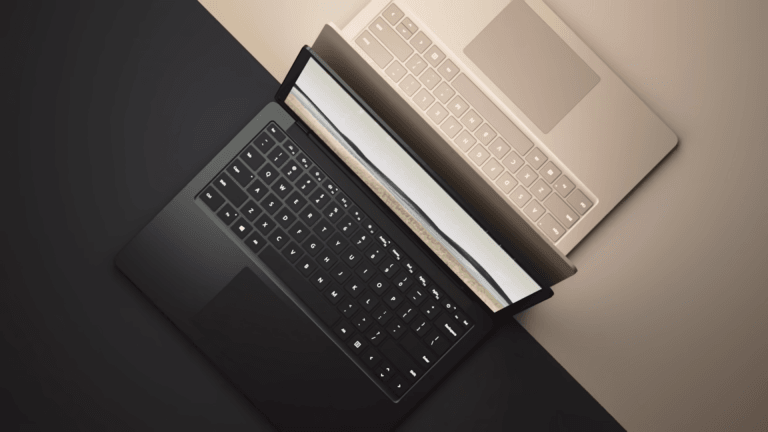 Microsoft launched the Surface line as an experiment. In just a few short years, the Surface devices have become immensely popular. Earlier this month, the Redmond-based software giant announced the Surface Laptop 3 in two different sizes of 13-inch and 15-inch. The new Surface Laptops will be competing directly with Apple's MacBook Air and MacBook Pro. In this MacBook Pro vs Surface Laptop 3 comparison, let's check out how the two devices stack up. We will be comparing only the 15-inch versions of both clamshell laptops.
MacBook Pro vs Surface Laptop 3: Design
Both laptops have a sleek and ultra-premium design with large touchpads and stylish curves. Both of them have a front-facing camera for video calls. Both devices have an aluminum finish. Microsoft has launched the 13-inch Surface Laptop 3 in a refreshing Alcantara fabric, which is missing from the 15-inch model.
The Surface Laptop 3 measures 13.4 x 9.6 x 0.57 inches and weighs 3.4 pounds. In contrast, the 15-inch MacBook Pro measures 13.75 x 9.48 x 0.61 inches. The dimensions are similar, but the MacBook Pro is a little heavier at 4.02 pounds. Both laptops are highly portable despite their 15-inch screen size. You can easily hold them in one hand or slide them into a backpack.
Seth Klarman Describes His Approach In Rare Harvard Interview
In a rare interview with Harvard Business School that was published online earlier this month, (it has since been taken down) value investor Seth Klarman spoke at length about his investment process, philosophy and the changes value investors have had to overcome during the past decade. Klarman's hedge fund, the Boston-based Baupost has one of Read More
The 15-inch Surface Laptop 3 is available in Platinum and Matte Black color options. The MacBook Pro comes in Silver and Space Gray colors.
Microsoft highlighted during the unveiling event that the Laptop 3's keyboard can easily be removed for repairs, though you shouldn't try to do it yourself. The glass touchpad offers a blazing-fast response to gestures and swipes.
The Surface Laptop has a much better keyboard than MacBook Pro with 1.3mm key travel. The Surface Laptop 3 gets a glass touchpad with five-finger multi-touch gesture support. The Surface touchpad is impressive, but the MacBook's Force Touch trackpad remains the gold standard in the industry.
The MacBook Pro has Apple's Butterfly keyboard that has annoyed millions of users for years. Apple claims to have fixed the issues users had encountered with the older versions of the Butterfly keyboard. But the user response for the new Butterfly keyboard is still not good. The Touch Bar is another highly disliked feature on the MacBook.
The 15-inch MacBook Pro gets Apple's Touch ID fingerprint sensor for authentication and security. The Surface Laptop 3 features Windows Hello IR camera for facial recognition.
The MacBook Pro has four Thunderbolt 3 USB-C ports and a 3.5mm audio jack. There is no USB-A port or an SD card slot. If you want more ports like HDMI, VGA, and others, you have to buy third-party USB-C adapters and accessories. In contrast, the Surface Laptop 3 gets a USB-A port, one USB-C port, a 3.5mm headphone jack, and the Surface Connect port. Users can charge it via Surface Connect or the USB-C port.
Display
The Surface Laptop 3 has a gorgeous 15-inch PixelSense display. It supports the Surface Pen and touchscreen functionality. Microsoft's device has a resolution of 2496 x 1664 pixels with 201ppi of pixel density and a 3:2 aspect ratio. The taller aspect ratio makes the Surface Laptop an excellent productivity machine.
The MacBook Pro features a 15.4-inch IPS LCD Retina display. It offers 2880 x 1800 resolution with 220ppi of pixel density. The MacBook supports P3 Wide color gamut and 500 nits of peak brightness. The MacBook Pro has a 16:10 aspect ratio. Unlike its rival, it lacks the touchscreen functionality and stylus support.
Its Retina display supports Apple's True Tone technology that automatically optimizes the display brightness and colors to ensure that the content is visible at all times. It also helps reduce the strain on your eyes.
Internal specs
This is where things get really interesting. The MacBook Pro features Intel's 9th-generation hexa-core Core i7 processor with 2.6GHz clock speed and Turbo boost up to 4.5GHz. It packs 16GB DDR4 RAM, 256GB of internal storage, and AMD's Radeon Pro 555X GPU with 4GB graphics memory. You can upgrade the RAM up to 32GB, storage up to 4TB SSD, and graphics up to Radeon Pro 560X.
If you want more processing power, Apple sells a high-specced variant running Intel's 9th-gen octa-core Core i9 processor with 2.3GHz clock speed and Turbo boost up to 4.8GHz. It packs 16GB RAM, Radeon Pro 560X graphics, and 512GB SSD storage. Apple also gives users the option to bump it up to octa-core Core i9 processor with Turbo boost up to 5.0Ghz.
The MacBook Pro is insanely powerful, making it a great choice for content creators and multi-taskers. It also lets you configure the graphics to Radeon Pro Vega 16 and Radeon Pro Vega 20.
The Surface Laptop 3, on the other hand, runs AMD's Ryzen chips which have been customized for Microsoft's laptops. The Redmond company claims the customized Ryzen CPU and Radeon graphics double its graphics performance compared to Surface Laptop 2.
The base model of Surface Laptop 3 features AMD Ryzen 5 3580U processor with Radeon Vega 9 graphics. If you want more power, you can go for the Ryzen 7 variant with Radeon RX Vega 11 graphics. It packs 8GB or 16GB of DDR4 RAM. The base model has only 128GB of SSD storage, but you can configure it to 256GB, 512GB, or 1TB SSD storage.
The Surface Laptop 3 hasn't been tested in the real world yet, but it will be difficult for the Microsoft laptop to beat the MacBook Pro, which has six or eight cores. But the Surface Laptop 3 should be powerful enough to handle any task you can throw at it including video editing and gaming.
Battery life
The 15-inch MacBook Pro features an 83.6Wh lithium polymer battery. It promises up to 10 hours of wireless web browsing or up to 10 hours of Apple TV video playback. The MacBook Pro's battery is good enough to get you through a full day of work.
According to Microsoft, the Surface Laptop 3 offers up to 11.5 hours of battery life on a single charge. But in real life, the battery is unlikely to last that long. It offers up to 80% charge in less than an hour using the proprietary Surface Connect port.
MacBook Pro vs Surface Laptop 3: Pricing
The base model of the 15-inch MacBook Pro with Core i7 processor costs $2,399. The Core i9 model starts at $2,799. The maxed-out version of MacBook Pro with 32GB RAM, Core i9 processor, Vega 20 graphics, and 4TB SSD storage will set you back by $4,749.
On the other hand, the base model of Surface Laptop 3 costs $1,149. It features 8GB RAM, Ryzen 5 processor, and 128GB storage. Upgrading the storage to 256GB will set you back by $1,449. If you want the Ryzen 5 variant with 16GB RAM and 256GB storage, it will cost $1,699.
If processing power is your primary concern, you can go for the Ryzen 7 model with 16GB RAM and 512GB storage. It costs $2,099. The Surface Laptop 3 is currently available for pre-order. Microsoft will start shipping the device on October 22.
Conclusion
The MacBook Pro has been the go-to workhorse for millions of professionals for years. But its faulty keyboard and ridiculously high price-tag are forcing consumers to look for alternatives. The Surface Laptop 3, especially the Ryzen 7 model, could be a strong alternative to the MacBook Pro. It supports Surface Pen, has a touchscreen display, a better keyboard, plenty of RAM and storage, a sleek design, long battery life, and AMD's graphics capabilities. It's also much more affordable than the MacBook Pro.
Updated on