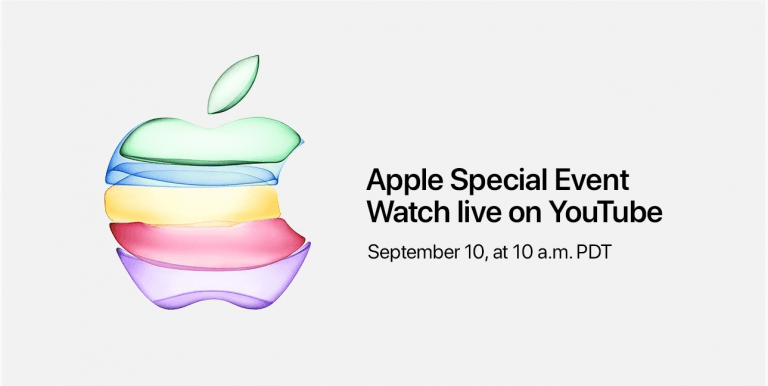 Tomorrow, Apple will host the announcement of the iPhone 11 and Apple Watch Series 5. This also marks the first YouTube livestream Apple will host for its upcoming flagship device. The event will take place on Tuesday, Sept, 10, at 10 a.m. PDT.

Apple hosts its launch events on various media tools. Commonly, its big events can be watched on the website using web browsers like Safari, Chrome, Firefox and other browsers. Aside from the web-based streaming, Apple offers the Apple TV services on which you can watch the launch. Still, the upcoming iPhone and new watch series will mark the first YouTube livestream of the event.
The event will be streamed through Apple's official YouTube account starting at 10:00 a.m. PDT (1:00 p.m. EST) and can be watched here as well. This marks a change in how Apple handles live events, as it hasn't previously used Google's platforms to promote its products, so that the Apple TV would benefit as Google's YouTube rival. Nevertheless, this practice changes this year.
Fund Manager Profile: Zhang Hui Of China's Southern Asset Management
Historically, the Chinese market has been relatively isolated from international investors, but much is changing there now, making China virtually impossible for the diversified investor to ignore. Earlier this year, CNBC pointed to signs that Chinese regulators may start easing up on their scrutiny of companies after months of clamping down on tech firms. That Read More
Although Apple preferred focusing on its own media channels for product promotion, it's no secret that it embraces social media more than in previous years. Its Instagram posts are more frequent than in previous years and the launch of the iPhone 11 and Apple Watch Series 5 via YouTube livestream may appear more appealing to the younger audiences.
As Bloomberg reported, Apple is expected to announce three new iPhone models this year, similar to last year, including a 6.1-inch iPhone 11 which is supposed to replace the iPhone XR, as well as the 5.8-inch and 6.5-inch iPhone 11 Pro which will replace the iPhone XS and XS Max respectively.
Bloomberg further reported that the new iPhones also received several camera tweaks, while the iPhone 11 will sport a dual camera system with its main camera boasting a 2x telephoto lens, while the iPhone 11 Pro will be equipped with a triple camera system and innovative ultra-wide lens alongside the 2x telephoto lens.
Aside from the upcoming iPhones, Apple will also announce the new Apple Watch Series 5, which will succeed the revamped Series 4. While the new watches will be made of titanium and ceramic materials, they don't boast a plethora of features compared to the predecessor that came out with bigger screens. This year, Apple will focus on a watchOS 6 update.
As 9to5Mac reported, Apple plans to announce an extremely helpful tile-like gadget. It's a Bluetooth-powered tracking accessory that will help its users keep track of items they've lost. The item was first rumored earlier this year when rumors had it that it will be equipped with "Find My" app in iOS 13. Now, the item will also be equipped with augmented reality that will provide a more futuristic view of your surroundings and help you find lost items, as per Mac Rumors. It'll be used through Find My app on iOS 13 which will ship with the upcoming iPhones.
Are you looking forward to the YouTube livestream of iPhone 11 and Apple Watch Series 5? Let us know in the comments.
Updated on