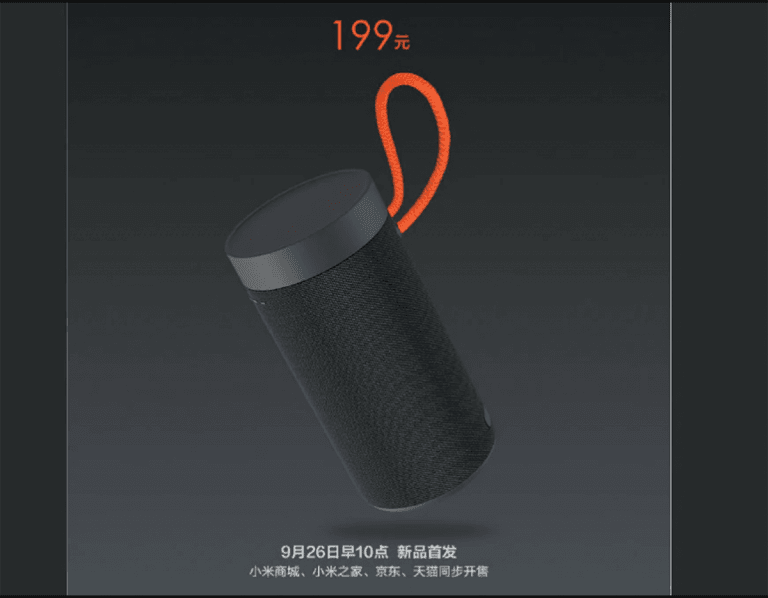 Chinese smartphone maker Xiaomi has launched several Bluetooth speakers over the past few years, but none of them brings as much excitement as the new waterproof Bluetooth speaker it launched on its event among other products, GizmoChina reported. The new waterproof Bluetooth speaker from the Chinese company features a rugged design and various other features.
According to the report, the Mi Outdoor Bluetooth speaker will compete with Lenovo Ultimate Ears, Bose, SoundLink and JBL. During the event, the Chinese tech manufacturer also announced other products over the past few days, including Xiaomi Mi MIX Alpha, Mi 9 Pro 5G, MIUI 11 and much more. Aside from that, the company showcased a new powerbank and headphones, Bluetooth Wireless Airdots 2.
The new product line is offered as part of a crowd-funding platform, which was started last year to meet the requirements of standard users and offer products they can afford. Because it's part of a crowdfunding company, in order for the product to reach the market, it needs to be backed by a sufficient amount of supporting sales before the offer expires. If the target requirement isn't met, the product is cancelled, with investors receiving their refunds, TechJuice.pk writes. The full list of crowdfunded products at the moment can be seen here.
Exclusive: Dan Loeb's Two New Stock Picks [Q1 Letter]
Third Point's Dan Loeb discusses their new positions in a letter to investor reviewed by ValueWalk. Stay tuned for more coverage. Loeb notes some new purchases as follows: Third Point's investment in Grab is an excellent example of our ability to "lifecycle invest" by being a thought and financial partner from growth capital stages to Read More
Another product Xiaomi revealed other than the waterproof Bluetooth speaker is a heated goose down jacket that ships with a built-in power bank of 10,000 mAh.
According to GizmoChina, the speaker became available for sale on Sep. 26, at price of US$28. This is not the first time we have heard about the waterproof Bluetooth speaker. Its specifications and full listing was leaked a few months back on Launch Studio.
The upcoming waterproof Bluetooth speaker features Bluetooth technology 5.0 and boasts a USB-C port. It is equipped with a 2600mAh battery which promises 8-hour consistent playback. The large 52mm drivers should produce stellar audio quality with ground-shaking treble. Additionally, the waterproof speaker is equipped with two HD microphone pickups.
The speaker also features a soft yet rugged design which is expected for a wireless speaker. It is also equipped with an IP55 dust and water resistance standard, so while it can get soaked by rain or sprayed by sand, it's not meant to be thrown in the water. It's relatively portable, so it'll be easy to carry outside. As such, the waterproof Bluetooth speaker would be perfect for an outdoor beach or pool party, as well as parties that take place where it could rain, since the speaker can get wet.
If you want to order Xiaomi's waterproof Bluetooth speaker, you can check the full listing here.