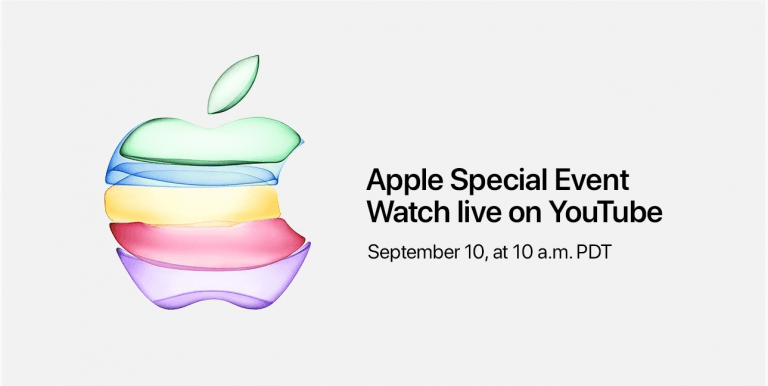 Apple's highly-anticipated iPhone 11 launch event is almost here. The Cupertino company will show off its new hardware products at the September 10 event at its headquarters. For fans who can't attend the event in person, the iPhone maker will livestream the show. Here's how you can watch iPhone 11 event livestream from the comfort of your home or office.
Apple is set to hold the event at 10 AM Pacific Time on Tuesday, September 10. That's 1 PM in New York, 6 PM in London, and 10:30 PM in India. You can check the event timing in your region here. Just like last year, the event will take place at the Steve Jobs Theater in Cupertino, California. Apple's keynote address traditionally lasts about two hours.
Apple's invitation for the event was titled "By innovation only" and was accompanied by the multicolored Apple logo of yore.
Seth Klarman Describes His Approach In Rare Harvard Interview
In a rare interview with Harvard Business School that was published online earlier this month, (it has since been taken down) value investor Seth Klarman spoke at length about his investment process, philosophy and the changes value investors have had to overcome during the past decade. Klarman's hedge fund, the Boston-based Baupost has one of Read More
How to watch iPhone 11 event livestream
For years, Apple had restricted the livestreaming of its major product launch events to its own devices. Only iPhone, iPad, Mac, iPod, and Apple TV users could watch the livestreams – only on the Safari browser. A few years ago, it started allowing Windows owners to stream its events from Microsoft's Edge browser on Windows 10. Now for the first time, it will also stream the event on YouTube.
On YouTube
YouTube is probably the most convenient way to watch the iPhone 11 launch livestream for most users. When the event starts, go to this YouTube video to watch Tim Cook unveil the newest gadgets. You can also set a reminder on YouTube to get notified when it starts.
Mac and Windows computers
If for some reason you are not interested in streaming the event on YouTube, you can go to Apple Events page on your Mac or Windows computer to catch the action. Apple now supports all major web browsers including Microsoft Edge, Chrome, Firefox, and of course, Safari to watch the livestream.
On iOS devices
The iPhone and iPad users can watch the event by visiting the Apple Events page in their Web browser. You can also catch the action on Apple's Twitter account.
On Apple TV
Apple TV users can download the Apple Events app from the App Store to watch it. Just launch the app when the event goes live.
What to expect at the event?
The most obvious things are the three new iPhones that have leaked numerous times in the last few months. Apple is going to launch an iPhone 11, iPhone 11R, and an ultra-premium iPhone 11 Pro. They will look similar to last year's iPhone XS series, though the new iPhones are getting a triple camera setup housed in a squared camera bump.
The iPhone 11 series will bring under the hood improvements. They would get a new Taptic Engine, a faster A13 processor, an improved Face ID technology, bigger batteries, and support for the latest WiFi 6 technology. They are also rumored to support reverse wireless charging, which allows you to charge other devices and accessories by putting them on the back of the iPhone 11.
The devices would run iOS 13 software out of the box, which brings a faster and smoother experience, a bunch of new emojis, system-wide Dark Mode, and new camera modes. Apple has to convince iPhone buyers that these minor upgrades are worth spending a thousand dollars on.
According to MacRumors, the iPhone 11 series would go up for pre-orders on September 13. The devices would hit the store shelves on September 20.
You should also expect the new Apple Watch Series 5 smartwatches with ceramic and titanium case materials. The Series 5 Watch is rumored to bring a Sleep Tracking feature. It would feature OLED screens, a larger battery, and more health features.
The company could also show off a new 16-inch MacBook Pro, which will reportedly become available for purchase during the holiday shopping season. Its form factor would be similar to that of the 15-inch MacBook Pro, thanks to reduced bezels on the new model. IHS Markit analyst Jeff Lin says it would feature an LCD panel with a resolution of 3,071 x 1,920 pixels.
Updated on