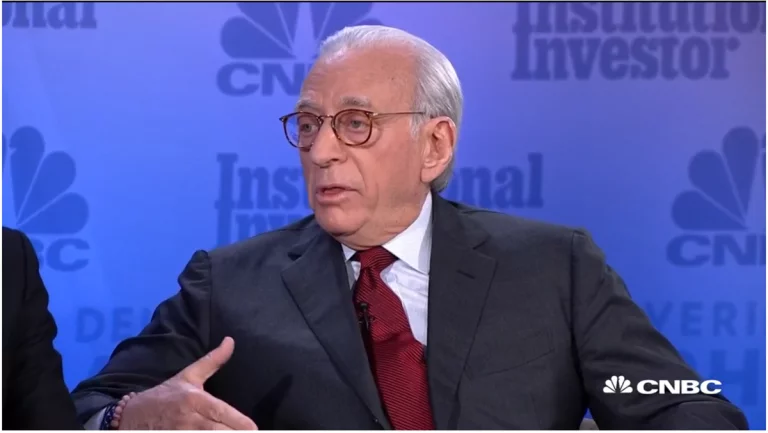 CNBC exclusive: CNBC's Jim Cramer interviews Trian's Nelson Peltz and Procter & Gamble Co (NYSE:PG)'s David Taylor from CNBC Institutional Investor Delivering Alpha Conference
WHEN: Today, Thursday, September 19th
WHERE: CNBC's "Squawk on the Street"
DG Value Surges On Recovery Plays
According to a copy of the firm's February investor update, Dov Gertzulin's DG Value Partners returned +4.48% net for the month of February, which ValueWalk has been able to review. Q4 2020 hedge fund letters, conferences and more Following this performance, the firm has returned +8.32% net for the year to the end of February. Read More
Q2 hedge fund letters, conference, scoops etc
Following is the unofficial transcript of a CNBC EXCLUSIVE interview with Nelson Peltz, Trian Partners CEO & Founding Partner, and David Taylor, Procter & Gamble Chairman of the Board, President & CEO, live from the CNBC Institutional Investor Delivering Alpha Conference in New York City on Thursday, September 19th.
Following is a link to video of the interview on CNBC.com:
P&G CEO David Taylor and Trian's Nelson Peltz take stage at Delivering Alpha
Mandatory credit: CNBC Institutional Investor Delivering Alpha Conference.
JIM CRAMER:  Good morning, everyone.  Congratulations, it's been an incredible run.  Anyone who's been in the stock, including you, Nelson, has made a ton of money. And one of the things I want to talk about right at the beginning is constructive.  You are a constructive shareholder, and you're a constructive CEO.  I want to know how important it was after a somewhat bitter proxy statement to be a gentleman, to be mannerly, to be respectful.  Because I think that's one of the reasons why this worked.
DAVID TAYLOR:  Not hard at all.  Because probably one of the most fundamental leadership beliefs I have is I don't have to be right to have to get the right thing done. And we listened to investors throughout the proxy contest.  And what was clear is investors agreed with our strategy, they supported our board, they also supported Nelson, and they want to see the company move faster. We listened to the investors.  We welcomed Nelson to the board.  He's been a strong addition to the board.  And together, I think the board -- the 95,000-plus employees of P&G are working very hard to better serve all stakeholders, and shareholders are benefiting.
JIM CRAMER:  Now, as a journalist, I did my best to try to find out what was really going on.  I spoke with you ostensibly; Nelson, we went out to dinner many times, talked to you.  You never once had a bad word to say.  How important is that if you're going to get a proxy fight right?
TRIAN'S NELSON PELTZ::  Look, David and I are buying furniture together now, Jim, I told you that.  Okay?
DAVID TAYLOR:  Using his credit card, just so you know.
NELSON PELTZ:  But the fact is, David has been a gentleman throughout the whole thing; and we communicated a lot, even through the proxy fight.  And what was interesting is that over the years I've found that the most important ingredient a CEO needs to have is to be a good listener.  Okay?  Nobody has a monopoly on good ideas.  Okay? And we have an attitude at Trian, we'll steal any good idea and be proud of it.  Okay?  And we'd rather be rich than right  and David has that same attitude.  And he's a great listener, doesn't have to do what we tell him to do, but he takes it in and examines it and makes a sound decision afterwards and that's why we're getting along so well.
JIM CRAMER:  Well, David, a couple years ago in the midstof what I felt, and in retrospect was totally clear, an amazing transformation in the company.  Nelson came knocking.  I want to know, looking back, do you wish you could have avoided the proxy fight, or was it just necessary in order to have someone on the board who initially you didn't want?
DAVID TAYLOR:  I think, one, it's hard to relive history.  At the time it happened, we wanted to make sure that we articulated our strategy and stand for what we believe is right. We had shared in February of '16 the turnaround strategy that we felt was very strong.  We talked about working hard to turn around the U.S. and China, our two biggest markets and we talked about the need to instill superiority across all elements of our value equation.  And we were making progress. So when it happened, certainly, there was the first step back and say, Is this best for the company?
And what we did throughout the process is listened, listened to investors and, frankly, we had many conversations about that, many, many conversations. We ended up getting to a place that at the end of the proxy contest where it was clear that investors supported our strategy, supported our board and supported Nelson.  So we did what we thought made sense.
JIM CRAMER:  I was thrilled at your graciousness to come on Mad Money.  You did say at the time, and it was in the midst of the proxy fight, so in the fog of war, so to speak, that Nelson would be a dangerous man and could derail the transformation. So, Nelson, I have to ask you, why would you still want to be involved if someone said that about you?
TRIAN'S NELSON PELTZ::  Look, you said it right, it's the fog of war.  Okay.  We're in battle.  It was unnecessary, but that happens all the time. The fact is, it's over.  That's the most important thing.  The fact is that we are working so well together, the company has responded.  They set things up quite a bit.  And to David's credit, when I did get on the board, they hired [AUDIO DIFFICULTIES] our position, their current position and came out with what I thought was an excellent compromise position. and you've got a company today that is really doing well.
And you know, Jim, I want to tell you, if you turn back the clock three or four years ago any consumer company was dead in the water.  Right?  Everything was going to be digital companies, sold on Amazon, sold on the internet. Well, I got to tell you something, here is an elephant that knows how to dance.  Okay?  And I say that lovingly, and nd there are other companies around that have responded to the new digital age beautifully and many others who don't.  And P&G is doing a phenomenal job.  They've got great people and great product, and they're moving faster.
JIM CRAMER:  How did it work, David?  Because Nelson is absolutely right.  I mean, you're talking about a total shareholder return of 48 percent the day that he joined, versus the S&P's, you know, single digit.  I know that there are a lot of things that he did put in place, but [AUDIO DIFFICULTIES] the CPG category.  We never expected a 7 percent. It's almost inconceivable given that China's doing so well, given what we know about the trade relations.  It's almost inconceivable that a company that is an older company could be viewed by millennials as the product -- offering products that they want.Talk about the transformation, talk about Nelson's role in transformation, and how it's even possible.  Because to many people in this room, it's almost a fairy tale.
DAVID TAYLOR:  First, what do consumers want?  One of the first misnomers is the big brands are dead.  There's a reason big brands are big.  Consumers love them. What is true is you have to stay current.  You have to make sure the benefits are relevant, you have to communicate it in a respectful way that connects with the consumer. What we did is we adopted a strategy that said we will be meaningfully better across product, package, go to market, the way we show up to consumers on and offline.  How we communicate with them, being respectful to the consumer, culturally relevant, and making sure we did a great job on value; both consumer value, but also customer value. So our innovation had to grow the market and help them make money.
And to me, that strategy is really working.  Take China.  Several years ago we were minus 5 percent sales growth.  The next year, plus 1; the next year, plus 7.  We just closed the year at plus 10. Now the data I'll talk about will be through fiscal 18/19, the end of June.  We just closed at plus 10.  And what it demonstrates is that if you like the consumer, put the consumer at the heart of what you do, then good things happen. All of that, that superiority costs a lot of money.  And we've been extraordinarily focused on productivity across every element, constructively disrupting our business model with tremendous employees.
JIM CRAMER:  Nelson, you hear that.  That was actually very much of what you were saying is what you wanted.When you got into the room, were you surprised at how much of your thinking was already being in?  And what do you think you've added in terms of some of the -- you know, I read the most recent September 5th Barclays.  I saw a lot of Nelson in that speech.
TRIAN'S NELSON PELTZ::  I'm not taking credit for anything here.  I'm bearing the fruits of David's hard work, and I mean that.  I found a great management team under David, one that I really have a lot of respect for; a board that, once the fight was over, came together.  And they have been so welcoming to me.  And I mean that.  I'm not just saying that. And the most important thing that we saw at P&G is -- you know, I've got six Millennials at home and two Gen Zs, so I've got my own laboratory, okay, and I see what they use.  And P&G has relevant products.
They have relevant products.  They have worldwide distribution.  All they needed was to speed it up a little bit, change accountability a bit.  And accountability has changed. To David's credit, the structure of the company is different now.  They have six verticals with six CEOs that really have control of their businesses.  And let me tell you, the matrix is dead, okay?
JIM CRAMER:  When you open in Romania this week, the matrix, no matrix?
NELSON PELTZ:  No matrix, no matrix.  Let me tell you, matrix, as I said to you, Jim, it was an animal, and I'm not a hunter, it would be hanging over my fireplace.
JIM CRAMER:  Fair enough.  Fair enough. Now, I'm trying to understand.  Everyone in this room knows that there are outfits like Glass Lewis.  And you made a very compelling case.  You made a very compelling case.  Did it matter what Glass Lewis did which favored Nelson?  And also, you had every opportunity to say no to Nelson after that vote count. What made you say the rancor has to end, this is nuts, the money which Nelson was saying was a great deal, what made it so that you just decided, I've had enough, let's move on?
DAVID TAYLOR:  First, it wasn't me.  It was our full board listened.  And what's different?  This is real the way it happened.  We listened to investors.  We traveled across the world, listened to many, many investors.  And the only thing we wanted to do was to accelerate the growth of P&G in a constructive way.  And at the end of that process, the board had a very fulsome discussion and considered all alternatives and concluded that the best alternative was to bring him on the board, but bring him on the board as a full board member and support him and Nelson has operated with the same convictions as the rest of the board members. Our job is to develop outstanding brands that create value for all stakeholders, and the shareholders benefit when we do that well.  And to move faster.  And we've been willing to question every part of our business model, except our purpose, values, and principles and our commitment to winning.
JIM CRAMER:  I'm listening to you --
TRIAN'S NELSON PELTZ: Jim, listen to me.
JIM CRAMER:  Sure.
TRIAN'S NELSON PELTZ: Okay?  I'm going to tell you -- I say put the papers away.
JIM CRAMER:  All right.
NELSON PELTZ:  Okay?  Ha ha.  I'm going to tell you, when I got on the board, we got along so well that I said that I would shave my beard -- you didn't say a damn thing about that today yet, okay -- that I would shave my beard --
JIM CRAMER:  It's called reveal.
NELSON PELTZ:  -- when the stock hit 120.  And the board is filled with 30-some businessmen and women.  They said:  You know, you said 110. And I don't blame them.  They're trying to get the price down.  But I said 120, okay, and I lived up to my word, and I shaved it off last night. And I want to tell you, because it hit 120, I can afford to give you two Gillette razors -- a Fusion, and a Skinguard, either one you like, and I tell you, when it hits 150, I want you to shave that beard off.
JIM CRAMER:  Okay.  I'll take it.  But I've got to tell you something because, Dave, I watched your introduction.  You were the leader in what is known as the National Plastic Alliance Waste --
DAVID TAYLOR:  Alliance to End Plastic Waste.
JIM CRAMER:  And I want to say -- I don't know why -- everybody can hear me, come on.  I want to know this, about those, but I -- thank you. I also have bought them, okay, and I want to tell you, I can't open them!  And I want to know, why do you need so much plastic?  I bought this guy.  I hate this thing, this Dollar Shave Club.  But I can open the darned thing. And I want to know why do I -- look at this!-- in paper since 1907.  Why do I have to go through all this plastic?  I am, in the end, needing of this.  Can we please eliminate some of the plastic?
[APPLAUSE]
DAVID TAYLOR:  I would agree.  I certainly would agree. What we're working on -- and this Alliance to End Plastic Waste is actually 41 companies who've come together across the total plastics value chain, people that make plastic, make products, package products, the waste haulers, the recyclers, and say:  We have to do something about plastic waste, waste that gets into the environment, rivers and oceans.  Plastic, in many cases, is the best alternative in terms of the lowest carbon footprint and has the best solution.  The issue is plastic that's wasted and gets in the environment.  And that's what we're working to address. And, yes, we will look for better and better alternatives.  But it needs to be an alternative that truly has a life cycle benefit broadly across the environment.  That's what we're working on.
JIM CRAMER:  But you guys have been talking about the ten rivers, the people who are responsible for most of the plastic that's dumped.  How do you incentivize people to not do the wrong thing?  I mean, in our country, we're terrible at recycling.
TRIAN'S NELSON PELTZ::  I agree, I agree.  But let me tell you something.  When I got on the board, I requested to be on the innovation committee because we spend about 2 billion a year in R&D, and I wanted to see where the money was going. And to the credit of P&G, they have a product line today that they're just starting to market.  You guys wanted to play that nonsense from the proxy fight instead of running the video about EC30.clean, which is a product that is unbelievable to the environment, unbelievable, and it's a whole broad-based -- tell them about it, David.
[LAUGHTER]
DAVID TAYLOR:  We developed a platform technology that is a solid-state spun-fiber product.  And so essentially you take the water out, so you don't need fillers and stabilizers and other products that don't add significant value to the consumer but are needed when a product is in solution.  And you think about the benefits.  If you could ship a product that could wash your clothes, product that you could use to wash your hair, condition your hair, household cleaners that didn't require water, that you would only introduce water at the point of use. So we developed it.
We're doing some testing.  We're in early days of consumer testing.  It's not broadly in the market.  But it is a platform that we've invested heavily in because it has an enormous consumer benefit.  It delivers benefits to the consumer in terms of the functional benefit. There is performance that drives the brand choice, so we want to do it on our brands.  But it has a very big environmental benefit.  Tens of thousands of pounds of plastic can be eliminated. In addition to that, there's enormous savings in water, because you don't need waters to make, pack, or ship it.  You only essentially use water in the use occasion.
JIM CRAMER:  Okay.  I'm thrilled for that.  Because people have to understand, he actually is walking the walk.  You need to get the top guys to do it because the plastic guys, as much as Jim Fitterling from Dow wants to do it, they need the customers to demand it. And that is fantastic what you're doing, I really applaud it.  You are the guy who is leading this, and it's not just talking about it.  I know you're spending a huge amount of time, and you're worried about the planet.  I thank you.  You're a great stakeholder for the planet.
TRIAN'S NELSON PELTZ::  It comes in a bamboo box which is totally biodegradable.  I'm the pitchman for this product.  I've been using it since a year ago June, shampooing, conditioning, washing; and it's great.  It's amazing.
JIM CRAMER:  All right.
DAVID TAYLOR:  One comment on the Alliance, just because you mentioned Dow and others.  Dow and others are on the Alliance because they're working to eliminate plastic waste.
JIM CRAMER:  They're terrific.  But it's you that can change things.
DAVID TAYLOR:  Frankly, it's the total value chain.  Because you've got to have formulations that don't have an alternative bad environmental footprint.  Because there are alternatives in many cases to plastic.  The issue is they may use more water or energy or have a worse environmental footprint. So that's why it's so powerful if you can get all members of the value chain to say:  Let's put money up, and not little money.
We've made a commitment over five years for a billion dollars that we're going to put in.  The 41 companies that say we need to fund pilots to develop solutions, circular solutions so that you have the best use education, but then you capture the value and reuse it. And to me, I'm very encouraged by the fact that the chemical companies, the manufacturers all the way to the waste haulers and recyclers are saying this is something we have to work together, the industry has to take the lead.
JIM CRAMER:  And this is good for business, right?  I mean, we had people who were talking earlier about how unless you -- the Milton Friedman theory, that unless you make the most money for shareholders, you're failing.  You're talking about something that's longer term.  If you don't do and innovate along these lines, you are going to fail.
DAVID TAYLOR:  And we use the term "stakeholders."  We serve value stakeholders.  At the core, it's consumers.  They drive our business.  We've been in business for 183 years because we never lose sight that it's the consumers who we serve. We know we need to have a great return for shareholders over time but also there's a role we play with our employees, with the communities in which we operate, customers, consumers.  Definitely we play a role in the environment.  We have to be good stewards of the resources we use, and we're working very hard to do that. And more consumers today, it's not only right to do; it's good business.  Consumers today want to know the values of the company behind the brand.  And that's very consistent with what Procter & Gamble has always been, about serving consumers.
JIM CRAMER:  You sure have.  That's how you have the record that you do, including the TSR, but the record of dividends, which a lot of people care about. I want to talk about the process, the democracy, the democratic process.  Nelson, you're no stranger to the political world, but I've got to try to understand.  I had Nancy Pelosi on this week.  And a lot of people don't understand, Nancy Pelosi has become the practical voice of Congress.
TRIAN'S NELSON PELTZ::  Practical as a basis.
JIM CRAMER:  Right.
TRIAN'S NELSON PELTZ::  You're right.
JIM CRAMER:  And you two have come together in order to make as much money for shareholders but also do the right thing for the planet. Why is your experience so different from the political world right now?
NELSON PELTZ:  That is a great question.  I'm personally very involved, and David believes this, as well, in a group called "No Labels."  And our color is not red or blue, it's purple.  We believe all the elected officials, if we were operated from center right to center left; in those guardrails, we would really be getting things done. And the fact is, we've got people, the outliers, and nobody is talking to one another.  And our group, "No Labels" is really making an effort to get people to talk together.  We've got about 50 members of Congress today; half Democrats, half Republicans, precisely half.
And in order to be -- you've got to sign on and say that it is country before party.  And if we could get our elected officials to live with that statement, "country before party," we would be a long way further. People don't like everything on the right and they don't like everything on the left, but there is a middle ground that we need to get to. And they just don't want to get there because it gets votes, it gets attention, they think they have a power base either on the extremes. I believe the power base is truly in the middle.  It's got to be served.
JIM CRAMER:  David, do you believe that business is the greatest platform for change now that so much of politics has abdicated its role?
DAVID TAYLOR:  I think, yes, business can be an enormously positive platform for change; and I think it has.  And I think there are many examples. Alliance is an example, but there's many examples where businesses contributed to creating products and services that make consumers' lives better, and understanding that we have a broader wing net.  It's not just shareholders.  There's many others because consumers care about it. If we care 5 years, 10 years, 20 years from now, we'd better take care of the many stakeholders that we impact.
JIM CRAMER:  All right.  Now, Nelson, you've talked about the idea of being in the boardroom versus not.  At $27 -- at $24 a share, you took a very big position in General Electric, but you weren't able to access the information.  How important is it to be involved with a transparent company like P&G in the boardroom, versus being with an opaque company where you had a position and, frankly, I think you would have to admit, let's say, suboptimal guidance from management?
TRIAN'S NELSON PELTZ::  You think?
JIM CRAMER:  I'm trying to be a diplomat.
NELSON PELTZ:  You think?  Let me tell you.  We bought the stock at 23.  It went up to 32.  We sold a third of our position.  That was our big mistake.  We should have sold three-thirds of our position.  And there are things that just -- the disclosure was awful.  Okay? We got on the board.  The board is, except for one person, 100 percent changed.  Think about that.  It was an 18-man board.  We've got 10 or 12 people on the board today, all but one have gone.  We've gone and got rid of the CEOs.  And we've got a guy in place today who I think is a star.  I think Larry Culp is a star.
I think he knows how to run a business, he knows how to deal with these issues. And this is a very important point that many people miss.  You see companies in trouble, and they parachute a star in.  And he is a star, but he didn't know all the problems as he was parachuting in. Larry was on the board roughly a year before he became CEO.
Six months before he became lead director -- those are proximate times.  So he was fully aware of the issues, and then stepped in and took the job as CEO. That is a -- that's a point that I think a lot of people might overlook.  Larry is fantastic.  He's putting together a great management team.  He's got a stupendous board. And, Jim, yeah, we make a mistake about once every 25 years.  So you guys can relax for another 22 years, everything is going to be cool.
JIM CRAMER:  All right.  David, we were talking about businesses in force for change.  You have played a very considerable optimistic role, which I think is lacking in the country, but you also can play a role when it comes to large companies, like Google, like Facebook.  Because this is how you reach new people. I know right now these companies are in the political crossfire.  Is it your experience, as a gigantic advertiser, that the people from Facebook that you deal with, the Google people that you deal with, are good actors when it comes to America?
DAVID TAYLOR:  Certainly my personal experience is yes, because when we raised issues that we had concerns with, our advertising being next to objectionable content, they acted. We acted first and said this is unacceptable.  We made some choices with our money.  But they've been very good partners.  Both Facebook, Google and some other partners we have to address that.  I don't have full visibility of some of the issues that you may be bringing up.  My experience has been they are constructive, they want to do the right thing.  They're working in the right direction.  They've been very responsive to our needs to make sure that content that we associate our advertising with is consistent with our principles and values.
JIM CRAMER:  Excellent.  I'm glad to hear that because I think you would be the arbiter more than they are. I want to talk about age for a second.  When you visited my office and you gave me your brief, which was fantastic, you said, what do we need?  We need people like Amy Chang, 40-year-old, com-sci from Stanford, master's in com-sci, just a pure genius, younger person, of which, by the way, subsequently my wife and I became very good friends with.  Because I met her, and I said I heard what David Taylor had to say.  She is the embodiment of what somebody needs to go digital. I'm a little older.  You're 77.
TRIAN'S NELSON PELTZ: Watch your language.
JIM CRAMER:  What I'm trying to figure out, why do we -- do you need both?  Do you need people that have long-term experience, silver package, and the 40-year-old Amy Changs in order to be able to succeed?
DAVID TAYLOR:  You just illustrated a great point, which is when you have a diverse group of people and an inclusive environment, a board that works together, you get a better outcome.  What we do have is people that have tremendous category experience, some people in various industries, but successful in their history. And then what we did is we brought on somebody that had a very different set of experiences than all of us, and we embraced that.  To me, it's wonderful because we all don't agree, and we had a robust discussion.  But our discussion is not whether one wins or loses an argument.  We don't compromise; we lead to a better third way.  I think it's exciting.  The evidence is the results we're delivering.
JIM CRAMER:  Evidence is great. Now, Nelson, Jim McNerney, lead director, tough guy.  We all know him as a tough guy.  Sometimes you wonder whether the company that is Boeing would be in the situation it is now because of McNerney's no-nonsense approach. How is he helpful?  Because I know initially he was not thinking that you would be the joiner that you became.
TRIAN'S NELSON PELTZ: Jim and I getting along almost as well as David and I are, okay, and just because I speak to David way more frequently.
DAVID TAYLOR:  That's true.
TRIAN'S NELSON PELTZ:  And I'm telling you, once this fight ended -- and it doesn't make for good copy and it doesn't make for great television.  But once this fight ended, everybody came together and understood what we're there for. We are there for the stakeholders of P&G, and that's what everybody is pulling on the rope in that direction.  And a board -- and you touched on it.  You know, if you're an old, retired, gray-headed CEO, it's hard for you to get on a board today.  Because we want women, we want a multirace, we want gender diversification.  We want all of that -- yeah -- because it gives us so much of a better perspective on where the world is going, what people are using our products, and so forth. So, you know, like I say, the old white guys, you guys got trouble getting board seats going forward.
JIM CRAMER:  All right.  The last thing I want to ask is that I felt when I was covering the issue, quite candidly, both of you two were very gentlemanly; the bankers and the PR people, not.  When you guys got together, I think it was more peaceful and more constructive.What do we do about bankers who are more rancorous than the principals?
DAVID TAYLOR:  We didn't have a lot of bankers involved in the process.  We had some advice that we got that was, frankly, quite helpful.  And they weren't as constructive. The advice I've gotten throughout the process was get to a good outcome.  Again, I really do believe it's not about whether I'm right or Nelson's right.  We both believe that if we can find a better solution that advances the company, that's a good place to be.
He's got advice.  I'm sure at times I've gotten advice.  But the conflict that I think people want to see between us doesn't exist. We have disagreements, many disagreements.  But that's what makes for better solutions, which is he has a different set of experiences than I do.  Bankers or other advisors we may have, to me, bring a different set of skills to the table.
Ultimately, I'm accountable for what I do in the company.  The board is more broadly accountable because they represent the shareholders.  And I think both parties, and especially to me, our management team and our employees have been willing to pivot in a way that I think is quite exciting.  It's not about trying to hold on to the old; it's trying to learn from the past but move forward in a way that sets this company up to win going forward for 5, 10, 20 years and beyond.
JIM CRAMER:  Well, I think you gentlemen are the best of what we have.  And I want to thank both of you.  And congratulations for what you've done for all of the stakeholders and the shareholders.  Nelson Peltz and David Taylor.