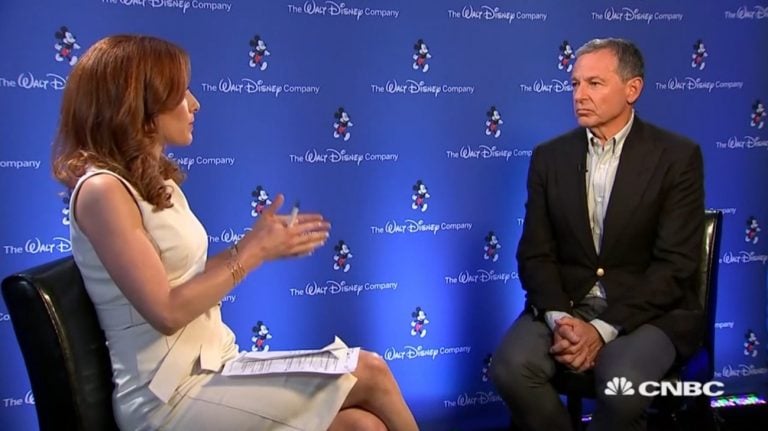 CNBC Exclusive: CNBC Transcript: Walt Disney Co (NYSE:DIS) CEO Robert Allen Iger Speaks with CNBC's Jim Cramer in Interview Airing on CNBC's "Mad Money with Jim Cramer" Today
WHEN: Interviewing Aired Today, Tuesday, September 24, 2019
WHERE: CNBC's "Mad Money w/ Jim Cramer"
Why The Term 'Value Investing' Is Redundant
What does value investing really mean? Q1 2021 hedge fund letters, conferences and more Some investors might argue value investing means buying stocks trading at a discount to net asset value or book value. This is the sort of value investing Benjamin Graham pioneered in the early 1920s and 1930s. Other investors might argue value Read More
The following is the unofficial transcript of a CNBC EXCLUSIVE interview with Disney CEO Robert Allen Iger and CNBC's Jim Cramer that aired on CNBC's "Mad Money w/ Jim Cramer" (M-F 6PM – 7PM) today, Tuesday, September 24th. The following are links to video from the interview on CNBC.com:
Q2 hedge fund letters, conference, scoops etc
Disney CEO Robert Allen Iger talks Steve Jobs, Pixar and Apple
Robert Allen Iger on walking away from Twitter: It just didn't feel 'Disney' to me
JIM CRAMER: Alright, Bob. First of all, play it – open hand, I love this book. And I love that because I love business, but I also love decency and respect and throughout it those two themes do dominate. The people who show respect and are decent are winners in this book.
ROBERT ALLEN IGER: Well, thank you. First of all, thank you reading the book. And thank you for pointing that out. Yes, I think, treating people with respect, and being decent goes a long way in terms of a person's success and in terms of a company's success. Companies that value their people, that respect their people, that are decent are typically successful companies.
JIM CRAMER: You seem to treat everybody the same. I'm not kidding, the employees are treated the same way as Steve Jobs is, treated the same way as Roone Arledge – the great Roone Arledge. It just seems to be a theme of how you treat people.
ROBERT ALLEN IGER: Look, I started out at the very bottom in an entry-level position, $150 a week employee. I worked my way up over all these years -- now with the company 45-years -- to have the opportunity to run this great company. I still remind myself of who I was when I started, and you know, I try not to lose sight of the fact that, while my title has changed, that I haven't really changed that much as a person. So, I feel it's important to have empathy and to relate to other people who are in similar positions that I was in along the way.
JIM CRAMER: And yet at the same time someone who we think is cantankerous someone who thinks of an unrelenting: Steve Jobs, seems to have some crafted a relationship, more than a friendship with you. Tell us about it because I don't know anyone else who had it.
ROBERT ALLEN IGER: Well first of all I think you can be fair and decent and still be tough at times. You have to make tough decisions. My relationship with Steve came about because I became CEO and I thought we should put our television shows on, on, on some platform, some digital platform. And he showed me the video, iPod quaint little device the little screen on it.
That led to my posing the question to him about whether we ever consider selling Pixar to us and the rest is history. He became our largest shareholder, a member of the board, something he never wanted me to remind him of. He preferred that our relationship was not tied to stock ownership or a board seat.
And he ended up becoming, not only a friend but, in many respects, a mentor, even though he was younger than I. He taught me some great lessons. And we just bonded over a number of things, common interests, common desire to create great things, a common desire to wow people, you know, to surprise people. Which is what Disney has been all about from its very beginning.
JIM CRAMER: The moment where he tells you that he will not live is a very tough part of the book. It's obvious that you have tremendous respect for this. Apple has since prospered, I believe, but just say, tell us about how special this man was and how other worldly he seemed.
ROBERT ALLEN IGER: Well, the story that you talk about was one that I remember vividly. It was about an hour before we were announcing the acquisition of Pixar, a $7.4 billion acquisition. He asked me to go for a walk, sat on a bench – we were at Pixar – he put his arm around me and told me that he has cancer, which he had had and the world had known about, had returned. And he was giving me an opportunity to back out of the deal. Of course, you know, I looked at my watch and the clock was ticking loudly. And I had no idea how to react and I asked him for a little bit more information.
He ultimately gave me that information but told me I had to keep it confidential. Only his wife and his doctor knew, at that point. And I thought, Wow, what an incredibly generous thing for him to do, to give me that chance to be so honest, so candid, so trusting you. And, of course, I decided that I would go forward.
I didn't know how I would ever explain to my board or others that I had suddenly gotten cold feet when I was arguing to do this for a number of months. But I thought that it was, not only an incredible moment for me and in terms of our relationship, but it spoke volumes about who he was.
JIM CRAMER: Were you surprised -- and when I'm reading it, I'm thinking, at that moment he's going to say, 'And look, I need you to be the steward of Apple. I would like you to merge with us.'
ROBERT ALLEN IGER: No. We never talked about that and we spent a lot of time in a conference room outside of his office and walking on beaches in Hawaii and other things, musing about things we might be able to do together. We never talked about being one company. But he loved Disney a lot. And obviously, he loved Pixar. He loved storytelling, and he loved the combination of storytelling and technologies -- he called Liberal Arts and Technology. And they -- I think he said at one point he said that made his heart sing.
JIM CRAMER: Yes. Yes.
ROBERT ALLEN IGER: You know, the combination of art and technology. That's what Pixar was, by the way. And so, I mused to the book – and now Steve is gone, eight years. Had he lived, I think there's a good chance -- we certainly talked about being one company. Whether we would have done it or not, I don't know. But it's all conjecture.
JIM CRAMER: In the meantime, I think Tim Cook has just been unbelievable. I don't think he gets nearly the credit. You just resigned from the board. Do you think that he has continued the legacy? Because I find Wall Street thinks that there's a before and after with Steve Jobs. I'm looking at the opposite. I see tremendous innovation. I see so much greatness coming out of that company. You were on the board. What do you think?
ROBERT ALLEN IGER: Well, I don't think you could even talk about it as a from a board perspective, just as a consumer. I use those products and I want those products. Talk about a wow factor. They continue to wow me. Apple continues to raise the bar, in terms of quality and quality of service and experience and design. And I don't think they've lost the step at all. You know, they went through a tough period of mourning when Steve went. It had to be extremely tough.
I came on the board about that time, so I saw some of it firsthand. And I think Tim has done a great job and no matter what direction you look, no matter how you point, I think you conclude that that company is one of the great companies in the world. And Steve's gone for eight years, and yes, he founded it and it's his company in some ways, but what Steve did was long ago at this point, particularly given the pace of change.
JIM CRAMER: Absolutely. Now, I want to ask you about -- you're doing things that I think are not necessarily short-term, in the interest of the dollar and cents at Disney, but longer-term, has kept the brand to be what it is. The way you treat people, the humility you show, the things that you do for the people who work there, which most companies don't do. And you don't talk about.
ROBERT ALLEN IGER: Well we talk about it internally. Running big public company is obviously complex, a lot of CEOs would say the same thing, particularly one like Disney with so many different businesses, so many different touchpoints. And you have to have your investors or your shareholders in mind, their interests in mind, in most cases and you have to have your customers interests in minds and you have to have your employees' interests in mind. And there's a delicate balance there. You can't falter in any one direction. And so, we've tried very hard because the company, because, look,
Disney is known for the product it creates and that product emanates from people. From creative people and the people who work in our theme parks and, you know, I can point in so many directions. And you have to treat them well and give them opportunity. So, we created a program that we call Aspire, where we earmarked $150 million, and it's free education for our hourly employees in the U.S. 88,000 of them. and 40% of them have signed up and said, 'Put me in.'
It's free education, whether it's vocational education, high school equivalency, college degree, graduate degree, all you have to do is be working for the company. And the number of people, 8000 are already doing this.
They have come forward to me and said, 'That is creating opportunities for us, you know. That's putting your employees, if not first at least Top of Mind, along with your customers and your investors. And you have to do that and Disney -- people want Disney to be a good citizen of the world. And that starts with being a good citizen in the places that you work.
Robert Allen Iger on Twitter
JIM CRAMER: I was going to say, because the Round Table – this Round Table has been getting a lot of credit now for recognizing the things that Disney stuff for years. That you've done for years. There are revelations in the book and I need to, I need to flush some out. There's a moment where you say, 'Listen, we need to buy Twitter.' And then you just walk away from Twitter. Why?
ROBERT ALLEN IGER: Well, I got cold feet for the right reasons.
JIM CRAMER: Yeah, but you didn't tell us.
ROBERT ALLEN IGER: Well, I was taking -- I thought we'd be taking on responsibility that we shouldn't take on. It was too complex in terms of Twitter's place in the world, and everything that Twitter is used for. And it just didn't feel Disney to me. It was interesting because we thought it would be a good platform to distribute our content on, and to get closer to consumers, which is critical in today's business environment. But I thought, you know, there are things Disney does well, and there's things Disney doesn't do well but there are things Disney shouldn't even try to do well.
JIM CRAMER: And that's one of them.
ROBERT ALLEN IGER: And that was one of them.
JIM CRAMER: Alright. There's a moment where you're talking about reading FDR and JFK inaugural speeches. You're reading the RFK Indianapolis speech. You're doing things, because you're thinking about running for President. But you didn't.
ROBERT ALLEN IGER: Right. I kicked it around. I did a lot of reading and I like speeches, by the way and I would have done that had I not been kicking it around. A bunch of people came forward and said, 'Hey, why not?' I happen to believe that America was ready for an outsider, someone that didn't come from the system. Donald Trump is certainly a product of that.
And I'm a patriot at heart. I love this country. Look, I am, in many respects, you know, the American dream. A lower middle-class kid who ended up as the CEO of Disney by working hard and so and I kicked it around. But then, Rupert and I started talking and we ended up -- Rupert Murdoch. We ended up buying the assets of 21st Century Fox and I agreed to stay longer Disney. And the rest is history.
JIM CRAMER: There's a lot of metaphors in the book. One of them that I like is from my boss, Brian Roberts. You have, at a one point, someone bursts in -- bursts in and says, 'They went hostile.' And it could have been an ugly moment. And then, 50 pages later you're sharing a car with Brian Roberts, like nothing happened. I mean, you seem to have a resilience and no resentment.
ROBERT ALLEN IGER: Well I think resentment in many respects is the waste of energy, whether it's, you know, psychic energy or physical energy. I have a nice relationship with Brian Roberts. I actually respect Brian Roberts, there would be no value at all in me having resent or being resentful of him. You know, he's built a great company with his Dad. So be it, we're competitors. We're also partners. They distribute a lot of our content. I have other things to worry about.
JIM CRAMER: Alright, let me talk about something that I wish you would extend in the book, but you're not political other than that moment what you're thinking about. If you were in charge to trade. If you were in charge of trade -- you have the best Chinese experience, I don't know how many -- you said you've been to China more than almost anybody, I think, in our country. Could you solve this?
ROBERT ALLEN IGER: I don't know –
JIM CRAMER: You know the Chinese.
ROBERT ALLEN IGER: I've managed, through my role and with others, to create a great relationship with the government of China and with the people that we've interacted with. Including by the way our customers. They love Shanghai Disneyland.
JIM CRAMER: They love America.
ROBERT ALLEN IGER: And so, I don't know. I'm not going to presume that I would know how to deal with a trade crisis, or trade issues between us and China. I do think though that a good relationship is a relationship that has value, both ways, between China and the United States on trade and other issues is vital.
JIM CRAMER: Okay. Now, I want to tip the hat to someone who works with me. My partner David Faber. Who will you mentioned, we gave you a holy crap moment that I think is one of the funnier moments in the book.
ROBERT ALLEN IGER: Yes, in the middle of the competition, shall we say, between us and Comcast for the Fox assets. I was in Europe and I was actually headed to our office in London, and in a car and my phone rang, my mobile phone, my Apple phone, by the way. And it was David. He said, 'Well, that's some news. Do you want to comment?' I said, 'What news?' And he told me that that Brian and thrown in the towel or they pulled out. And I said, 'Holy crap.' I guess I can say that I'm on Mad Money. Yes. David was a news breaker there.
JIM CRAMER: Yeah, well, it was impressive reporting. I thought it was -- I thought it was great that you gave him credit. You give credit out in a way that makes me think that you know it doesn't cost anything to give credit. Throughout the book you credit people with your greatness, things that are worked. Again, tell people, this is a great point -- a tremendous business lesson. You make people feel good.
ROBERT ALLEN IGER: It's not about cost. It's not about cost. It's about the truth. You know, I – yes, I run the Walt Disney Company, but there are 230,000 employees. I don't come close to really running the company. They run the company. And I have a great senior team. Most of the big decisions that company are made by them. And of course, I get involved and I'm there to support them, I'm there to challenge them. You know, I'm – I can be demanding of them. Certainly, when it comes to quality and behaving with integrity. But I give credit, not because it's cheap to do, but because it's the truth.
JIM CRAMER: Okay, that's good. Apple: bittersweet, I think. Because you—
ROBERT ALLEN IGER: Leaving the board.
JIM CRAMER: -- felt like you had to leave. Because, I feel – look, Apple's going to have a powerhouse entertainment slate. Why isn't that something Disney wants to be affiliated with?
ROBERT ALLEN IGER: Well, I – it was hard for me to leave the Apple board. Steve did talk to me about joining the board before he died. And because he had been on the Disney board—
JIM CRAMER: Right.
ROBERT ALLEN IGER: He – I couldn't be on the Apple board. You know, it's not considered appropriate. I think it actually – I think the New York Stock Exchange doesn't allow it. The interlocking board memberships. I believe that's what it is. But when he died, I was asked to essentially become – replace him on the board – not replace him in total, but – and I just loved -- I loved my eight years on the Apple board. I learned so much. And I think I brought something into the boardroom too, because of my perspective.
You know, we'd love to be associated with Apple. They do distribute our content and our apps. The reason I got off the board is as they got more and more into creating television shows and movies it became more and more clear to me that our paths were conflicting rather than converging. And I just thought it was the right thing to do. The business is still relatively small for Apple but it's meaningful for Disney and it wasn't right.
JIM CRAMER: One last thing that is a tremendous theme throughout, that great leaders have, I've discovered: optimism. You talk about the negative power of pessimism, and the positive of optimism. I just want to leave us – I find that so many people are pessimistic right now. It's driving me crazy. You have remained optimistic throughout all sorts of turmoil, including personal turmoil. In the book, tragedy to the theme park, difficult relationships with people – someone who said you're basically never going to advance in Disney. And throughout the book, you – the theme is optimism. How do people maintain it these days?
ROBERT ALLEN IGER: Well, I think, by the way optimism is a core principle of good leadership. It's – you know. People just don't want to follow someone who is a pessimist. And I remember as a kid seeing World War 2 movies, you know, and you'd have some Captain or Lieutenant or Officer of some sort saying, 'Okay, We're going over this hill. Come on, fellas.' If that guy is a pessimist, who is going to go over the hill with him?
You know. And if you, I think if you acquaint that to business in many respects you know, somewhat similar. It's an interesting world. Change is so rapid, so profound that it creates a huge amount of anxiety, in some cases, cynicism. In some cases, people view the world as dystopian in nature.
That's actually why I like Disney so much, because what do we do? We manufacture fun. You know, we enlighten people. We tell stories that are optimistic, where the future is bright, good will triumph over evil, there's value in adventure, the value of love, friendship, family, respecting your elders.
I mean, I could go on and on. That's Disney. In this world, what a better time to be in this business. And it's actually – I just met with 325 Disney executives in Florida, in Orlando, and I said to them: another reason to be optimistic – and there are many, if you're at Disney – is that factor. Look where we are in the world today.
JIM CRAMER: And do wherever need it. Okay, well that's Robert Allen Iger, like I need to tell people, the Chairman and CEO of Disney. And the book is "The Ride of a Lifetime." And I want you to take the ride of a lifetime. I learned a ton. It's never too late to learn, even at my age. Younger people must definitely read this. It's going to change your mind about business and life. Thank you so much, Bob.
ROBERT ALLEN IGER: Thanks, Jim. I appreciate it.