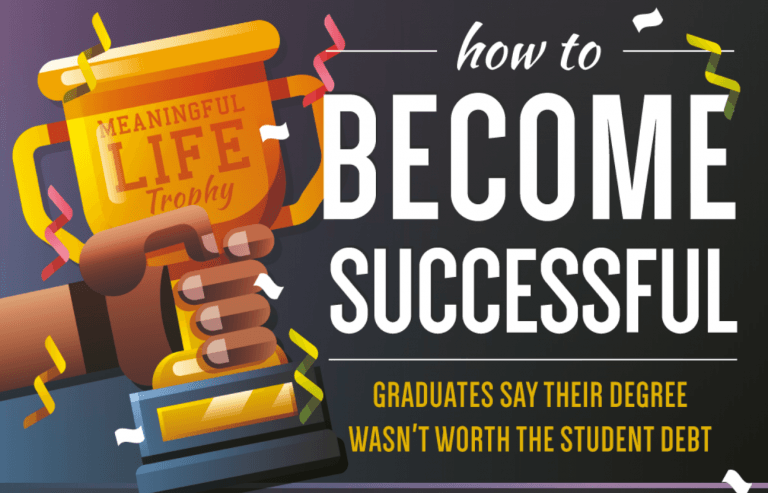 When the majority of the population is priced out of a college education, it's time to redefine success. There was a time when going to college was a great way to ensure you would land in a decent career that would sustain you until retirement. These days people aren't even paying off student loans until retirement age, which means they often have no retirement savings on which to actually retire. Instead of graduating and finding a good job, many people are finding entry level jobs that pay $10 an hour and require four years of experience, which means they are living in their parents' basement well into their 30s. Meanwhile, trade schools are starved for students and trades are paying higher than average wages to those willing to work in them. Is it time to redefine success?
GenZ is the first generation to define itself by their school and career achievements above their family and upbringing. Financial independence, full time employment, and moving out of your parents' basement are seen as the number one way to achieve adulthood. But that doesn't mean they expect to be rich – only 19% of young adults consider being rich equal to being successful. More than half think of success as following your dreams, however you happen to get there.
Canyon Capital Has Tapped Into The Pandemic Fallout: In-Depth Analysis [Q4 Letter]
Canyon Balanced Funds was up more than 41% net since the end of last year's first quarter. It took about 10 months for the fund to recover from the lows in that quarter, a few months longer than the 2009 rebound after the Global Financial Crisis. The fund has a little over $26 million in Read More
Q2 hedge fund letters, conference, scoops etc
Redefine success with the correct trade
These days learning a trade is a more solid path to financial independence and those success markers that younger generations are striving for. The average annual salary for trade school grads is $65,000 a year, which is a solid middle class salary for someone who wouldn't otherwise be able to afford higher education.
Skilled trade professionals are getting harder to find, which is raising the wages for these positions and all but guaranteeing job security. Plumbers and electricians are some of the professionals in the shortest supply, and 80% of contractors report having difficulty finding qualified professionals to fill these and other construction trade jobs.
Metal workers, welders, HVAC technicians, and more are going to be in high demand for the foreseeable future, which means that getting a job in one of these professions can get you out of your parents' basement and on your way to adulthood. The average student loan debt for trades is a third of what it is for traditional colleges, and you're out and working much quicker to pay those loans back. And if college is still important you can go to school and pay your way with a trade school salary.
Learn more about altering your path to success with vocational school from the infographic below.