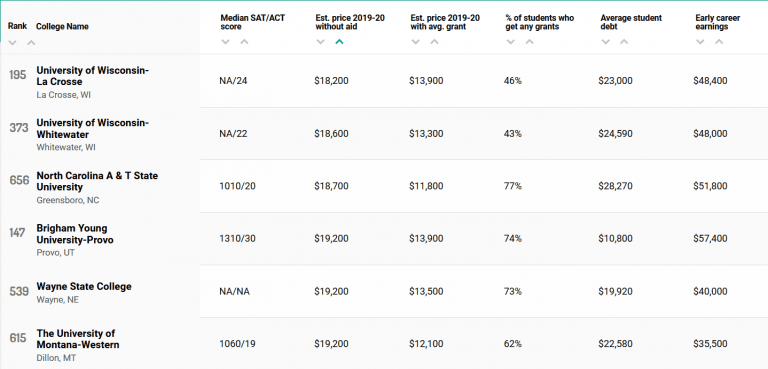 EAST GREENSBORO, N.C. (Sept. 13, 2019) – The latest edition of Money magazine's "Best Colleges for Your Money 2019" rankings continues the trend of positive rankings for North Carolina Agricultural and Technical State University (N.C. A&T).
Of the Tar Heel State's 22 colleges and universities included in the rankings, N.C. A&T remains the most affordable campus.
Carlson Capital Thinks The SPAC Boom May Be Over [Q1 Letter]
Carlson Capital's Black Diamond Arbitrage Partners fund added 1.3% net fees in the first quarter of 2021, according to a copy of the firm's March 2021 investor update, which ValueWalk has been able to review. Q1 2021 hedge fund letters, conferences and more At the end of the quarter, merger arbitrage investments represented 89% of Read More
[REITs]
Q2 hedge fund letters, conference, scoops etc
N.C. A&T has the third-lowest estimated annual cost to attend, at $18,700, among the 744 institutions listed in the rankings. Duke University had the highest estimated annual cost at $75,000 among the North Carolina campuses, putting it in a three-way tie as the ninth most expensive institution on the list.
"After years of continuous increases, college sticker prices are so high now that only families who have saved significantly for 18 years or who are independently wealthy can afford to pay them outright," said Money's Kaitlin Mulhere. "Yet affordable, high-quality colleges do exist – if you know where to look."
Factoring in N.C. A&T's average financial aid award lowers its estimated annual cost to $11,800 – the same as the University of North Carolina at Chapel Hill, where 52 percent of students receive any grants while 77 percent of A&T students receive any grants.
"As higher education costs continue to trend upward, it is imperative that we continue the work of keeping the cost of an N.C. A&T degree affordable for the students who choose our university," said Jacqueline Powers, interim associate vice provost for enrollment management at A&T. "This is one of the many reasons we are a first-choice institution for dynamic students across all disciplines."
College students and their families can begin submitting applications for the Free Application for Federal Student Aid (FAFSA) on Oct. 1 to help pay for higher education in the 2020-21 academic year. Current and prospective undergraduate and graduate students must file for FAFSA annually to obtain access to federal loans, grants and work-study programs.
More good news for current and prospective students: three years after receiving their N.C. A&T degree, graduates can expect an average annual salary of $51,800. That figure is the third highest in the University of North Carolina System behind North Carolina State University and UNC Chapel Hill, respectively.
In building its rankings, Money focused on quality of education, affordability and outcomes using 26 factors based on data from the U.S. Department of Education, Peterson's college guide and PayScale.com in concert with the magazine's own college measures calculations. The institutions listed in the rankings met Money's inclusion criteria: enrollment of at least 500 students; financial health; sufficient, reliable data to be analyzed; and a graduation rate at or exceeding the median for its institutional category or a high "value-added" graduation rate.