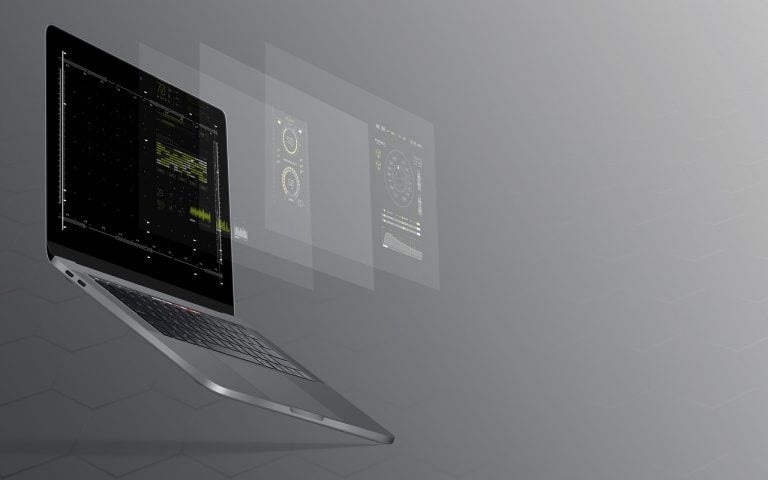 The MacBook Air has been Apple's most popular laptop for years. Recently, the Cupertino company refreshed the MacBook Air and slashed its prices. On the other hand, Dell's highly portable and ultra-slim XPS 13 laptops have been making waves for years. If you are in the market for a new laptop, you might be wondering whether to go for the Dell XPS 13 or spend your money on Apple's refreshed MacBook Air. Let's check out how the two devices stack up. We will be comparing the latest versions of both models.
Dell XPS 13 vs MacBook Air: Design
Both laptops have a premium design with excellent build quality. Both of them sport a 13.3-inch display with slim bezels, though bezels on the Dell XPS 13 are far slimmer than the MacBook Air. The new MacBook Air is available in Space Gray, Silver, and Gold colors. It measures 30.41cm x 21.24cm x 15.6mm, tapering to just 4.1mm at its thinnest point. At 2.75 pounds, the MacBook Air is marginally heavier than the Dell XPS 13's 2.7 pounds.
The MacBook Air has a Touch ID fingerprint sensor for authentication and security. The XPS 13 uses Windows Hello for security. The MacBook uses Apple's third-generation Butterfly keyboards that have fixed the issues users had reported with older versions. However, the typing experience on the new MacBook Air is still not as good as it is on the Dell XPS 13.
Seth Klarman On Margin Of Safety Investing
This is part nine of a ten-part series on some of the most important and educational literature for investors with a focus on value. Across this ten-part series, I'm taking a look at ten academic studies and research papers from some of the world's most prominent value investors and fund managers. All of the material Read More
Apple's Force Touch trackpad remains the gold standard in the industry. The glass-covered trackpad on Dell XPS 13 is pretty good, but it's not as good as that of MacBook Air. While the MacBook has a unibody aluminum design, Dell's laptop has an aluminum lid combined with a carbon fiber palm rest.
The MacBook has two Thunderbolt 3 USB-C ports for data transfer, charging, and connecting with external devices. The Dell XPS 13 gets you two Thunderbolt 3 USB-C ports and a regular USB-C port. Both devices have a traditional 3.5mm headphone jack. Dell has also included a microSD card slot for external storage, which is missing from Apple's device.
The Dell XPS 13 comes in rose gold and silver color options. Both laptops have a front-facing HD camera for video calls. Previous versions of Dell XPS have been criticized for the weird location of the camera, which made video calls awkward. With the latest XPS 13, Dell has managed to move the camera to the top bezel, which is incredible considering how slim the top bezel is.
Both of them have dedicated stereo speakers to enhance the audio experience. But the sound quality is superior on the MacBook Air. Apple has used upward-firing speakers on the sides of the keyboard to deliver stereo sound. The Dell XPS 13 has placed speakers on the sides.
Display
The MacBook Air features a 13.3-inch LED-backlit IPS display with a 1600 x 2560 resolution. It lacks touchscreen functionality. Its Retina display delivers rich colors and supports Apple's True Tone technology that automatically optimizes the display brightness and colors to ensure that the content is visible at all times. It also helps reduce the strain on your eyes.
The Dell XPS 13 offers a wide range of displays, including touch and non-touch versions, depending on how much you want to spend. The base model has a non-touch display with Full HD resolution of 1080 x 1920 pixels. You can upgrade it to 4K resolution and touchscreen functionality. But the 4K version is going to consume some extra battery power.
The MacBook Air has a 227ppi of pixel density compared to 166ppi for the base model of Dell XPS 13. They both deliver rich colors and high contrast.
Internal specs
The MacBook Air runs Intel's eighth-gen dual-core Core i5 processor. The device gets Intel UHD Graphics 617 GPU, which is good enough for casual users but can't handle video editing or gaming. Apple doesn't offer a Core i7 configuration for MacBook Air. It features 8GB LPDDR3 RAM and 128GB SSD storage for the base model. Users can configure RAM to 16GB and storage to 256GB, 512GB or 1TB.
One of the biggest limitations of the MacBook Air is that it runs Intel's Y-series processors rather than the U-series or H-series. The Y-series enhances the battery life and produces less heat. But it delivers only about half as much power as the U-series, which powers the XPS 13.
The Dell XPS 13 runs Intel's latest U-series Core i5 or Core i7 processor. Dell recently started using the 10th-generation Comet Lake Intel chips, which have six cores. It offers RAM options ranging from 4GB to 16GB and storage going all the way up to 2TB SSD. It also has a microSD card slot for external memory.
If you want to use your portable laptop for video editing, photo editing, or other demanding tasks, the Dell XPS 13 has you covered. Neither device has a dedicated graphics card, but they are both good enough for some casual gaming.
Battery life
The MacBook Air packs a larger 49.9Wh battery. Apple promises up to 13 hours of video playback and up to 12 hours of web surfing. In real-world conditions, the MacBook Air offers between 8-10 hours of battery life depending on the apps you are running.
The battery life of Dell XPS 13 varies depending on whether you have the touch or non-touch display, and whether you have the Full HD or 4K screen. The non-touch Full HD model lasts upward of ten hours with normal-to-heavy usage. The 4K screen brings down the battery life to around seven hours.
Conclusion
So, which one is a better buy? It comes down to whether you prefer Windows or macOS. If you own iPhones and iPads, the MacBook Air is a better choice. The Continuity feature lets you move your workflow between iOS and macOS easily. But if you are platform-agnostic, use your laptop for demanding tasks, or want value for your money, the Dell XPS 13 is the device for you.