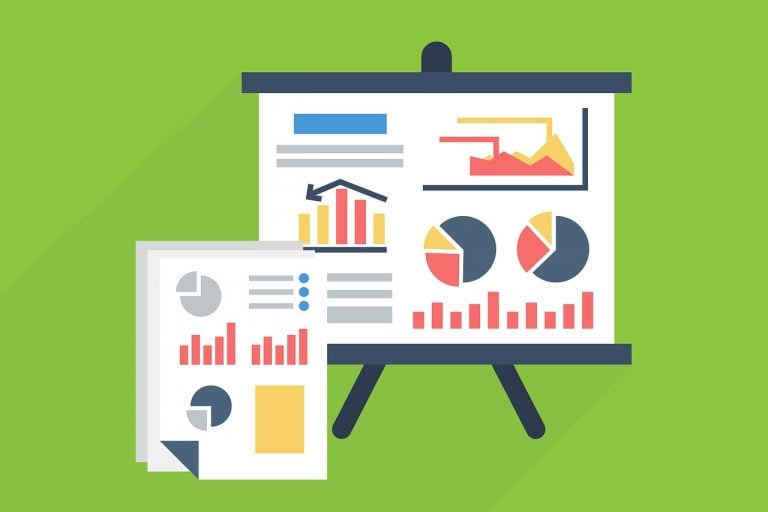 Stocks were little changed on Friday as investors took a breather following a wild month of trading and Trump tweeting (nowadays they seem to go hand in hand).
The equity market entered the week in an oversold condition. Eight of the eleven S&P sectors were oversold, with four of the eight coming in extremely oversold. Only Staples, Real Estate and Utilities remained in "neutral".
Q2 hedge fund letters, conference, scoops etc
Alluvial Fund May 2021 Performance Update
Alluvial Fund performance update for the month ended May 2021. Q1 2021 hedge fund letters, conferences and more Dear Partners and Colleagues, Alluvial Fund, LP returned 5.4% in May, compared to 0.2% for the Russell 2000 and 1.0% for the MSCI World Small+MicroCap . . . SORRY! This content is exclusively for paying members. SIGN UP Read More
The major indexes posted their worst monthly performance since May. The Dow fell 1.7% in August while the S&P 500 lost 1.8%. The Nasdaq pulled back 2.6%. U.S.-China trade relations intensified this month, rattling investors.
The Cboe Volatility Index (VIX), widely considered to be the best fear gauge on Wall Street, traded as high as 24.81 in August before pulling back to around 18. Investors also loaded up on traditionally safer assets such as gold and silver this month. The SPDR Gold Trust (GLD) rose 8% in August while the iShares Silver Trust (SLV) surged 12.8%.
Choppy intraday market action continued during the month as traders stayed fixated on the 2/10 Treasury spread and the Trade/Tweet situation.
Last week, China retaliated against U.S. tariffs by unveiling levies of its own that target $75 billion in U.S. products. President Donald Trump then said the U.S. would hike tariffs on a slew of Chinese products.
Our Take
In our view, despite signs of global economic weakness markets want to go higher. Nevertheless, without proof of actual movement towards a trade 'truce, in addition to a cooling of Trump rhetoric lambasting the Fed, American Business as well as China, the probability of a self inflicted recession is growing.
Charles Schwab sees leading indicators flashing limited recession warning: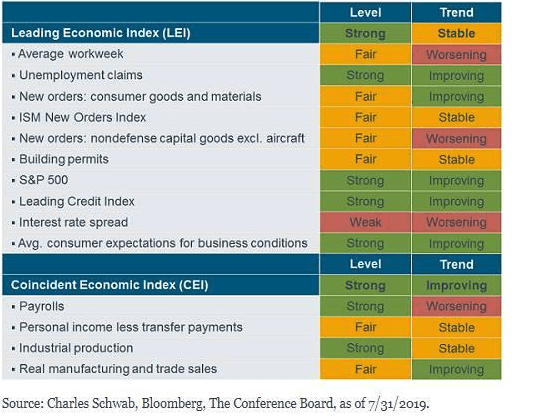 Although the levels of the leading and coincident indicators remain mostly green (strong) and yellow (fair); there has been a pickup in the number of red (worsening) trend readings; albeit having improved from the prior month in the case of the LEI.
Although the tariffs in place remain a drop in the bucket of this 20 Trillion dollar Amercican economy, the onset of a downturn is as much a matter of mood as of money. Although recessions can be linked to the after effects of shocks, they can also be linked to periods of time when people and firms fail to use valuable resources as they become available. In these garden variety slumps, people and firms with the capacity to spend more, who might normally leap at the chance to buy discounted goods or hire overqualified workers, instead allow their cash to pile up. Sound familiar?
In a recent Economist article, we are reminded that at the heart of this behaviour is a matter of mass psychology, or "animal spirits", as John Maynard Keynes put it. "Economies are great chains of earning and spending, held together by shared expectations that all will continue as normal. People spend incomes freely, on everything from homes to haircuts, in the belief that their jobs will not disappear and their incomes wither. Faith in economic expansion is self-fulfilling. But it is not invulnerable. Contagious pessimism can flip an economy from one equilibrium to another, in which cautious consumers spend less and hiring and investment fall accordingly. If the mood in markets and on Main Street is sour enough, even a modest nudge may push an economy into a slump." Is Trump's frantic leadership style helping or hindering this "faith in economic expansion"?
Instead, we are witnessing an erosion of such faith as each time consumers or market participants attempt to be optimistic about the outlook for the U.S. economy, they are punched in the gut by a Trump tweet.
Considering the big picture, it is conceivable that China just might be able to doom Trump's reelection chances—just as Russia helped put him in office in the first place by interfering in the 2016 presidential election in what the Mueller Report called "sweeping and systematic fashion."
As recently reported in Bloomberg: "China is suffering more from the trade war than the U.S. is, as Trump has accurately observed. The difference is that Chinese President Xi Jinping does not have to worry about an upcoming election. His new strategy seems to be to outlast Trump and hope that the next occupant of the White House will be more reasonable."
As the U.S. economy is beginning to show signs of weakness, Trump has reason to fret. He has built his argument for reelection on American prosperity. His hopes for winning the race may hinge in no small part on stopping the U.S. from tumbling into a recession before November 2020.
Only two presidents since World War II — Democrats Harry Truman and Jimmy Carter — have run for reelection in the same year as a recession. While Truman won and Carter lost, history suggests an economic slump would damage Trump's chances in what will already be a tough 2020 race.
Metrics such as the University of Michigan Consumer Sentiment Index help track consumers views' on and expectations for the economy. The metric typically plummets during recessions. Over the survey's history back to the mid-20th century, it has "largely" found that "if the index is low, the incumbent doesn't get reelected," said Richard Curtin, director of surveys of consumers at the University of Michigan.
What have you done for me lately?
The longer this trade war drags on the answer for Trump is increasingly trending towards a big: "nothing"...
Musings
In a recent article Michael Batnick reminds us that investors are always told to think long-term, but how are we supposed to do this in a world that gives presidential candidates 30 seconds to make a point?
This point rings more true today than at any other point in my investing career. Multiple daily market moving headlines is the new norm. One worries about how the day will end let alone the month, quarter or decade.
During a recent conversation with a potential investor I was asked how we at Logos LP handle this seemingly minute by minute investing climate.
The way we approach this question is through the lens of Pascal's suggestion that "All of humanity's problems stem from man's inability to sit quietly in a room alone." It is in our human nature to want to tinker. Dissatisfaction and unease are inherent parts of human nature as this kind of suffering is biologically useful. 
It is nature's preferred agent for inspiring change. We have evolved to always live with a certain degree of dissatisfaction and insecurity, because it's the mildly dissatisfied and insecure creature that's going to do the most work to innovate and survive. As Mark Manson writes in his book: "This constant dissatisfaction has kept our species fighting and striving, building and conquering. So no- our own pain and misery aren't a bug of human evolution; they are a feature."
Thus, our own human nature can stand in the way of superior investment results ie. thinking long term, tuning out the noise and staying the course.
If you are willing to accept and maintain a certain faith in long-term sustained economic expansion, thinking long-term when it comes to investing simply means that you maintain an acute awareness of your "human" penchant for dissatisfaction and unease. That you recognize your desire to tinker and don't act on it. You don't act out of emotion. You stick to the plan despite your troubles and your insecurities.
As Aristotle once said: "Knowing yourself is the beginning of all wisdom."
Charts of the Month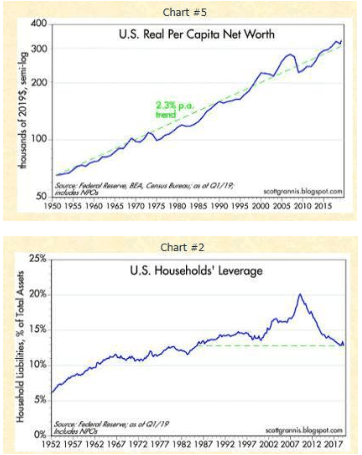 Net worth is at an all-time high, while leverage is down to levels seen in the 1980's. All of this evidence supports the notion that the consumer is well positioned to keep the economy on level footing.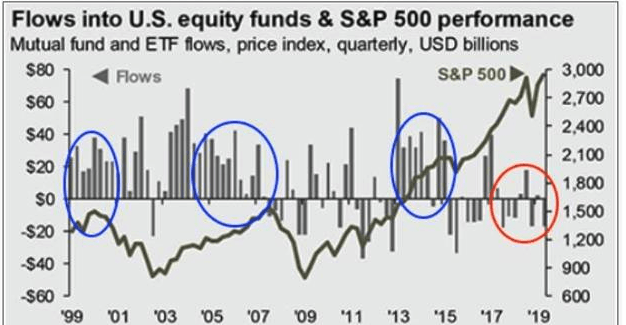 Chart Courtesy of Urban Carmel, Data Source; J.P. Morgan.
J.P.Morgan notes;
Fund flows into equity mutual funds and ETFs was strong before both the 2000-02 and 2007-09 bear markets, and even before the 2015-16 mini-bear market (blue circles). In comparison, fund flows have been negative for 5 of the past 8 quarters (red circle)
Logos LP July 2019 Performance
July 2019 Return: 4.45%
2019 YTD (July) Return: 30.93%
Trailing Twelve Month Return: 8.33%
Compound Annual Growth Rate (CAGR) since inception March 26, 2014: +16.02%
Thought of the Month
"Everyone thinks of changing the world, but no one thinks of changing himself." -Leo Tolstoy
Articles and Ideas of Interest
Missed a Post? Here's the Last 5:
The Disciplined Pursuit of Less
These Halcyon Days
Stocks Have Become Cheaper Than 4 Years Ago
Get Out or Go All In?
Can God Beat Dollar Cost Averaging?