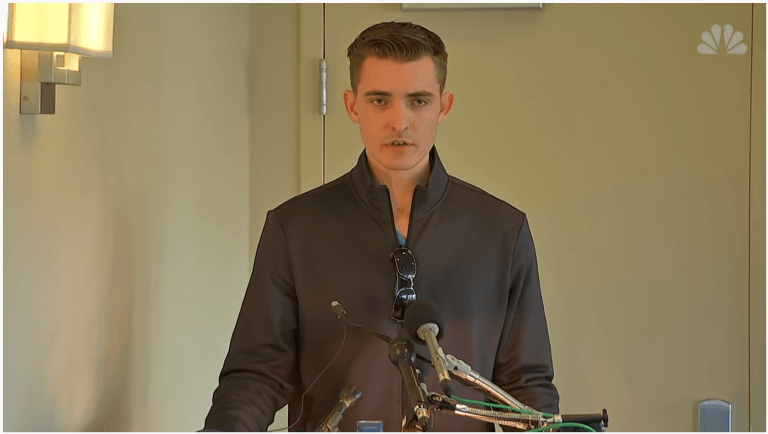 The odyssey of finance miscreant Jacob Wohl has finally led to felony fraud charges for the 21-year-old and his Montgomery Assets partner, Matthew Johnson. Wohl and Johnson go back several years, predating Jacob's time in political escapades.

Wohl is the high school jock turned "hedge fund manager" who made outlandish performance claims and ultimately was banned for life from the derivatives industry by its self-regulatory organization, the National Futures Association (NFA).
Q2 hedge fund letters, conference, scoops etc
[Exclusive] ExodusPoint Is In The Green YTD Led By Rates And EM/ Macro Strategies
The ExodusPoint Partners International Fund returned 0.36% for May, bringing its year-to-date return to 3.31% in a year that's been particularly challenging for most hedge funds, pushing many into the red. Macroeconomic factors continued to weigh on the market, resulting in significant intra-month volatility for May, although risk assets generally ended the month flat. Macro Read More
Wohl, who was also banned from Twitter, moved on to become a conservative activist and Trump supporting provocateur, ultimately promoting false claims of sexual misconduct against former FBI Director Robert Mueller, who was also the lead special prosecutor investigating Russian interference in the 2016 U.S. Presidential election. Wohl promoted similar false sexual assault claims against South Bend, Indiana Mayor and Democratic presidential candidate Pete Buttigieg.
Wohl and Johnson charges
Wohl's latest troubles stem from a 2016 Arizona incident where a man claiming to have been defrauded by Montgomery Assets contacted the Riverside County District Attorney's Office, the California location where Wohl resided and as of late operated his business. An undercover investigator and police officer were assigned to the case and set up a sting operation, posing as a real estate agent representing an investor. Wohl and Johnson made promises of a 17% return on investment as for one month they haggled with undercover agents over a $100,000 investment.
Wohl and Johnson are now facing a felony count of selling an unregistered security to undercover Riverside investigators, the Daily Beast first reported.
Wohl's case highlights how those committing financial fraud can skirt regulatory jurisdictions to make prosecuting such cases a challenge. One key to prevent fraud is for investors is to understand when a financial advisor or fund manager is properly registered with regulators, which can easily be accomplished by accessing regulatory websites that maintain such databases.
When he was first a high school hedge fund manager Wohl was unregistered with an unaudited track record and solicited investments from friends and family. While regulations across securities and derivatives regulators can vary, such investments are often legal so long as the advisor does not hold themselves out to the general public to solicit investments, limits the number of investors and/or only solicits wealthy clients who meet certain thresholds.
NFA Trouble
Wohl then made the decision to enter the regulated derivatives industry, registering with the NFA as a fund manager. The NFA, however, audits performance of its member fund managers and reviews promotional material, which is where the trouble started. Wohl had created memorable promotions, touting unusually positive risk/reward statistics and promising customers a unique experience that included a "director of fun" who would help facilitate an educational experience at the firm's Laurel Canyon, California "trading compound."
The situation got on regulator's radar when the NFA learned customer funds were at risk, a serious red flag. The NFA sent out a team to engage in a surprise inspection of the compound and review the firm's performance and records, which is not uncommon when fraud is suspected. Wohl's lawyer father would claim the NFA was "bullying" his son, Yahoo News reported. Wohl resigned from the NFA as the investigation was ongoing.
William Gallwas, founder of Striker Securities, a registered brokerage firm that monitors the actual cash accounts of unregulated systems providers, advises investors considering such investments to make certain that their performance is more than "hypothetical." He says many questionable fund managers use YouTube, Twitter and other social media to tout hypothetical performance that often does not translate once the system is up and running with an actual cash investment.
Wohl and Johnson charges - Arrest warrant
Wohl moved on from his stinging experience as a registered fund manager back to the unregistered world, ultimately running afoul with Arizona securities regulators, who accused him of misleading investors. He agreed to a $5,000 fine and $32,000 in restitution with the Arizona Corporation Commission. This led California prosecutors filing a warrant for Wohl's arrest on August 17 that expired when Wohl appeared in court Wednesday. He left on his own recognizance.
This article first appeared on ValueWalk Premium
Updated on