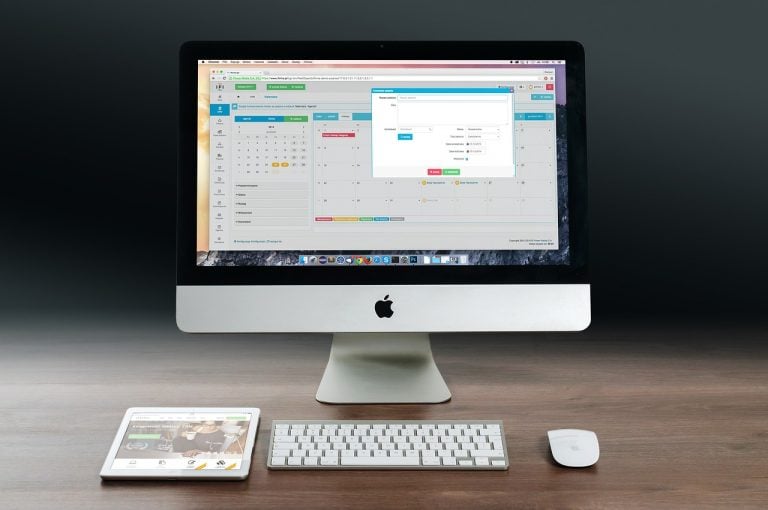 Apple has an overwhelming number of Macs – MacBook Pro, MacBook Air, Mac mini, iMac, iMac Pro, and Mac Pro. If you want to work on the go, your choices are limited to MacBook Air and MacBook Pro. If you are in the market for a desktop, you might be interested in the refreshed Mac mini or the 2019 iMac. The iMac Pro and Mac Pro are ridiculously expensive, costing you upward of $5,000. In this iMac vs Mac mini comparison, let's check out which one is a better buy.
The Mac mini has become popular again since Apple updated it to 8th-gen Intel processors, faster storage, and of course, a higher price. Its pricing and capabilities put it in the same league as the iMac, even though it lacks a monitor and keyboard. No matter which one you choose, just don't spend your hard-earned money on the 2017 iMac.
iMac vs Mac mini: Design
The Mac mini has the same design as its predecessor. It has a beautiful Space Grey aluminum chassis. The device measures 19.7cm x 19.7cm x 3.6cm and weighs just 2.9 pounds. The Mac mini is a thin slab of metal that fits perfectly even on smaller desks. It doesn't have its own display, but it supports up to three 4K displays. It also supports 5K displays.
Odey Special Situations Fund took on several new positions in March
Odey Asset Management's Special Situations Fund was down 3.2% in March, compared to its benchmark, the MSCI World USD Index, which was up 3.3%. Through the end of March, the fund is up 8.7%, beating the benchmark's return of 4.9%. Q1 2021 hedge fund letters, conferences and more Odey's Special Situations Fund deploys arbitrage and Read More
The mini doesn't have a keyboard, mouse, trackpad, or display. The Mac mini would work with your existing keyboard and monitors. It's been designed as an entry-level Mac to lure Windows users into the Apple ecosystem. Most Windows desktop owners already have a keyboard, mouse, and monitor.
The iMac retains the design elements of its predecessors. It's an all-in-one desktop computer with a slim profile. It still has thick bezels around the display. Customers were hoping that Apple would reduce the bezels on the updated model, but that didn't happen. Under the display is the familiar brushed aluminum 'chin' with Apple's logo.
The iMac ships with a Magic Keyboard and Magic Mouse 2 in the box. You don't need to buy these things separately. The base model comes with a 21.5-inch Full HD+ display with 1080 x 1920 resolution. You should avoid buying the base model because its display is not 4K and it has a relatively slower storage and older processor.
Apple offers a 21.5-inch model with 4K Retina display. It has 500 nits of brightness, 4096 x 2304 resolution and support for wide color gamut. Then there is the 27-inch iMac with an even better 5K display. If you don't have a monitor and you want an all-in-one desktop computer, the iMac is a better choice.
iMac vs Mac mini: Ports and connectivity
Both the iMac and Mac mini have all the ports on the back. The iMac features four USB 3 ports, two Thunderbolt 3 ports, an SDXC card slot, and an Ethernet port. The SDXC card slot is missing from the Mac mini, which means you have to rely on dongles to transfer content from an SD card to the desktop computer.
The Mac mini features two USB 3 ports, four Thunderbolt ports, an Ethernet port, and an HDMI 2.0 port. Both computers have the 3.5mm headphone jack.
Internal specs
Apple offers its computers in a wide range of configurations. The Mac mini packs 3.6GHz quad-core 8th-gen Intel Core i3 processor with 8GB RAM and 128GB PCIe-based SSD storage. It has been priced at $799. The storage drive is insanely fast. No matter which RAM, processor, or storage option you choose, you'll get the same Intel UHD Graphics 630 GPU in Mac mini. It lacks a dedicated graphics processor.
If you want a faster processor, you can opt for the $1,099 model. It packs a hexa-core 8th-gen Intel Core i5 processor with 3.0GHz clock speed and turbo boost up to 4.1GHz. It includes 256GB of SSD storage and 8GB RAM. The 128GB storage in the base model won't be sufficient for most users.
Depending on your budget, you can configure the Mac mini with up to Intel Core i7 processor, 64GB of RAM, and 2TB SSD internal storage. The top-end model with 64GB RAM, 2TB SSD storage, and 8th-gen Intel Core i7 processor costs $3,099. Even though the Mac mini lacks a dedicated GPU, it's good enough for video editing and some casual gaming if you buy the Core i5 or the i7 model.
The base model of 21.5-inch iMac features a 7th-generation dual-core Intel Core i5 processor with 2.3GHz clock speed. It gets 8GB RAM, Intel Iris Plus Graphics 640 GPU, and 1TB traditional hard drive, which is much slower than SSD storage. It costs $1,099. There is no point spending over a thousand dollars on a desktop with outdated features.
The Retina 4K display variant packs 3.6GHz quad-core 8th-gen Intel Core i3 processor with 8GB RAM, 1TB hard drive, and Radeon Pro 555X GPU. It is going to set you back by $1,299. But if you are going to use the iMac as your primary computer, you'd want at least the $1,499 model, which features a hexa-core 8th-gen Intel Core i5 processor, 1TB Fusion Drive, 8GB RAM, and Radeon Pro 560X graphics.
On the 21.5-inch Retina 4K iMac, you can upgrade the RAM up to 32GB, storage up to 1TB SSD, processor up to 8th-gen Intel Core i7, and graphics card up to Radeon Pro Vega 20. Of course, these options are going to significantly increase the cost. The maxed out 21.5-inch Retina 4K iMac with 32GB RAM, Core i7 processor, 1TB SSD storage, and Radeon Pro Vega 20 graphics is going to cost you $3,149.
The 27-inch Retina 5K iMac starts at $1,799. The base configuration gets you 8GB RAM, 3.0GHz 6-core 8th-gen Intel Core i5 processor, 1TB Fusion Drive, and Radeon Pro 570X GPU. You can configure it with up to 64GB RAM, hexa-core 9th-gen Intel Core i9 processor, 2TB SSD storage, and Radeon Pro Vega 48 graphics card.
Conclusion
If you have a keyboard and monitor, or if you are willing to buy them separately, the $799 Mac mini is a much better choice than the base model of the iMac. The Mac mini is a lucrative choice if you have a limited budget. Any iMac below the $1,499 model is not worth buying. If you want an all-in-one Mac with an insane amount of processing power, the iMac is the way to go.