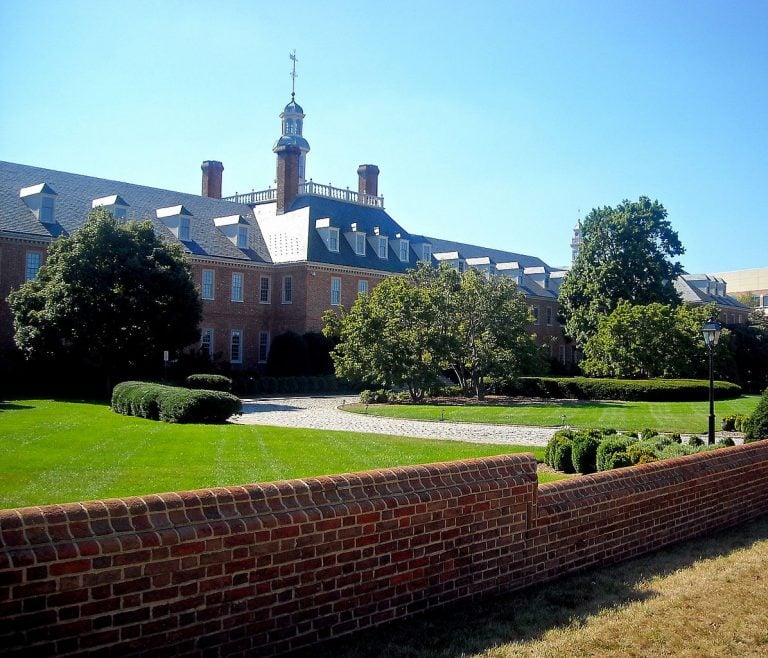 Whitney Tilson's email to investors discussing Fannie Mae, Freddie Mac soar as hedge funds score wins on two fronts; Enrique Abeyta on AT&T; get global entry.
1) I hope some of my readers were paying attention when I wrote the following in Friday's e-mail about the stocks of mortgage giants Fannie Mae (FNMA) and Freddie Mac (FMC
C):
Seth Klarman Describes His Approach In Rare Harvard Interview
In a rare interview with Harvard Business School that was published online earlier this month, (it has since been taken down) value investor Seth Klarman spoke at length about his investment process, philosophy and the changes value investors have had to overcome during the past decade. Klarman's hedge fund, the Boston-based Baupost has one of Read More
Q2 hedge fund letters, conference, scoops etc
Their stocks are down today, likely due to the [U.S. Treasury] plan's lack of specificity, and perhaps to concerns that regulators will force the GSEs to raise large amounts of capital. But I have a different take...
Not only does the government own 79.9% of the equity, but it also wants the GSEs to be able to raise a lot of capital so that taxpayers will never have to bail them out again. Both factors give the government a strong incentive to act in a way that leads to a higher share price.
I continue to believe that the securities of the two GSEs represent incredibly intriguing mispriced options...
Then, after the markets closed on Friday evening, the U.S. Court of Appeals for the Fifth Circuit issued a judgment that was a huge victory for shareholders.
It overturned a lower court and ruled that the "net worth sweep" – which I called a blatantly illegal act in Friday's e-mail – did indeed violate the law and remanded the case back to the lower court "for further proceedings." (The Court of Appeals also ruled that the structure of Fannie and Freddie's regulator, the Federal Housing Finance Agency, is unconstitutional because of job protections for the agency's director, but this is less important.)
The decision is already having an impact. Treasury Secretary Steve Mnuchin said yesterday morning that the Treasury is "in the process of negotiating with" the Federal Finance Housing Agency, Fannie and Freddie's regulator, adding, "we expect a near-term agreement to retain their earnings."
I sent two special buy alerts to Empire Investment Report subscribers – one last Thursday, when the stock was at $2.97, and another yesterday morning, when it was trading at $3.31. In each alert, I recommended buying a 1.5% position. In yesterday's alert, I wrote:
Fannie Mae's stock should be up 50% on this news this morning. Instead, it's only up 21%. It's clear that investors don't yet fully appreciate the implications of this ruling. That's why today, we recommend buying the second half of the position, making it a 3% holding.
The stock closed yesterday at $3.87, up 43%. As of yesterday's close, my subscribers are up 21% on the blended position in less than three trading days.
Here's a Bloomberg article with more on this: Fannie, Freddie Soar as Hedge Funds Score Wins on Two Fronts. Excerpt:
Fannie Mae and Freddie Mac soared the most in almost three years Monday as hedge funds that have long hoped to make a windfall on their investments in the mortgage giants got a double-dose of good news.
2) Yesterday, activist hedge fund giant Elliott Associates disclosed a $3.2 billion stake in telecom and media company AT&T (T) and released a 23-page letter to its board. The stock initially rose more than 5% on the news, but ended the day up only 1.5%. My colleague Enrique Abeyta has long been bearish on the stock, so I asked him for his take...
I have followed this company for 25-plus years and been short it for the last 15, so I read Elliott's letter with interest.
My first observation is that the first 10 pages do an excellent job of going through why I have been short the stock for so long. In particular, I enjoyed this chart showing how AT&T has underperformed the S&P 500 by 150 percentage points in the last decade:

While you would not have made an absolute return shorting AT&T, that is some great alpha – and "range trading" the stock has been an absolute home run!
The letter goes through AT&T's litany of problems, including failed acquisitions, lack of innovation, product issues, management departures, and overall poor performance relative to peers. I would also add that AT&T has a reputation for heavy staffing in corporate, strategy, and lobbying (the company no doubt had 50-plus people looking at Elliott's letter yesterday).
So kudos to Elliott for a good review of why the company has underperformed. But when it comes to Elliott's plan, there isn't one. Rather, there is a plan to have a plan.
Elliott does state some things the company should consider, such as divestments (already underway), better management of operations (hardly a novel idea), a formal capital allocation framework (nothing novel here, either), and enhanced leadership and management (the only idea that I think is realistic).
All of this begs the question: If the company could have done any of the things Elliott wants it to do, don't you think it would have done them already? The management and board aren't dumb, plus they've hired the best (and most expensive!) strategic minds in the world.
My biggest quarrel with Elliott is that it claims that "AT&T is a Collection of Leading Franchises." Nothing could be further from the truth. In reality, every one of its businesses is in secular decline.
Enrique is working on an in-depth report on this, but ultimately, he believes the issue here is not the management, but the business...
With this set of lousy assets, I see no options for AT&T to return to any kind of meaningful growth.
I also take issue with Elliott's discussion on valuation. It argues AT&T is cheap, trading at 10 times forward earnings, but I doubt it'll hit its earnings estimates and I question earnings quality as well. This company does more adjustments than almost any other I've ever seen. I believe true free cash flow is 30% lower and debt is 30% higher than the company reports.
I feel strongly that the best move for AT&T is to cut its dividend, which is costing the company nearly $15 billion annually, and invest in the business. But this isn't going to happen, with 43% of the shares held by non-institutional investors (mostly individuals). Instead, AT&T will likely keep squandering shareholder value by buying declining businesses (though it's possible that it's now so big and indebted that there's almost nothing it can buy to keep the music going).
In summary, I believe the best-case scenario for AT&T is that the stock trades in a range and over time goes nowhere, but at least shareholders can collect the dividend. In this case, savvy investors can short the stock in a trading range indefinitely. (I plan on doing so for another 25-plus years.)
At worst, while there are some key differences, AT&T will turn into the next General Electric (GE). Take a look at that chart!
One last note... I think highly of the folks at Elliott and respect their great track record. But even the smartest investors get a few wrong. Look at the following chart of Elliott's most recent foray into telecom with Telecom Italia...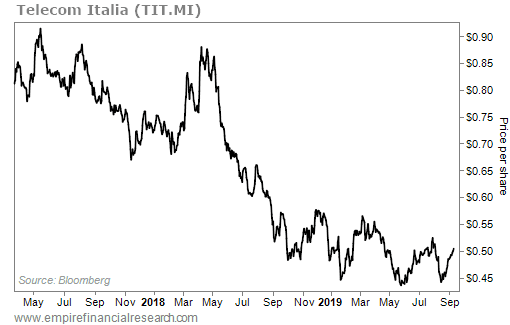 Thanks for sharing that terrific analysis with Empire Financial Daily readers, Enrique!
3) I flew to Seattle last Friday and, for the first time in years, discovered that I didn't have TSA Pre-Check when I got to security at Newark. (I must have forgotten to enter my Known Traveler Number when I bought my ticket.)
Fortunately, I didn't hit any traffic on the way to the airport, so I had plenty of time, because the regular line through security went on forever!
But this experience reminds me: If you fly even once or twice a year domestically, get TSA Pre-Check! It's the best $85 you'll ever spend, and it's good for five years (plus many credit cards cover this fee – see the list here). It only takes five minutes to submit an online application and then, once it's approved, you just need to schedule a brief in-person appointment at an enrollment center (most major airports have one) for fingerprinting.
Here's an even better idea: If you travel overseas at all, apply instead for Global Entry, which only costs $15 more ($100 for five years). In addition to giving you Pre-Check for domestic travel, Global Entry lets you skip the lines at customs (which can be very long) at more than 75 airports when returning to the U.S. from travel abroad. You just go up to a kiosk, scan your passport and fingerprints, it spits out a piece of paper, and you can go straight to baggage claim.
Here's the website to apply for either one.
Trust me, this is the biggest no-brainer of all time!
Best regards,
Whitney
Updated on