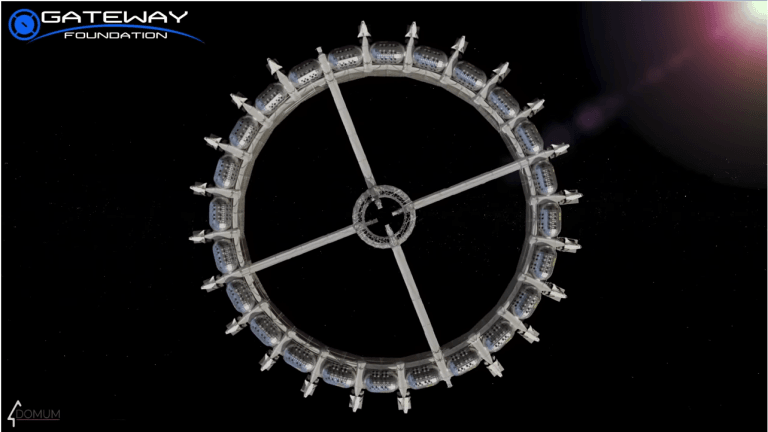 While space investors compete on which company will deliver humankind to Mars first, many companies are considering space tourism. One of such companies is The Express Foundation which released its design for the first space hotel that can host 400 guests at a time. The company's Von Braun Rotating Space Station is expected to launch in 2025 and expected to send up 100 people every week to enjoy its beauties.
The Von Braun Rotating Space Station has been planned for a long time, but only recently has its design been revealed with more information about the first space hotel in an interview with Dezeen. The company revealed its final design and said that it plans to launch the hotel by 2025. Nevertheless, the first space complex that can host tourists has already earned the recognition of the first space hotel.
According to Dezeen, the architect, Tim Alatorre, said that the hotel is designed to be far more luxurious than just a cruise ship. It'll come with many features to make travelers enjoy their stay in space, and one of such bells and whistles will be a low gravity basketball court, as well as trampolining and rock climbing construction.
Hedge Fund Launches Jump Despite Equity Market Declines
Last year was a bumper year for hedge fund launches. According to a Hedge Fund Research report released towards the end of March, 614 new funds hit the market in 2021. That was the highest number of launches since 2017, when a record 735 new hedge funds were rolled out to investors. What's interesting about Read More
Aside from that, the Von Braun Rotating Space Station will be equipped with all other amenities that a luxurious hotel would have such as "restaurants, bars, musical concerts, movie screenings, and educational seminars." The first space hotel will include other necessities we have on Earth like drinkable water and showers, as well as well-equipped kitchens in their restaurants. While the drinking water will be delivered from Earth, non-portable water for shower and toilet will be renewed through recycling.
After the launch in 2025, the company will send 100 people up every week. There are further plans to have another station by 2030 and the capacity would increase to 500 passengers that can live there permanently, while 200 tourists can visit per week.
The new design of the Von Braun Rotating Space Station shows how the bedrooms are designed to look like. They look sufficiently large, and are all sporting a breathtaking view of Earth and outer space.
Not only for rich people
It's no secret that space travel is an extremely expensive and challenging task, and with that in mind it's easily presumable that visiting the first space hotel would be too expensive for most at first. However, Alatorre told Dezeen said that it's not really like that.
He said that while many people think an innovative space-floating hotel would be accessible only to the highest class, it's the company's aim to make it possible for everyone to stay in the hotel in the future.
"Their price per seat is still out of reach for most people but I'm fairly certain they have bigger plans in the works," Alatorre said in an interview.
The Express Foundation is not the only company wanting to commercialize space travel and allow people to stay in space. SpaceX is working on getting humans into space too, and hopes to build a space shuttle that will take tourists to space by the end of 2020s. Earlier this year, the Elon Musk-owned company successfully sent its first commercial passenger capsule to the space station, while last year the competition to take humans to space between SpaceX and Boeing increased.
Updated on