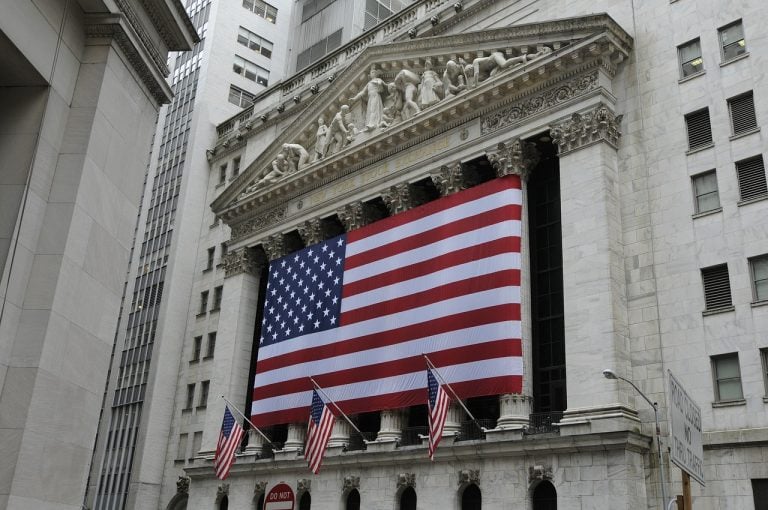 The King Report September 19, 2019 Issue 6095

Even with a $75B repo from the Fed looming, the overnight repo rate was 2.8% early on Wednesday.  After the repo, the SOFR (secured overnight financing rate) and TGCR (tri-party general collateral rate) O/N repo rates were 5.25%.  The BGCR (broad general collateral rate) was 2.42%.
Fed Fund rate hit 2.3%, breaching the Fed's 2.25% upper bound [now 2%].  The funding squeeze was still operative.  The Street submitted $80.5B of collateral for the Fed's $75B repo operation.
[Exclusive] ExodusPoint Is In The Green YTD Led By Rates And EM/ Macro Strategies
The ExodusPoint Partners International Fund returned 0.36% for May, bringing its year-to-date return to 3.31% in a year that's been particularly challenging for most hedge funds, pushing many into the red. Macroeconomic factors continued to weigh on the market, resulting in significant intra-month volatility for May, although risk assets generally ended the month flat. Macro Read More
Q2 hedge fund letters, conference, scoops etc
ESZs declined from the second hour of Asian trading until the European open.  A modest 5-handle rally occurred during the first hour of European trading.  Then ESZs declined until the pre-NYSE open scheme commenced at 7: 39 ET.
@realDonaldTrump: I have just instructed the Secretary of the Treasury to substantially increase Sanctions on the country of Iran [8:53 ET]
ESZs and US stocks declined on the NYSE open.  FedEx's tumble on its reduced earnings forecast was a factor.  Traders quickly bought the dip, creating a bottom just 7 minutes after the NYSE open.  The urge to be long for the FOMC Communique and expiry manipulation (Weird Wednesday) was indeed very strong.  Ergo, a 'V' rally appeared after the opening dip.
Even with the 'V' rally, the DJTA was down 1.6% after the first hour of US trading because FedEx continued to decline.  FedEx was -14.02%.
The 'V' rally ended about 6 minutes after the first hour of trading.  Selling into the European close appeared.  After pausing at midday, ESZs and stocks declined to new session lows.  Traders became alarmed when the general collateral O/N repo rate hit 5.25%.
Due to habit, traders commenced the buying of ESZs and stocks 24 minutes before the FOMC Communique was due for release.
As expected, the Fed lowered its funds rate by 25bps; but on a 7-3 vote.  The same two hawks (George & Rosengren) voted to not cut rates.  Bullard, due to his quest to replace Powell, voted for a 50bp rate cut.
Powell Seeks to Regain Control over Fed Funds with IOER Tweak [to 1.8% from 2.1%]
https://www.bloomberg.com/news/articles/2019-09-18/powell-seeks-to-regain-control-over-fed-funds-with-ioer-tweak
There were no surprises in the FOMC's economic assessment.  The Fed reiterated that it "will act as appropriate to sustain the US economy… the labor market remains strong… economic activity has been rising at a moderate rate."
Here is what unnerved equity bulls: 10 Fed officials predict no further rate cuts in 2019; 7 project a 3rd cut this year.  No rate cuts are projected for 2020; one cut in 2021 and one cut in 2022 are projected.
@realDonaldTrump: Jay Powell and the Federal Reserve Fail Again. No "guts," no sense, no vision!  A terrible communicator!
ESZs jumped 10 handles on the release of the FOMC Communique – probably because the IOER was cut to 1.8% from 2.1%; 1.85% was expected.  ESZs tumbled 16 handles seconds later.  5 minutes later, ESZs had rallied 15 handles.  Nine minutes later, ESZs had tumbled 20 handles in nine minutes.
Powell Press Conference Highlights
We serve the American people based on facts
US economy has continued to perform well
Household spending remains strong, supported by rising incomes; this has support growth; household sector is "in very good shape", lowly leveraged; expects job market to remain strong
We expect inflation to rise to our 2% objective
Business spending is weak due to international and geopolitical risks
We will carefully look at economy data; we are NOT on preset course; we are "data dependent"
The recent liquidity crunch was stronger than the Fed expected but it has "no implications" for the economy; it's due to corporations paying taxes and large debt issuance
Refused to answer question about massive US debt being a problem
Monetary policy works with long and variable times, per Milton Friedman; it is not necessary the best tool for the economy all the time
"If the economy does turn down, then a more extensive sequence of rate cuts will be appropriate."
Downplayed the predictive value of the yield curve; some FOMC members like it; others don't
Fiscal policy is more powerful and effective than monetary policy
ESZs and stocks flat lined near the session lows during Powell's press conference – until Powell downplayed the recent funding squeeze.  ESZs and stocks then made new lows.  ESZs and stocks rallied when Powell, in the Q&A, said it's possible the Fed will need to resume the growth of its balance sheet sooner than thought.  Expiry manipulators and bulls were energized; the Weird Wednesday manipulation was on!  ESZs and US stocks soared to session highs.
Powell on negative interest rates: We looked at them; they worked reasonably well elsewhere; we do not look to employ NIRP; we would use large scale asset purchases (massive QE).
Powell and the FOMC induced a spirited equity decline; but Jerry saved the equity market with his assertion that a decision on QE 4 might be sooner than expected.
Probably to vex and neuter Trump, Powell delivered a glowing assessment of the US economy and suggested that Trump's fight with China on trade is the biggest concern.
The wild ESZ gyrations are clear evidence of the bastardization of the equity market.  This should trouble everyone; but because the manipulation is almost always on the upside, few care.
US August Housing Starts surged 12.3% m/m to 1.364m units.  1.25m was expected.  Permits jumped 7.7% to 1.419m.  1.3m (-1.3%) was expected.  Single family home starts rose 4.4% to 919k.  Multifamily starts soared 32.8% to three-month high of 445k.
U.S. Home Starts Reach Highest Since 2007 in Broad Advance
https://www.bloomberg.com/news/articles/2019-09-18/u-s-housing-starts-reach-highest-since-2007-in-broad-advance
Europe's banks may be at risk of failing if negative rates continue: Simon Baptist, global chief economist of the Economist Intelligence Unit…"If interest rates stay below zero, they're certainly not all going to be able to be profitable, running as they are today, in 10 years' time,"… https://www.cnbc.com/2019/09/18/eiu-sees-risk-of-bank-failure-in-europe-that-could-lead-to-recession.html
ECB weighs investigating Deutsche Bank over alleged unauthorized bond purchases: sources
The European Central Bank is examining whether to open a formal investigation into Deutsche Bank for allegedly buying some of its own securities without authorization, two people familiar with the matter said on Wednesday…
https://www.reuters.com/article/us-deutsche-bank-ecb/ecb-weighs-investigating-deutsche-bank-over-alleged-unauthorized-bond-purchases-sources-idUSKBN1W31HB
Positive aspects of previous session
Powell saved the stock market with his talk of possibly reinstating QE
Negative aspects of previous session
The DJTA and Russell 2000 were the weakest major indices again
The repo market still shows funding pressure
Ambiguous aspects of previous session
When will the funding pressure end?
First Hour/Last Hour Action [S&P 500 Index]
First Hour Down; Last Hour Up
Previous session S&P 500 Index High/Low: 3007.83; 2978.57
Pivot Point for S&P 500 Index [above/below indicates daily trend for traders]: 2997.71
Jamie Dimon says his gut tells him a recession is 'not imminent'
"If you look at the American economy, the consumer is in good shape, balance sheets are in good shape, people are going back to the workforce, companies have plenty of capital," Dimon said…
https://www.cnbc.com/2019/09/18/jamie-dimon-says-his-gut-tells-him-a-recession-is-not-imminent.html
@charliebilello: The Fed cut rates again today with the US Unemployment Rate at 3.7%. Since the Fed started specifically targeting the Fed Funds Rate in 1982, it had never cut rates w/ the Unemployment Rate below 4%. Lowest unemployment rate w/ a rate cut previously was 4.2% in Jan 2001.
After the close, Microsoft announced a new $40B share repurchase scheme.  We didn't see any news about Microsoft increasing capex or employment though.  Tax cuts are going to do what, Donnie?
Today – Early US trading should be a reaction to the BoJ and BoE Communiques.  No change in BoJ or BoE rates is expected.  The Street is hoping for more BoJ QQE or an indication that more QQE is coming.  The elephant in the trading room, though, is the repo fund squeeze.
The biggest risk for expiry manipulators is the repo market.  Astute traders will keep an eye on it.
After the close, the NY Fed pre-announced another $75B repo, its 3rd straight repo operation.  It will be conducted from 8:15 AM ET to 8:30 AM ET on Thursday.
https://www.newyorkfed.org/markets/opolicy/operating_policy_190918
The Street is extremely bullish on equities and the expiry manipulators, after being hindered by negative news all week, got a B-12 shot from Powell's QE comment yesterday afternoon.  Therefore, barring news, the usual suspects will try to push ESZs and stocks to new highs for futures and options' expiry.
The S&P 500 Index had an Outside Day on Wednesday.  We recently commented that the inordinate amount of Inside and Outside Days is due to the extreme volatility in the markets, which is a result of tweets, news and unexpected fundamental data.
Normally, there is a late rally on the day prior to futures' expiration on traders getting long for expected market-on-open [MOO] buy orders from holders of expiring equity futures contracts.
ESZs rallied 2.25 early last night.  At 22:00 ET, ESZs were -6.75 because repo rates remain elevated.
The S&P 500 Index 50-day MA: 2951; 100-day MA: 2919; 150-day MA: 2892; 200-day MA: 2823
The DJIA 50-day MA: 26,618; 100-day MA: 26,346; 150-day MA: 26,234; 200-day MA: 25,739
S&P 500 Index support: 3000, 2985-90, 2978, 2972, 2955-60, 2940-45, 2930, 2922, 2914, 2900, 2880
Resistance: 3017-20, 3027, 3040, 3050
Expected economic data: Q2 Current Account -$127.4B; Sept Philly Fed Biz Outlook 10.5; Initial Jobless Claims 214k, Continuing Claims 1.672m; Aug LEI -0.1%; Aug Existing Home Sales 5.38m
S&P 500 Index – Trender trading model and MACD for key time frames
Monthly: Trender and MACD are positive – a close below 2502.93 triggers a sell signal
Weekly: Trender is positive; MACD is negative – a close below 2816.78 triggers a sell signal
Daily: Trender and MACD are positive - a close below 2942.29 triggers a sell signal
Hourly: Trender and MACD are negative – a close above 3007.95 triggers a buy signal
Justice Dept. IG referred James Comey for criminal prosecution
The Justice Department ultimately decided not to prosecute Mr. Comey despite Mr. Horowitz's team concluding he improperly leaked information to the news media…
https://www.washingtontimes.com/news/2019/sep/18/james-comey-referred-criminal-prosecution-justice-/
Corey Lewandowski's House Testimony Quickly Devolves into a Total Mess
The former Trump campaign chief and Republican lawmakers swiftly derailed the Democrats' newly minted impeachment hearings almost as soon as they started…
https://www.thedailybeast.com/corey-lewandowskis-house-testimony-quickly-devolves-into-a-total-mess
Biden vows tax credit will put '720 million women' back in workforce
https://www.msn.com/en-us/news/politics/biden-vows-tax-credit-will-put-720-million-women-back-in-workforce/ar-AAHs02C
Updated on