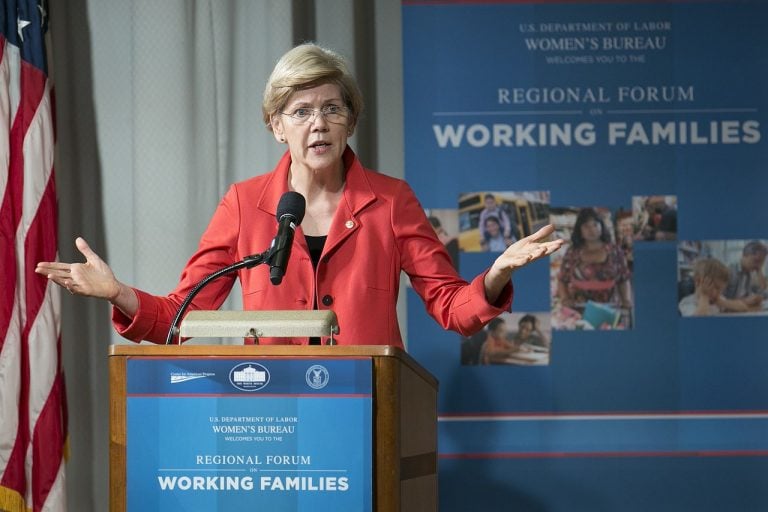 Cisneros is running to unseat Trump's favorite Democrat, Rep. Henry Cuellar
LAREDO, TX — On Monday morning, Democratic candidate for Congress in Texas' 28th Congressional District, Jessica Cisneros was endorsed by Senator Elizabeth Warren. Cisneros is challenging Representative Henry Cuellar in the upcoming March 3rd primary.
Q2 hedge fund letters, conference, scoops etc
Benjamin Graham GEICO Buy Was Just A Simple Value Play
Was Ben Graham's big purchase of GEICO shares actually a value investment? Perhaps it was contrary to what many believe. "In 1948, we made our GEICO investment and from then on, we seemed to be very brilliant people." -- Benjamin Graham, 1976 Both Benjamin Graham and Warren Buffett can attribute a large part of their Read More
"The people of Texas' 28th district are ready for systematic change and deserve a Democrat that will be on the side of working people; not the side of big money and obstructionist Republicans," said Senator Warren. "I believe Jessica Cisneros is that fighter. As an immigration lawyer and daughter of small business owners growing up on the border, Jessica knows our diversity is our strength and that when progressives are unapologetic about our values and who we're in this battle for, we win. It's time Texans had a champion in Congress who does just that. I'm proud to support Jessica."
"I'm so proud to receive this endorsement from Senator Warren, who has dedicated her career to fixing our corrupt political system and fighting for working families like mine," said Cisneros. "Our district deserves to be represented by a true Democrat who will work in Washington to improve the lives of her constituents, not corporate donors. Senator Warren's support demonstrates that we're building the momentum we need to bring real change to South Texas."
Cisneros and her background
Cisneros is a 26-year old immigration and human rights attorney born and raised in the border town of Laredo. Her campaign has been featured in The New York Times, Laredo Morning Times, Vox, CNN, Huffington Post, VICE/HBO, Vogue, MTV, and more.
Texas' 28th Congressional district voted for Hillary Clinton over Donald Trump by 20 points in 2016. In the previous Congress, current Congressman Henry Cuellar voted with Donald Trump nearly 70% of the time.
Cuellar is also one of only three Democrats in Congress with an "A" rating from the NRA. Recently, following the devastating shooting in El Paso, Cisneros called on her opponent to return over $20,000 in campaign donations from the NRA. Cuellar is also anti-choice and has a 15% rating from NARAL.
Cisneros has been endorsed by Justice Democrats, the grassroots organization that recruited and helped elect Alexandria Ocasio-Cortez over Joe Crowley in New York's 14th Congressional District.
ABOUT TRUMP'S FAVORITE DEMOCRAT, HENRY CUELLAR
Despite representing a district that Hillary Clinton won by nearly 20 points in 2016 and representing Webb County where Beto O'Rourke defeated Ted Cruz by 43 points, Henry Cuellar has bent over backward to be a consistent ally of the Republican Party and Donald Trump. Cuellar has openly fundraised for Republicans against other Democrats, including Congressman John Carter, a far-right Republican birther (Carter won his election 51-48).
Cuellar was the first Democrat to receive an endorsement from the Club for Growth. He endorsed George W. Bush for President in 2000 and supported the Tea Party's call to pass a balanced budget amendment to the Constitution while cutting critical programs and services for the most vulnerable communities in our country.
NRA
The NRA's Favorite Democrat: In 2016, Cuellar was one of the only Democrats running for Congress to receive a campaign donation from the National Rifle Association. Cuellar has received over $20,000 from the NRA over his career and has refused to return the donations. He has an A rating from the NRA. After the horrific mass shooting that took place in the district in Sutherland Springs, Cuellar was pressed on MSNBC to support stronger gun regulations and responded: "So do you want to ban trucks because they used a truck in New York? Do you want to ban airplanes because a terrorist used it in 9/11?"
Cuellar is Anti-Choice: While reproductive rights are under Republican attacks all across the country, Cuellar has received a 15% rating from NARAL in 2018. He joined Republicans in voting for a bill that "would grant separate legal rights to a pregnancy, laying the legal groundwork to ban abortion outright." He has repeatedly joined Republicans in voting for bills that would defund women's health services including defunding Planned Parenthood. Cuellar also supported a bill that would strike a provision that prohibits "federal employees and their dependents from choosing a health-insurance plan with abortion coverage."
Cuellar and big money
Cuellar's Big Corporate Donors: Cuellar received 97.4% of his campaign donations in 2017-8 from PACs ($1,103,320, 66.61%) and large individual contributors ($510,058, 30.79%).
As private prison corporations running immigrant detention facilities come under increasing scrutiny, Cuellar is the largest Democratic recipient of donations from the controversial GEO group, a private prison corporation that even America's largest bank, JP Morgan, has stopped conducting business with.
The Koch's Favorite Democrat: Cuellar has received more than a hundred thousand dollars from the Club for Growth, a far-right advocacy group linked to the Koch brothers. Cuellar has also received money from the Kochs.
Big Oil's Favorite Democrat: Cuellar voted to lift the ban on crude oil exports in 2015, which significantly added to national and global emissions at a time when leading climate scientists at the United Nations have recommended rapidly transitioning away from fossil fuels. In 2018, Cuellar was the top Democratic recipient of contributions ($165,900) from the oil and gas industry. Cuellar was referred to as "Big Oil's Favorite Democrat" in 2017. Cuellar suggested that the Green New Deal was "anti-business."
Cisneros vs Cuellar  on other issues
Cuellar and Trump's Wall: While releasing public statements criticizing Trump's border wall, Cuellar has repeatedly voted to fund the construction of a border wall in his own district. As The Texas Observer put it: "In March 2018, Cuellar voted to fund 33 miles of new border wall...in February [2019], Cuellar helped negotiate a deal to avert a government shutdown that included $1.375 billion for another 55 miles of wall…"
Cuellar, the Bad Boss: In addition to being bad on policy, Cuellar has been known to be a terrible boss. Cuellar once fired a female employee for being pregnant. Data suggests this may just be the tip of the iceberg: Cuellar has one of the highest staff turnover rates in Congress, which often suggests a toxic environment among members with no plans to retire.
Cuellar and The DREAMERS: The Laredo Immigrant Alliance, a group led by Dreamers and their allies, and La Union Del Pueblo Entero, a local immigrant advocacy group, denounced Cuellar's vote with Republicans regarding DACA in January 2018 and condemned him for his "inability to protect Dreamers."