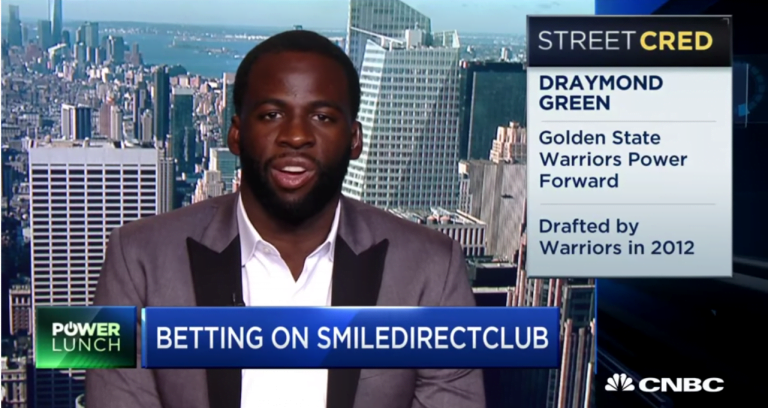 CNBC Transcript: Golden State Warriors Basketball Champion Draymond Green Speaks with CNBC's "Power Lunch" Today
WHEN: Today, Thursday, September 12, 2019
WHERE: CNBC's "Power Lunch"
ValueWalk's July 2022 Hedge Fund Update: Tiger Cub Hedge Fund Shuts Down
Welcome to our latest issue of issue of ValueWalk's hedge fund update. Below subscribers can find an excerpt in text and the full issue in PDF format. Please send us your feedback! Featuring Andurand's oil trading profits surge, Bridgewater profits from credit, and Tiger Cub Hedge Fund shuts down. Q1 2022 hedge fund letters, conferences Read More
The following is the unofficial transcript of a CNBC interview with Golden State Warriors Basketball Champion Draymond Green on CNBC's "Power Lunch" (M-F 2PM – 3PM) today, Thursday, September 12th. The following is a link to video of the interview on CNBC.com:
Q2 hedge fund letters, conference, scoops etc
Why hoops champ Draymond Green's an early SmileDirectClub investor
Why hoops champ Draymond Green's an early SmileDirectClub investor from CNBC.
All references must be sourced to CNBC.
TYLER MATHISEN: Golden State Warriors power forward Draymond Green is an early investor in SmileDirectClub Inc (NASDAQ:SDC). He's also a customer of it. He's also a three-time NBA champ who just recently signed a $100 million extension with the Warriors. Draymond is with us today from New York. Draymond, welcome. Good to have you with us.
DRAYMOND GREEN: Thanks for having me. How are you doing?
TYLER MATHISEN: And I have to say, you do have a lovely smile.
DRAYMOND GREEN: Thank you. I appreciate that.
TYLER MATHISEN: And you must be -- you must be -- we've been talking about how the IPO debut did not go maybe as well as some had anticipated. But you were an early stage investor and you've made some money today, right?
DRAYMOND GREEN: Yeah, I have. You know, but I think, you know, with the way that I've been with this company and the relationship that I have with the company is it isn't about just making money today, you know -- I feel that, you know, I'm a part of this company and I've been in it since the beginning. And, you know, it's about the long-term success that, you know, I'm betting on and I look forward to, you know, not necessarily just about making money today.
TYLER MATHISEN: You know, we had on a couple of months ago in association with his book, your former teammate Andre Iguodala. And it occurred to all of us that there seems to be a culture on the Warriors of guys who have gotten entree into Silicon Valley, maybe met some venture capitalists and are, let's just say active investors, maybe more active than players on other teams. Do you think that the proximity to Silicon Valley and VC world and all of that in San Francisco has helped you become a better, more active investor than you otherwise might have been?
DRAYMOND GREEN: Absolutely. You know, I spent a lot of time with some great mentors, you know, Chamath Palihapitiya, and Sky Dayton, Bill Gurley, and Bill Lee, Jason Calacanis, all those guys you know, who – David – who are at the top of the top. And you know, spending the time around those guys that  I do, you can't help but to learn. And I enjoy being in the room with them and just really learning more about the business. You know, it's a great place to invest your money and it's a great place to continue to learn and more importantly to help change the world. And, you know, that's what I have interest in and it's been really good to me.
MELISSA LEE: You've got big money goals, Dray. I mean, you want to be a billionaire by the time you're 40 and you've got more than a decade to go on that. And you're also the founder of an accelerate group, 100k Ventures. And I'm just curious, how do you think about investments? For instance, taking SmileDirect as just an example, did you use the product and think, hey, this is a great product, let me find out more? Or did they come to you? How did that become an investment for you?
DRAYMOND GREEN: Oh, well, Alex Fenkell was a close friend of mine and I actually was in the marketplace about to get braces or something. And a close friend of ours Danny Silverman was like, 'Well, Fenkell is starting this company, you should try it.' And so, once I tried it, very successful, had great results and it was like, Wow, this is an amazing product. And so, Danny and I kind of was talking Finkel into letting us invest into the company and finally we got him to give us an allotment and invest in the company. But, you know, for me, when there's something that I can have a direct impact on or, you know, I can use the product and see how well it performs, it definitely gives me more incentive to want to invest my money in those type of companies.
KELLY EVANS: Did you make money on SmileDirect? Because we're talking -- it's down 20% on the open here.
DRAYMOND GREEN: Yes, I did. And, you know, like I said before, it's not necessarily about what the stock's raised at today. You know, I'm not selling my interest in SmileDirect. I'm betting on this company long term. You know, I have a great management team and I know David Katzman and the rest of the team will use today to light a fire back up under everybody in the company and continue to take this company to new heights as they've done over the last five years.
TYLER MATHISEN: Let's switch a little bit to talk a little more about the business of basketball and the league more generally. In California yesterday, a bill I think was passed to allow college athletes to get compensation for the use of their likeness or for endorsements or presumably for public appearances. How do you feel about that?
DRAYMOND GREEN: I think that's a great step in the right direction. For so many years, myself included, made these universities a ton of money and you don't profit off that at all. You get -- if you're eligible you get a Pell Grant and, you know, you get a few dollars for food and that's about it. Yet some of these colleges are bringing in $2 million, 2 $3 million a game just off the gate and, you know, the athletes aren't able to profit off that at all. So, I think this is a great step in the right direction. I'm extremely excited about it and excited for the kids of the future to be able to profit off their likeness the way they should be able to.
TYLER MATHISEN: Yeah, I have to say not that it matters that I'm inclined to agree with you. I remember the O'Bannon case where his likeness was used on I believe it was a video game and he, of course, got no compensation because it was forbidden under the rules. And that seemed like, you know, the colleges sell a lot of jerseys and somebody is making a lot of money with jerseys, with names and likenesses and so on and so forth. Let's talk about the NBA. I don't know that it's ever been healthier. And yet, there are some people who worry about the idea that there are five or six super teams of which the Warriors have been one and may continue to be. But 25 teams that really aren't competitive enough. What do you think about that?
DRAYMOND GREEN: I mean I think it's kind of that way in any sport. You know, if you look at the NBA, the NFL, any other sport, there's usually maybe three to four teams a year competing -- really competing for a championship. And that's just the nature of the sports that we play. You know, I think, you know, we have definitely had a great run and I don't think our run is over. But there's also some other teams that's trying to put it together. However, I think the NBA is probably in the best place that it's ever been as a league. Adam Silver is doing an amazing job and, you know, all the times are doing a great job and, you know, taking this game and making it a global game. And so, there's no complaints from our way. If you, you know, if people feel that teams aren't good enough or can't compete, I mean that's on that particular team. We all have the same salary cap. We abide by the same rules. It's on you what you decide to do with it.
KELLY EVANS: Draymond, what about people say you guys are going to have a white elephant stadium there. You're past your prime. Come on. Pump us up about the Warriors this year.
DRAYMOND GREEN: I mean, there's not much pumping up that needs to be done. We still have a great cast you know, with obviously Steph Curry leading the charge, we're bringing D'angelo Russell and a lot of young talent coming on, Willie Cauley-Stein. I plan on, you know, trying to play at the best of my ability this year and then also obviously with Klay coming back around February. No one is going to want to play us in the playoff, that's for sure.
TYLER MATHISEN: No, and, you know, one of the things that's interesting, we've remarked on this in the past, the anticipation for this season is really very high. And one of the things that think the NBA has done well as the NFL has is to make the league a year-round conversation topic. It's partly the summer league, it's partly the draft and so on and so forth. But the player movement this year has been really significant and has people talking.
DRAYMOND GREEN: It has a lot of people talking and obviously that's a huge and large credit to LeBron James. You know, with what he's done in his career that's kind of shown everybody else the power that you have as a player. And that's, you know, that's why you saw the movement this year is because the athlete, the basketball players have taken control of their own future. We've taken control of our destiny. And I think a lot of people hate that but I think that's one of – you know, everybody celebrates LeBron for his basketball career and the things he's been able to accomplish. I think the doors that he's opened for athletes and especially basketball players is his biggest accomplishment.
KELLY EVANS: What's the deal with Carmelo? Why isn't anybody picking him up?
DRAYMOND GREEN: I mean, not sure. I'm not in the front office. Obviously, I think Carmelo is a great player who has had a great career and looks as if he still has a lot left in the tank. You never know what's going to happen. Whether he'll get picked up before the season or not. Obviously, you know, as a player, as someone who's won a gold medal with Melo, definitely want to see him in the league and getting what he deserves. He's given so much to this league and so many great moments. I think it's kind of crazy that he's not on an NBA roster. There's a lot of players that he's better than that's for sure.
TYLER MATHISEN: You know, that – the USA team that lost yesterday to France could have used him potentially. Let me ask you about the Olympics next year. Do you hope to play, and do you think that a lot of the NBA stars who sat out this year's tournament will play in Tokyo?
DRAYMOND GREEN: I do hope to play. And I think a lot of guys will want to play. You know, this schedule this year was a little treacherous with the games that was in America and also traveled to Australia which is why I think a lot of guys dropped out. A long way to China. It was just a lot. And it's also -- it leads up right into the season. You know, those guys will be coming back within the next couple of days and we'll be two weeks away from training camp. So, I think you'll see a lot of guys participating next year in the Olympics. And I hope to be 1 of those 12 guys.
TYLER MATHISEN: Well, I would put my money on you, Draymond. Thank you very much for being with us. You guys have a really tough division this year. Good luck.
DRAYMOND GREEN: Thank you. Thanks a lot. Thanks for having me.
TYLER MATHISEN: Draymond Green.
Updated on