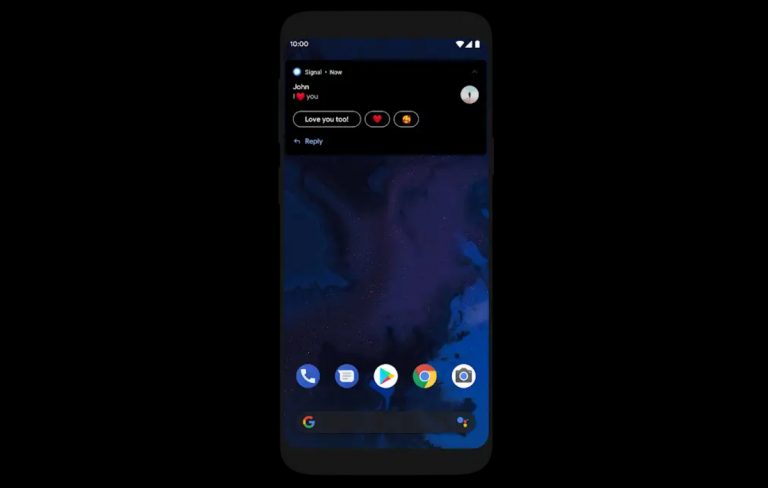 Google is releasing a new version of its operating system for its Pixel phones. You can now download Android 10 after getting a notification on your phone or checking the settings. Google also hosts factory images, which is another way to download the new version. This is also the first Android version that doesn't have the codename of a dessert.
After months of beta testing since the update announcements, Google allows Pixel users to download Android 10 and enjoy all the new features and improvements over the previous version. Additionally, there is the September security patch to contribute to more safety. The security-related updates are invisible to the users but concern the new "Project Mainline," which allows the search engine giant to better access critical security patches through the Play Store, so that the waiting times are shorter.
"With Google Play system updates, important security and privacy fixes can now be sent to your phone from Google Play, in the same way your apps update. So you get these fixes as soon as they're available, without having to wait for a full OS update," Google wrote in a blog post.
Robinhood 2021 Conference: Cathie Wood discusses her investment process with Lee Ainslie [Exclusive]
ARK Invest is known for targeting high-growth technology companies, with one of its most recent additions being DraftKings. In an interview with Maverick's Lee Ainslie at the Robinhood Investors Conference this week, Cathie Wood of ARK Invest discussed the firm's process and updated its views on some positions, including Tesla. Q1 2021 hedge fund letters, Read More
The new features also include a system-wide dark theme. Google said that all of the first-party apps on Android will host the new dark mode so that it's more eye-soothing for people taking trips on the plane or browsing through their phone late at night. Moreover, dark mode uses less of your screen's power so the battery lasts longer. All Pixel users, starting from the first phone, can download Android 10.
"You can enable Dark Theme for your entire phone or for specific apps like Photos and Calendar. It's easier on your eyes, and your phone battery too," Google said.
Another interesting feature that gathered attention is gesture-based navigation which will make searching things online easier. It works similarly to how iPhones handle it, and during the beta versions of Android 10, Google was constantly enhancing it.
While Pixel phones can already enjoy the perks of the new update, it'll take some time before other phones like Samsung receive the update. The time frame depends on carrier testing as well as what modification phone manufacturers will need to make to the operating system before it's available for distribution.
This makes the first Android version that is marked only with the number of its version, instead of naming it Android Q. Previous versions were known for some kind of a dessert that would accompany the first letter of Android version like P-ie, O-reo or N-ougat. As The Verge reported, numbers are more universal so we can expect the new versions to be accompanied only with numbers (Android 11). Besides, it would be incredibly difficult to find a dessert starting with Q.
If you still haven't received the notification for updating your Pixel phone, check Settings > System > Advanced > System Update. Additionally, you can grab the full factory images for the device by heading over here, while the full OTA image is available here.