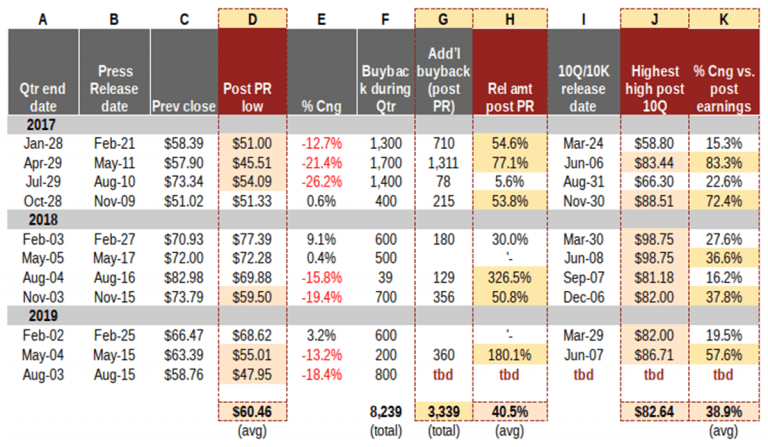 After announcing quarterly results in an August press release, Dillard's, Inc. (NYSE:DDS) is set to file its 10Q with the SEC next week. Any revelation of additional share repurchases could lead to a significant squeeze in the heavily shorted stock.  Dillard's ongoing share buyback has shrunk the share count by more than 50% with the effect that short interest now hovers at over 80% of remaining float. In July, the shares squeezed from $63 to $81 in a single day, and the stock has been subject to similar high flying squeezes over the past two years.
Following that dismal August press release, Richard Pearson of Moxreports published a report indicating that the company was likely using the share price weakness to accelerate its share repurchases shares.  Pearson, who is long Dillard's, highlights nearly identical buyback patterns by DDS over the past two years, where the share price briefly plunged due to initial press releases, but then soared to the $80s or $90s once the 10Q was filed and revealed the aggressive purchases post the press release.
Q2 hedge fund letters, conference, scoops etc
Khrom Capital killed it during the first quarter, continuing its strong track record; here are their favorite stocks
Khrom Capital was up 32.5% gross and 24.5% net for the first quarter, outperforming the Russell 2000's 21.2% gain and the S&P 500's 6.2% increase. The fund has an annualized return of 21.6% gross and 16.5% net since inception. The total gross return since inception is 1,194%. Q1 2021 hedge fund letters, conferences and more Read More
A squeeze?
This is Pearson's third "squeeze alert" on Dillard's since 2017.  Following his two previous reports, the shares quickly leaped by 35-45% once those float reductions became known to the market.
Moxreports:  "Watch for the (as usual) violent rebound. Here's the catalyst."
Pearson latest report states that  "Dillard's has been making use of this "kitchen sink PR gambit" for several years".  And notes that:
In past "kitchen sink" quarters, the company often bought back at least an additional 50% more shares during just the brief window of several weeks before the 10Q was released. In 2017, Dillard's did this two quarters in a row, buying back 700,000 shares after the February press release and then buying 1.3 million shares after the May press release. These large purchases occurred just during the brief post-PR window and were in addition to the large purchases which had been made during those quarters. In 2018, Dillard's engaged in post PR buying in 3 of the 4 quarters. And in 2019, Dillard's bought back 360,000 shares just after the May quarterly PR, before filing the 10Q for that quarter.
Pearson makes the point that since 2017 more than 40% of all shares bought back by Dillard's have been purchased during just the very brief windows of high volume price weakness,  just after the "kitchen sink" press releases but before the 10Q is formally filed.
DDS share count
With the share count quickly disappearing, Dillard's buyback tactics are are becoming difficult to miss. In just the most recent quarter, DDS bought back 8% of the outstanding float in just 90 days.  Over the past several years, the company has used its steady cash flow to buy back more than 20 million shares, reducing the float down to a mere 9.6 million shares.  Meanwhile, short interest still sits at over 8 million shares against this ever shrinking float.
In a Q2 investor letter, David Einhorn's Greenlight Capital disclosed that it had taken a position at in Dillard's in June at $59, saying:
Excluding shares owned by the Dillard family, employees and index funds, we estimate the effective float is 6 million shares. Given the reported short interest of 8.3 million shares, we think an interesting trading dynamic could emerge.
In past years, Greenlight had owned as much as 10% of DDS, previously selling in the high $70s. Einhorn's next quarterly filing will be for the quarter ended September 30.