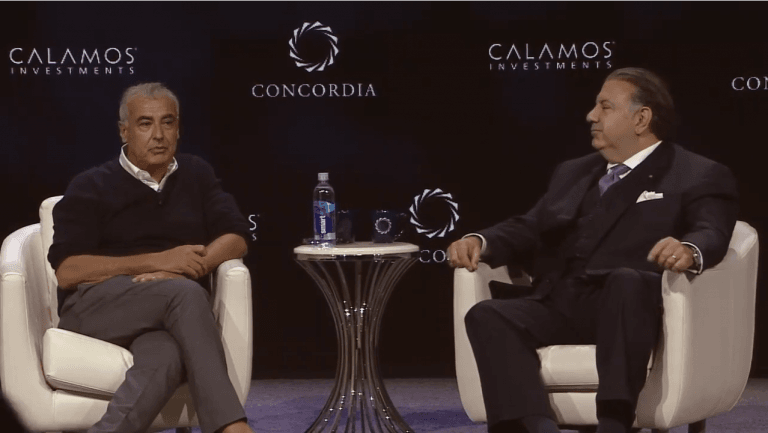 Watch the full panel discussion featuring Calamos CEO John Koudounis and Marc Lasry, CEO of Avenue Capital, at the 2019 Concordia Annual Summit.
H/T @Dutch_Book
Calamos CEO John Koudounis and Avenue Capital CEO Marc Lasry at 2019 Concordia Annual Summit
This mining and metals fund is having a strong year so far
The Delbrook Resources Opportunities Master Fund was up 9.2% for May, bringing its year-to-date return to 33%. Q1 2021 hedge fund letters, conferences and more Dellbrook is an equity long/ short fund that focuses exclusively on the metals and mining sector. It invests mainly in public companies focused on precious, base, energy and industrial metals Read More
Q2 hedge fund letters, conference, scoops etc
Transcript
Well, Mark, thank you very much for coming to this as part of the leadership council, we welcome you here. And I think there's been a lot of questions about investments in general, in terms of this political turmoil that we find ourselves in, and how do we navigate through these choppy waters is, as they say. So what I thought might be good is for us to just kind of discuss what our companies do, and how they how they answer some of these questions. Why don't you start off by telling us a little about Avenue? And when you started it and everything?
Mark Lasry on his background
Sure, I want to thank you, thank you everybody for being here. We started Avenue in 95. I had run money for the Bass family. But really all we do is we invest in special situations, anything that's distressed. You know, we've ended up doing that for quite some time, about six years ago, we gave back about half the capital, we manage about 10 billion today gave back about 10-12 billion, because we were seeing less to do in markets. And it's actually now that we're starting to see some more. You've got huge opportunities, obviously in Europe, because of Brexit.
People, really, the more uncertainty you have in market, the better it is for people like me. So you've got a lot of issues right now. I would say in Europe, in Asia, you've got a number of issues, mainly because of China and the slowdown of what's been happening. And then the US, we have our own issues.
And those issues, mainly, our economy is slowing down. This whole trade war with China is having real impact, whether now, even even President Trump is able to cut a deal. You've had a number of companies that have started shifting their manufacturing.
So I think you are going to slow down. For those of you you know, if it's 2%, last year, it might be 1%. This year, are you going to recession. But there's, if you'd like to take advantage of a lot of noise. It's great for us here. And that's what there really is. And I think we are able to do that in sort of all the different regions we invest in.
John Koudounis on asset management
So to give you a little bit about our background at Calamos Investments was founded by John Calamos, approximately 42 years ago, we're primarily a mutual fund company, closed end funds, open end funds and some SMS, separately managed accounts. And John and the investment team has for years been pioneers in what they called alternatives, convertibles, more specifically, and some other products that we do now in, you know, over the years. So a lot of the mutual funds that we have, are actually working really well for our predominant retail investors. And these volatile times. Some of the questions that we get asked is we look at the world and the landscape, we looked at recent activities of the Fed.
We look at how in Japan negative rates has affected them and deflation. Europe is falling into that category. And there's definitely a slower economy in there. How do we take advantage of that opportunity? And can we continue to make money if the United States goes into that pattern? And do you think that that will happen?
John Koudounis on economy
I don't think we go into a recession. It's a recession as to negative quarter. So it's kind of hard to do that. I think what you will see is a big slowdown. And that slowdown means if you're growing in 2%, you go to 1, that's a 50% here. So maybe we grow at 50 bits, but it's hard. I mean, it's.. imagine if here's a simple way to look at this. So 10 years ago, the risk free rate was 4%. So if you just left the money in the bank, and 2008 at the beginning of the crisis, you're making 4%. Today, if you're in Europe, you're making negative sometimes you put your money in, you're paying the bank, one basis points, five basis points, whatever it is to just keep your money there. And most people are trying to make 8 to 10%.
So think of what that's done to markets and you know, sort of your company where you're trying to take your try and generate for people eight to 10%. The ability to do that today, if you can do that, is just huge just because of where rates are.