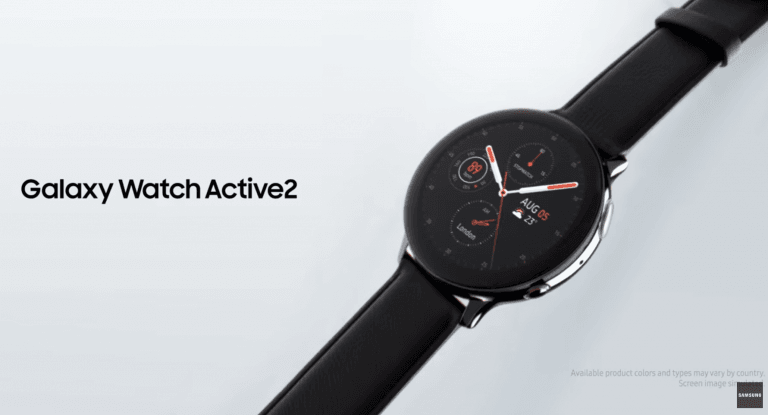 Apple and Samsung are fierce rivals in the electronics industry. Apple's latest iPhone 11 series smartphones will be competing with Samsung's Galaxy Note 10 line. The two companies have also refreshed their flagship wearable devices to attract consumers during the holiday shopping season. The new Apple Watch Series 5 will be competing with Samsung Galaxy Watch Active 2. These two are vastly different devices, making it difficult for consumers to decide which one to buy. Let's check out how they stack up against each other.
Design and display
The Apple Watch Series 5 looks nearly identical to its predecessor. It has the same rectangular design with a Digital Crown and a button on the right side. The Digital Crown and the Force Touch technology make the Apple Watch pretty easy to navigate. The Digital Crown provides haptic feedback, offering you a more mechanical and responsive feel through a comforting click. It also has an LTE red dot indicator ring.
The Series 5 Watch comes in the same two sizes of 40mm and 44mm. The smaller one has a resolution of 324 x 394 pixels while the 44mm model offers 368 x 448 pixels resolution. It also keeps the same Retina display and a nearly bezel-less design as its predecessor. However, Apple brings a bunch of new materials and styles with Series 5. Apple has launched the Series 5 in GPS-only and GPS+Cellular versions.
Exclusive: Dan Loeb's Two New Stock Picks [Q1 Letter]
Third Point's Dan Loeb discusses their new positions in a letter to investor reviewed by ValueWalk. Stay tuned for more coverage. Loeb notes some new purchases as follows: Third Point's investment in Grab is an excellent example of our ability to "lifecycle invest" by being a thought and financial partner from growth capital stages to Read More
The new Apple Watch is available in four different case materials: stainless steel, aluminum, titanium, and ceramic. Yes, Apple has brought back ceramic at a ridiculously high price point, and it's a Special Edition. The titanium is a new option. Titanium is lighter but more durable and expensive than stainless steel and aluminum.
You can buy the titanium version in two brushed finishes of the natural silver color of the titanium and space black. The stainless steel model comes in Gold, Silver, and Space Black. The aluminum version is available in Silver, Gold, and Space Gray colors. There is also the Apple Watch Nike Edition and Hermes Edition.
If you can't decide which one to buy or want to create your own custom style, Apple has launched a new Apple Watch Studio feature at its online and offline stores. The Apple Watch Studio allows you to mix and match cases, bands, and materials to customize the look and feel to your liking.
Apple has added the Always-On display technology on the Series 5. The feature is also available on Samsung's Galaxy Watch Active 2. The Always-On Display shows time and your workout metrics at all times in low-power mode. Apple has used a new LTPO display technology that dynamically adjusts the refresh rate from 60Hz to 1Hz to conserve battery life.
Unlike the new Apple Watch, Samsung's smartwatch has a sporty and round design. Samsung has launched a Bluetooth-only model and an LTE model. The Bluetooth model has an aluminum body while the LTE variant comes with a stainless steel body. There are tons of band choices.
The Samsung Galaxy Watch Active 2 also comes in two sizes of 40mm and 44mm. The 40mm model sports a 1.2-inch Super AMOLED display with 360 x 360 resolution. The 44mm version has a slightly larger 1.4-inch Super AMOLED display with 360 x 360 resolution. Its display is protected by Corning's Gorilla Glass DX+.
The Bluetooth model of Galaxy Watch Active 2 comes in Rose Gold, Black, and Silver colors with a matching silicone strap. The LTE variant is available in Gold, Silver, and Black colors with a leather strap. Samsung also sells a wide range of straps that you can purchase separately.
The Samsung Galaxy Watch Active 2 features two side buttons for navigation. Its coolest feature is the digital bezel around the screen. The digital bezel offers haptic feedback to mimic the rotating bezel of the original Galaxy Watch. Both the new Apple Watch and Galaxy Watch Active are water-resistant up to a depth of 50 meters.
Features and specs
The Series 5 Apple Watch is powered by Apple's custom 64-bit dual-core S5 processor. It packs a staggering 32GB of internal storage. The Samsung Galaxy Watch Active 2 runs Samsung's in-house dual-core Exynos 9110 processor. It packs 768MB RAM for the Bluetooth version and 1.5GB RAM for the LTE model. Both Active 2 versions have the same 4GB of internal storage.
Both Apple and Samsung smartwatches come with the latest Bluetooth 5.0 technology, NFC, LTE connectivity, GPS, barometer, accelerometer, gyroscope, a heart rate sensor, and an ambient light sensor. The LTE version of both smartwatches allows users to make and receive calls.
However, the new Apple Watch gets some additional features that are missing from the Galaxy Watch Active 2. The Series 5 Watch has a dedicated Compass to help you navigate. It provides longitude, latitude, and current elevation. The Compass works with a new Watch Maps app to show which way you are facing. The Apple Watch also has three new compass complications.
Another major addition is the ability to make international emergency calls in more than 150 countries. If you are on a foreign trip and find yourself in trouble, you can call emergency services with your new watch. The feature works irrespective of where you purchase the Apple Watch. It's also been integrated with the Fall Detection feature.
Battery life
The Apple Watch Series 5 promises the same 18 hours of battery life as its predecessor, which is not good enough for most users. But it's impressive considering the Series 5 gets the Always-On display feature, which consumes additional power. Apple has used an ultra-low power display driver and a new ambient light sensor to ensure 18 hours of battery life even with the Always-On display technology.
The Galaxy Watch Active 2 features a 247mAh battery inside the 40mm version and a 340mAh battery for the 44mm model. It supports WPC-based wireless charging. According to Samsung, the Galaxy Watch Active 2 battery "lasts the day and more with normal usage." The slightly longer battery life and wireless charging gives the Galaxy Watch Active an edge here.
Software
The Apple Watch Series 5 runs Apple's watchOS 6 software out of the box. It gets a dedicated Watch App Store to reduce its reliance on the iPhone. The software adds audiobook support and new dynamic watch faces like Meridian, Social Dial, and Modular Compact. The watchOS 6 has a vast collection of apps.
The Galaxy Watch Active 2 runs Samsung's custom Tizen OS. It supports Spotify to let users stream music. Tizen OS also supports YouTube and Twitter. You can also use Google Translate on the device as long as you are connected to the Internet. The My Style feature in Tizen OS allows you to customize your watch face.
The Watch Active 2 is compatible with both Android and iOS devices. In contrast, the Series 5 Apple Watch is mainly for iOS users.
Health and fitness tracking
The Apple Watch Series 5 allows you to measure the rhythm of your heart by putting your finger on the Digital Crown. Both smartwatches are capable of tracking a wide range of workouts, and can automatically track some workouts. Both of them can monitor your stress levels and offer tips and alerts. The devices store your health data in the respective Apple Health or Samsung Health apps.
Samsung's watch also has a "coaching" feature. Samsung claims its device can monitor real-time stress levels and offer you guided meditation. Just like Apple Watch, the Samsung Galaxy Watch Active 2 supports ECG to detect atrial fibrillation, but the feature hasn't yet received the USFDA approval. The FDA has already approved Apple's ECG feature.
The Apple Watch Series 5 lacks the much-rumored sleep tracking feature, which is available on the Galaxy Watch Active 2. Samsung's device can detect when you fall asleep. It monitors your heart rate to identify the different stages of sleep – light, deep, REM. You can check the sleep data on the Samsung Health app.
Apple's device supports Fall Detection, which was introduced last year. It can detect when you have had a hard fall and show you a notification. You can dismiss the notification or use it to call 911. If you don't move for 60 seconds after the hard fall, the Apple Watch will automatically call the emergency services.
Apple has introduced a new Noise app with watchOS 6 to measure noise levels around you. The app warns you when it's too loud. It helps prevent hearing loss. The company has also added a new Cycle Tracking app to let women track their menstrual cycles. Women can log their details into the app, and it will show them the fertile windows and the timing for the next period.
Pricing
The most affordable version of Apple Watch Series 5 – the 40mm aluminum model with GPS connectivity – costs $400. If you want the GPS+Cellular version, it's going to cost $500. The titanium model starts at $800. The ultra-premium ceramic version has been priced at $1,300. Apple will start taking pre-orders on September 13. The device would hit the store shelves on September 20.
The Galaxy Watch Active 2 is already available for pre-order on Samsung's website. It will go on sale on September 27. The Bluetooth-only model has been priced at $280 for the 40mm size and $300 for the 44mm size. Samsung is also giving a free portable wireless charger battery to pre-order customers. The LTE variant will cost even more than the Bluetooth model, but its pricing will depend on the carrier.
Apple Watch Series 5 or Samsung Galaxy Watch Active 2?
The Apple Watch Series 5 lacks sleep tracking and is much more expensive than Samsung's smartwatch. But it has a beautiful design, a much larger library of apps than Tizen OS, and a bunch of health and fitness features such as Fall Detection, ECG, international emergency calling, and Cycle Tracking. These features make the Series 5 worth the additional cost.
The Samsung Galaxy Watch Active 2 is a great choice for Android users and budget-conscious customers.