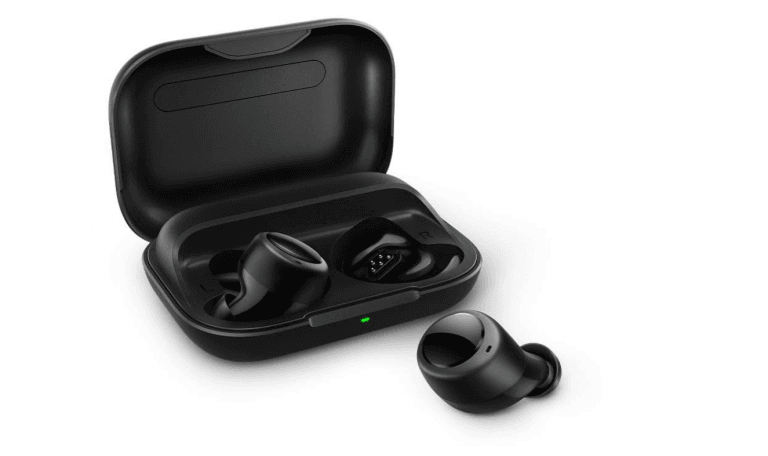 Apple's AirPods have been the most popular wireless earbuds since their launch. They are pretty expensive, but they keep selling well. On Wednesday, Amazon unveiled a bunch of Alexa-powered hardware devices. One of them was the Echo Buds, which would compete directly with Apple's latest AirPods 2. Let's check out how the Amazon Echo Buds stack up against Apple's AirPods 2. The Echo Buds use Bose's noise cancellation technology.

Amazon Echo Buds vs Apple AirPods 2: Design
The Echo Buds have an in-ear style design. They come with three different ear tip sizes (small, medium, and large) that you can swap out to ensure the buds fit perfectly in your ears. The ear tips help keep the earbuds in place when you are working out or jogging. The Echo Buds have a button at the bottom that puts them into pairing mode and allows you to check the charge level of the case.
The Echo Buds come with a charging case, which is bulkier than the AirPods 2 charging case. For some reason, Amazon uses a Micro USB port instead of USB-C for charging the case. The earbuds have a touchpad on the side that allows you to activate Alexa, control music playback, and toggle noise reduction.
[Exclusive] ExodusPoint Is In The Green YTD Led By Rates And EM/ Macro Strategies
The ExodusPoint Partners International Fund returned 0.36% for May, bringing its year-to-date return to 3.31% in a year that's been particularly challenging for most hedge funds, pushing many into the red. Macroeconomic factors continued to weigh on the market, resulting in significant intra-month volatility for May, although risk assets generally ended the month flat. Macro Read More
The Apple AirPods 2 retain the same design as their predecessors, meaning they are small and lightweight with a protruding antenna. The new AirPods come with a portable dental floss-sized case that not only stores the earbuds but also acts as a charger. Apple uses a Lightning port for charging the case.
Unlike Amazon, Apple doesn't ship its earbuds with ear tips of different sizes for a customizable fit. The Cupertino company takes a one-size-fits-all approach. The AirPods 2 might not fit perfectly into everyone's ears. It doesn't mean Apple's earbuds would fall out of your ears while jogging or workouts. They are designed such that they stay in your ears even during intense workouts.
Water resistance
Amazon said at the event that its Echo Buds come with an IPX4 rating. They can easily survive light rain, sweat, splashes. You can wear them even during intense workouts sessions. But they may fail if you wear them during swimming sessions.
The Apple AirPods 2 don't offer water resistance, so you'd want to keep them away from water, sweat, or saliva. However, multiple tests have shown that the new AirPods can survive certain levels of sweat or moisture exposure.
Specs and controls
The Amazon Echo Buds feature the latest Bluetooth 5.0 technology and Amazon's Alexa voice assistant. Alexa is much smarter than Apple's Siri in almost every aspect. The online retailer is bringing some Alexa integrations specifically for the Echo Buds later this year. The Echo Buds owners will be able to ask Alexa whether the Whole Foods store they are in has the item they want.
Each Echo bud has three microphones and two balanced armature drivers for audio. Just like AirPods 2, the Echo Buds automatically pause music playback when you pull one of them out. The Echo Buds work with Android, iOS, as well as your laptops. If you don't want to use Alexa, you can choose to use Google Assistant or Siri on the Echo Buds.
On Echo Buds, you can double-tap to toggle the noise reduction. If you want to access your phone's default voice assistant (Siri or Google Assistant), you'll have to long-press the earbud. Amazon allows you to customize the controls. You can connect the Echo Buds to only one device at a time.
The AirPods 2 run Apple's custom H1 processor, which offers faster connections, low latency, and hands-free Hey Siri activation on iOS devices. It's pretty easy to pair the AirPods 2 with iPhones, iPads, and Macs. But Android users have to pair the AirPods manually through Bluetooth. Just like Echo Buds, the AirPods 2 support the latest Bluetooth 5.0 technology.
Outside of Siri, you have to control the new AirPods by tapping on the side of either earbud. It allows you to play and pause music, skip songs forward or backward.
Amazon Echo Buds vs Apple AirPods 2: Audio quality
The e-commerce heavyweight has done an impressive job with wireless audio quality. The Echo Buds deliver clear sound, punchy bass, and excellent instrumental separation. They use Bose's noise cancellation technology, which is pretty effective. You can toggle noise reduction with a double-tap on the side of the earbud.
The AirPods 2 also offer an amazing audio experience. They offer good instrumental separation with powerful bass. The AirPods don't have a closed design, which means they let some ambient noise in.
Battery life and charging
Amazon claims the Echo Buds offer five hours of battery life on a single charge. The case packs another 15 hours of battery life. The Echo Buds don't support wireless charging. The case charges only via a Micro USB port.
The AirPods 2 also deliver five hours of music playback on a single charge. The charging case adds another 18 hours of battery life. If the AirPods run out of battery, the charging case gives them up to 3 hours of playback time in just 15 minutes of charging.
Though the base model of AirPods 2 doesn't have a wireless charging case, you can get the wireless charging variant by spending another $40. The AirPods 2 use a Lightning port for charging.
Pricing
Amazon has priced the Echo Buds 2 at $129. The earbuds are available for pre-order and will start shipping on October 30. The AirPods 2 have been priced at $160 for the base model. If you want the version with a wireless charging case, you'll have to spend $200.
Amazon has focused on getting all the important thing right to challenge the Apple AirPods 2. The Echo Buds are more affordable, offer Alexa integration, excellent sound quality, noise reduction, and an amazon battery life. Amazon also has the reach to get its devices to consumers. Only time will tell whether it would be able to eat into the sales of AirPods 2.
Updated on