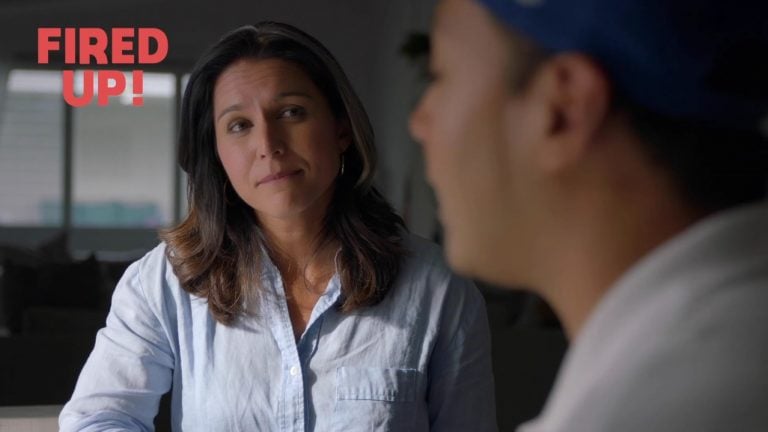 Presidential Candidate Tulsi Gabbard Shares Her Love of Surfing and Plans to Build A White House Wave Pool


LOS ANGELES (August 21, 2019) – Tulsi Gabbard, congresswoman and Presidential candidate, goes beyond politics to share how surfing has shaped her life as an environmental activist, a Major in the Army National Guard, and lead her to become the youngest legislator elected in Hawaii, as well as, a leading Member of Congress, focused on peace and diplomacy.
Q2 hedge fund letters, conference, scoops etc
London Value Investor Conference: Joel Greenblatt On Value Investing In 2022
The first London Value Investor Conference was held in April 2012 and it has since grown to become the largest gathering of Value Investors in Europe, bringing together some of the best investors every year. At this year's conference, held on May 19th, Simon Brewer, the former CIO of Morgan Stanley and Senior Adviser to Read More
Jenkins interviewed Congresswoman Gabbard in Kailua, Hawaii moments before her two-week deployment to Indonesia for joint counter-terrorism and emergency relief training with the Army National Guard and the Indonesian military.
In the hour-long interview, Gabbard shares childhood memories, the history of surfing in Hawaii, surfer slang, "surfing diplomacy" with world leaders, her plans to build a wave pool in the White House, and her excitement over the infamous Kelly Slater calling her "America's surfer." Below are some excerpts from the episode, available now on PodcastOne and Apple Podcasts.
On Surfing Diplomacy
Gabbard: "There is a four-star general who was stationed out here in Hawaii. I sit on the Armed Services Committee and Foreign Affairs Committee, so I make it a point to go and meet with these military leaders, especially those who have jurisdiction over the Asian Pacific. We got word that once upon a time he loved to surf. So instead of having a buttoned up meeting, we met at six in the morning, paddled out, and had our 'get to know you' meeting and the national security challenges we face out in the lineup."
Jenkins: "This is the new golfing."
Gabbard: "I am all about having these 'board meetings' out on the water."
Jenkins: "Oh! I am thinking of you surfing. This is the new diplomacy. Why do we need to be golfing in these ugly plaid pants? No one wants to see that."
Gabbard: "Imagine all of the bullshit falls to the side, and you have a real conversation out in nature. You don't have to worry about cell phones or anything else. Just talk. Get it done. And, catch some waves in between!"
Building the White House Wave Pool
Jenkins: "President Obama turned the White House tennis court into a White House basketball court. Could Kelly Slater build you a wave pool for the White House?"
Gabbard: "Yes! We have already discussed it. We need to call it something better than a wave pool. In Hawaii, I had a moment when Kelly Slater asked people to support my campaign and he said, 'My favorite surfer in all of Hawaii.'"
Jenkins: "What?! Come on!"
Gabbard: "There are a lot of surfers in Hawaii!"
On America and Foreign Policy
Gabbard: "We sign up to serve to protect, defend, and serve the American people, to serve our country. That's why I get so fired up about the kind of change we need to see in our foreign policy and it's why I'm running for president. To be that agent of change, to get us on track, to stop wasting the countless lives that have been sacrificed, but also the trillions of dollars that were spent on these wars that are coming out of our community, coming out of our schools, coming out of our healthcare system… As we're talking about the cost of war, the thing is, at our campaign meetings and campaign rallies, at living room gatherings, at conversations around the kitchen table, we have people who are coming together and uniting as Americans."
Watch a clip from the episode:
To listen to the episode, visit: http://bit.ly/2zc5UWM or https://apple.co/2HjpfKi.
---
About PodcastOne
PodcastOne, (www.PodcastOne.com) the nation's leading advertiser-supported podcast network, was founded by Norman Pattiz, founder of radio-giant Westwood One. The network currently hosts more than 300 of today's most popular podcasts, including Adam Carolla, Shaquille O'Neal, Steve Austin, Kaitlyn Bristowe, Dan Patrick, A&E's Cold Case, Spencer and Heidi Pratt, Scheana Shay, Heather and Terry Dubrow, Jim Harbaugh, Ladygang, Dr. Drew, Chael Sonnen, Rich Eisen, Barbara Boxer and hundreds more.
Updated on