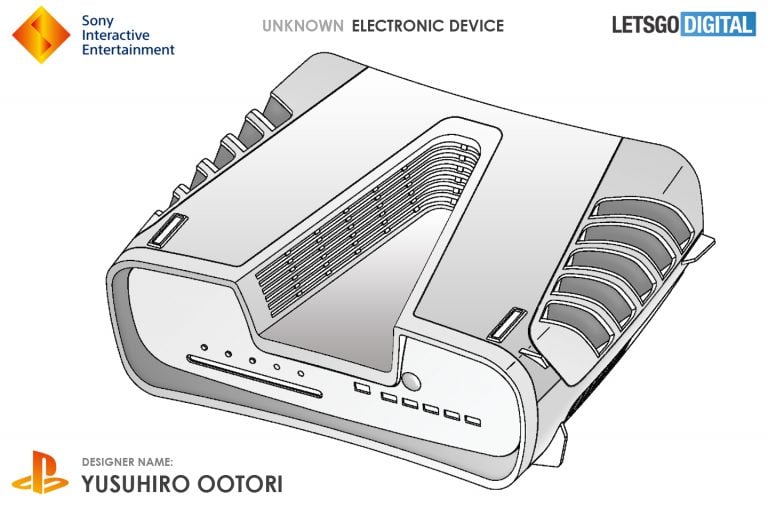 Rumors about the PlayStation 5's design have picked up since we heard that Sony is supposedly planning a big reveal in February. Last week a tech blog spotted a patent filed in Brazil for what looked like a gaming console, and there was speculation about whether it was the PS5 or the developer kit for the PS5.
Rumors about the PlayStation 5's design based on those patent images continue, this time with renderings created by Dutch-language website Let's Go Digital, the site that originally spotted the patent. The patent images showed a V-shaped cutout in the top and a series of buttons aligned across the top of a slot that appears to be a disc drive.
It was suggested that the V was a reference to the Roman numeral for the letter five, but that's hard to believe since the V appears upside-down when looking at the device as it lies flat.  At first glance, the console appeared quite ugly, but Let's Go Digital has shown that it could still make for a very interesting looking device.
This Tiger grand-cub was flat during Q2 but is ready for the return of volatility
Tiger Legatus Master Fund was up 0.1% net for the second quarter, compared to the MSCI World Index's 7.9% return and the S&P 500's 8.5% gain. For the first half of the year, Tiger Legatus is up 9%, while the MSCI World Index has gained 13.3%, and the S&P has returned 15.3%. Q2 2021 hedge Read More
Game developer Matthew Stott tweeted that the device in the images is actually the PS5 developer kit and that the company he works for will get multiple kits. Interestingly, his Twitter account no longer exists, and Let's Go Digital suggests that it may have been deleted for leaking sensitive information. The tech site reached out to him for more information, but he simply said he couldn't say anything else.
If the console in the images is indeed the developer kit, then many may be happy that it won't be the final PlayStation 5 design. However, Let's Go Digital argues that it may actually be the consumer version of the console after all. The tech site notes that devkits for Sony's previous consoles have tended to be rectangular and fairly boring in design. The point of a developer kit is to make it easy for developers to test their games and various components, but the design does not make it easy to stack multiple devices right next to each other.