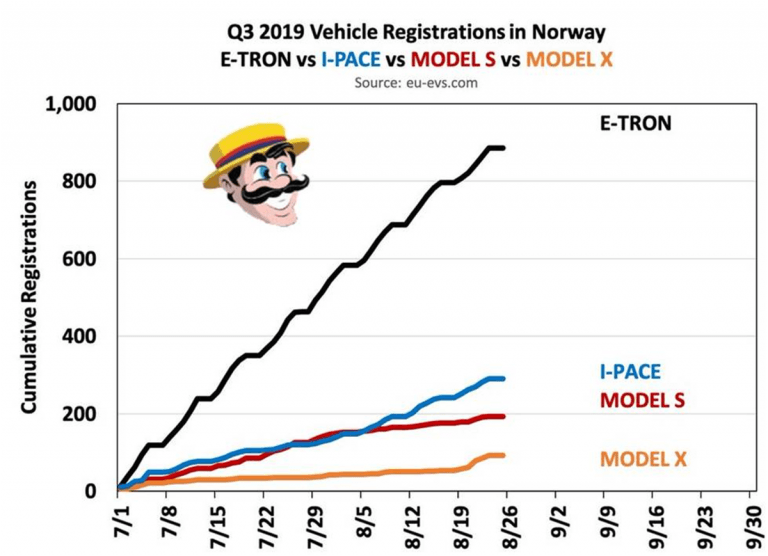 Whitney Tilson's email to investors discussing Tesla Inc (NASDAQ:TSLA) sales trends in Q3; Norway data; Cathie Wood; Japanese critic likes Model 3; Porsche Taycan Electric Car Tesla killer?

Q2 hedge fund letters, conference, scoops etc
We think US sales are down low single digits for the first 8 weeks of the quarter (compared to the same period in Q2, not year over year).
[Exclusive] ExodusPoint Is In The Green YTD Led By Rates And EM/ Macro Strategies
The ExodusPoint Partners International Fund returned 0.36% for May, bringing its year-to-date return to 3.31% in a year that's been particularly challenging for most hedge funds, pushing many into the red. Macroeconomic factors continued to weigh on the market, resulting in significant intra-month volatility for May, although risk assets generally ended the month flat. Macro Read More
Europe sales (ex-UK) are down more than that.
China is also weak.
However:
They just launched the Model 3 in the UK, which looks quite strong
They just introduced Model 3 SR+ in Norway, which is a big market for them
Canada remains strong
They have made some sales in Japan, Australia and New Zealand
Overall, we think sales are tracking to about 90,000-95,000 units for Q3, with a much weaker mix and 3-5% lower ASP.
2) Norway data (posted here) from TESLAcharts (excludes Model 3 – only compares high-price-point EVs):
3) A friend just emailed me:
Well-known Tesla bull Cathie Wood of ARK was just asked during her CNBC appearance to comment on Bethany McLean's Vanity Fair article about Solar City, which came out on Sunday. She said she had not read it. Wood was asked if she had just ignored it. She answered that she simply hadn't heard about it. I am not making this up.
She must have lied, not wanting to comment on the article. She can't possibly be that ignorant, uninformed and stupid. Or???
Sezai likened the experience of using the Model 3's display to his first impressions of the Apple iPad. According to the critic, when he first used an iPad, there was something immediately familiar and exciting about the system and how it freed users from the "mess of Windows." This experience, Sezai noted, is echoed in the Model 3, as the vehicle gives drivers the impression that they are "in touch with a next-generation car."
5) The latest car that's reportedly going to be a Tesla-killer is the Porsche Taycan, which looks pretty amazing.
Here are some articles about it:
Porsche unveils the interior of Taycan electric car - Electrek. Excerpt: "Porsche has unveiled almost the entire interior of the Taycan electric car ahead of the vehicle's unveiling planned for next month."
Here's the review by Jonny Smith, the first non-Porsche employee to drive it.
Updated on