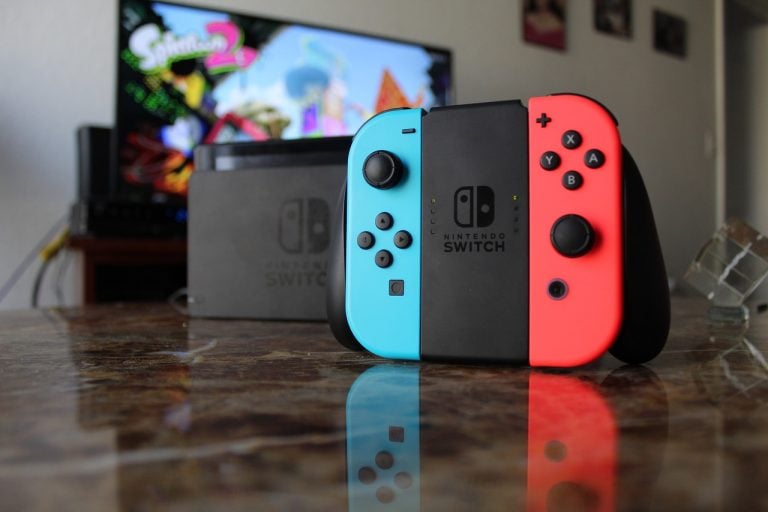 Nintendo Switch is an affordable and immensely popular console. It has sold more than 35 million units since its launch in March 2017. Though it's far less powerful than PlayStation 4 and Xbox One, it has been giving both these consoles a tough competition. Nintendo also has an impressive list of popular first-party and third-party titles. On the other hand, Sony is preparing to launch the next-gen PlayStation 5 console. If you are looking to upgrade your existing console, you might be wondering whether to wait for the Sony PS5 or buy Nintendo Switch. Let's check out the details to find out.

The Switch was the most popular gaming hardware in the United States during the first half of this year. It has also overtaken the PlayStation 4 in Japan in terms of sales. Sony's current console is nearing the end of its life cycle.
Nintendo has launched an upgraded version of the Switch with a longer battery life. Just like the original model, it works in tabletop mode, TV mode as well as handheld mode. The new Switch promises a battery life of 4.5 hours to 9 hours depending on the game you are playing, display brightness, and network functionality. However, it retails at the same price tag of $300. Thanks to the new Nvidia Tegra X1 chip, it also brings slight performance improvements.
Fund Manager Profile: Zhang Hui Of China's Southern Asset Management
Historically, the Chinese market has been relatively isolated from international investors, but much is changing there now, making China virtually impossible for the diversified investor to ignore. Earlier this year, CNBC pointed to signs that Chinese regulators may start easing up on their scrutiny of companies after months of clamping down on tech firms. That Read More
Nintendo has also announced an even more affordable Nintendo Switch Lite that works only in handheld mode and costs just $200. It has a relatively smaller 5.5-inch display and offers 3-7 hours of battery life on a single charge.
In contrast, the Sony PS5 is still quite a while away. It is expected to hit the store shelves towards the end of 2020. By then, Nintendo could launch a newer Switch with a faster processor, a flash memory chip, and other improvements.
Nintendo Switch vs Sony PS5: Under the hood specs
Nintendo Switch is not as powerful as Sony's PlayStation 4, so it stands no chance against the next-gen PlayStation 5 in terms of performance. It has just enough power to play most games in Full HD resolution of 1080p, though it reduces the frame rates if you play demanding games.
The Switch is powered by Nvidia's custom Tegra X1 chip with shared GPU. It can achieve a maximum 1080p resolution in docked mode and 720p in handheld mode. Nintendo's console packs only 4GB RAM and 32GB of storage. The storage space is not sufficient for most users. But the Switch supports up to 512GB of external memory via a microSDXC card.
Nintendo's $20 per year Nintendo Switch Online subscription service gives you access to game save data in the cloud and game backups. However, you'll lose access to the game save data if you cancel your membership. You need to renew the subscription within six months to regain access to the game save data. Otherwise, it will be deleted permanently.
In contrast, the Sony PS5 will be a beast in terms of performance and storage. It is rumored to run AMD's custom-built, octa-core, third-generation Ryzen chip. The processor would be built on the Zen 2 architecture with Navi graphics. It will be among the most powerful consoles when it hits the store shelves. A leaked benchmark test indicated that the Sony PS5 would be four times more powerful than the existing PlayStation 4.
Sony's lead system architect Mark Cerny told Wired earlier this year that the next-gen PlayStation console would offer 8K resolution to make it future-proof. It will also feature solid-state drive (SSD) storage for faster loading speeds. The PS5 is expected to offer at least 1TB of internal storage. Sony already allows gamers to access game save data in the cloud if they have the PlayStation Plus membership.
The Sony PS5 will reportedly support 3D audio and ray tracing. For the uninitiated, ray tracing is a graphics rendering technique that produces incredibly realistic lighting effects. It is currently found in high-end PCs.
Online subscription services
Nintendo has its own premium online subscription service called Nintendo Switch Online. It allows users to play games online with their friends and also get access to a selection of classic Nintendo games. The service costs $3.99 per month. If you want a quarterly subscription, it will cost you $7.99. The annual subscription has been priced at $19.99, according to Nintendo's website.
However, the Switch Online service is far from premium. It requires customers to use a separate app on their smartphones to use voice chat while playing online multiplayer games, which is pretty annoying.
Sony has been offering the PlayStation Plus service for quite a while, and is expected to continue it with the PS5. The PS Plus costs $60 per year. It gives you access to online multiplayer functionality, and includes access to free games every month. The service also allows you to access game save data.
Gaming library
Nintendo Switch has an impressive library of first-party and third-party games. The Legend of Zelda: Breath of the Wild remains popular even two years after its launch. Other titles like Splatoon 2, Super Mario Odyssey, Mario Tennis Aces, Super Smash Bros Ultimate and Octopath Traveler have kept gamers hooked.
Nintendo and its partners are working on more exciting exclusive titles for the Switch including a remake of The Legend of Zelda: Link's Awakening, Bayonetta 3, Pokemon Sword, and Super Mario Maker 2. Many Nintendo Switch titles support cross-platform gameplay, allowing you to play with your friends on other consoles. However, Nintendo's console doesn't offer backward compatibility with older Nintendo systems, meaning you can't play those games on the Switch.
Sony hasn't officially confirmed the list of titles coming to PS5. But industry experts believe The Elder Scrolls VI and Starfield would arrive on the console. The PS5 would offer backward compatibility with PlayStation 4 and PlayStation VR titles. Sony has a vast library of first-party and third-party consoles.
Nintendo Switch has a lot of limitations. It's not the most powerful console with the highest resolution. Its online multiplayer doesn't offer a smooth gaming experience. But it has been thriving on affordability, the convenience to play games on the go, and Nintendo's library of blockbuster titles. If that's something you want, go for the Switch. If you are a hardcore gamer who values high resolution, more storage, and an immersive experience, you should wait for the Sony PS5.
Updated on