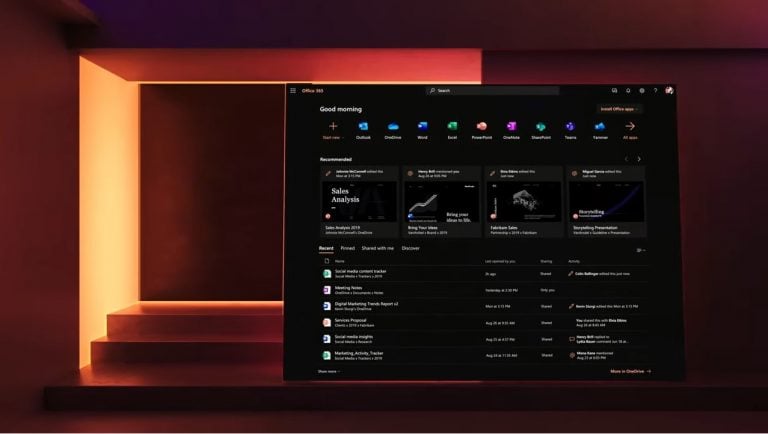 Microsoft has been working on bringing dark mode to most of its software for a while. Now, users who use Microsoft's email client on their phone will be able to use the dark theme for Outlook mobile. Both Outlook apps for iOS and Android will receive the new update and have the choice to switch between the bright and dark background.
It's no secret that Microsoft is trying to bring more apps to dark mode. When Google released Chrome 74 version for Windows, and other systems, it received the Windows 10 support allowing most of the browser to be covered in dark, eye-soothing color. As per the company's announcement on Medium, it has been working on a dark theme for Outlook for nearly a year.
Another interesting feature of the dark theme for Outlook mobile is that it'll automatically switch to the dark theme when power-saving mode is enabled on Android devices. The blog post also notes that the darker theme saves battery life because it requires less screen power than to produce bright white color.
Gator Financial Partners 1H2022 Performance Update
Gator Financial Partners letter to investors for the first half of the year ended June 30, 2022. Q2 2022 hedge fund letters, conferences and more Dear Gator Financial Partners:  We are pleased to provide you with Gator Financial Partners, LLC's (the "Fund" or "GFP") 1st Half 2022 investor letter. This letter reviews the Fund's 1st Read More
This is not where the company's plans end. Microsoft added that more apps will get dark mode support. According to the announcements, the tech giant plans to bring dark themes to Word, Excel, PowerPoint, SharePoint, OneDrive, Planner and To-Do for Apple's iOS 13 launch.
Not only mobile apps will get the dark theme touch. The web version of Office.com will be updated with the dark mode. Furthermore, OneDrive and Planner on web will receive the same update in the future. Microsoft explained in the blog post that adding dark theme for the Outlook mobile app is more than just enabling the user-friendly toggle-switch that makes the lights go off.
"Starting from the ground up and using the new gray palette for Fluent, our app teams began by aligning to the single palette," said Jon Friedman, Microsoft's head of Office design, in a blog post. "This included increasing contrast, brand color saturation, and consistency among details like how and when we use shadows when in Dark Mode."
Microsoft wants to adjust its software to the needs of its users, so the dark theme and bright theme balance will help anyone who may want to use different themes in different environments. For example, on a bright day, where more screen power is required, users would rather use the light theme. However, in dark airplanes, in bed or movie theaters, users will find it easier and more eye-soothing to use the dark theme, it's explained in the post.
Will you make use of the dark theme for Outlook mobile that Microsoft announced? Let us know!
Updated on