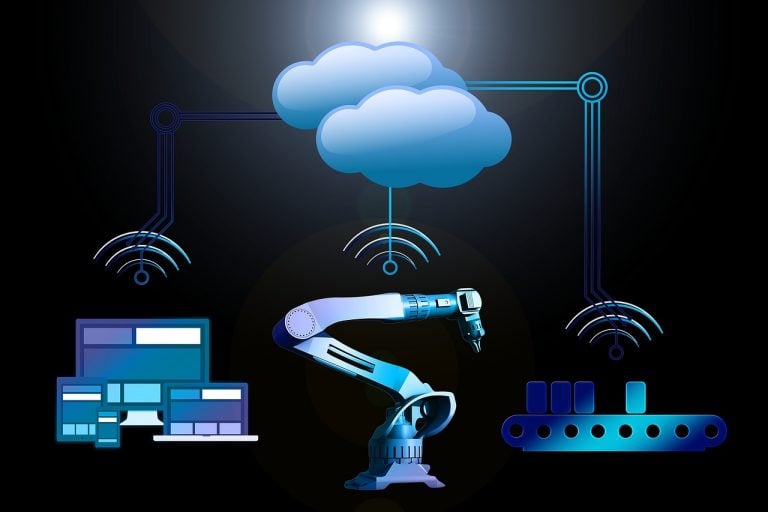 The excerpt is adapted from Digital Transformation: Survive and Thrive in an Era of Mass Extinction by Thomas M. Siebel and is printed with permission from RosettaBooks. 
The business world is in the early days of capturing the value that IoT—in conjunction with cloud computing, big data, and AI—can unlock.
Our Cambrian Explosion of IoT is still ahead of us. But one thing is clear: IoT will change business in a major way. The question remains how. I argue it will profoundly change three fundamental aspects of business: how we make decisions, how we execute business processes, and how we differentiate products in the marketplace.
Carlson Capital Sees Return Of "Goldilocks" Market
Carlson Capital's Double Black Diamond fund added 1.47% net of fees in May, taking its year-to-date performance to 5.2%, according to a copy of the fund's letter, which ValueWalk has been able to review. Q1 2021 hedge fund letters, conferences and more Founded in 1993 by Clint Carlson, Carlson Capital has struggled to retain assets Read More
Q2 hedge fund letters, conference, scoops etc
First, decision-making will change, with data-driven decision-making in particular taking on an entirely new meaning.1 Algorithms will become an integral part of most, if not all, decisions. This is particularly true for the day-to-day decisions that keep a business running. Think of decisions made on the factory floor, inside a fulfillment warehouse, or even in a bank's lending division. With product usage information, equipment health data, and environmental measurements, problems can be assessed in real time and recommendations can immediately be surfaced to operators. This means less reliance on simple but suboptimal "rule-of-thumb" practices. It also means less reliance on operational expertise. Human expertise is only required when the AI-produced output seems off-base. If it is, the system can learn from human intervention to better address similar cases in the future. This means fewer staff, less human involvement, and superior business results. Sensored value networks enable fact-based, AI-driven predictive decision-making.
Second, IoT will change how business processes are executed, resulting in faster, more accurate, and less expensive decision-making. Instead of consulting one's own intuition and experience and doing "what feels right," operators will consult an algorithmic recommendation that clearly explains why it suggests a certain course of action. The onus will be on employees to override the system, but this will happen only in a fractional number of cases. Employees will be freed up to focus less on operational minutiae and more on adding strategic and competitive value.
Third, IoT will change the way products are differentiated in the marketplace. We will see a new level of individualization of product behaviors. Smartphones already adapt to how their owner speaks or types. Smart thermostats learn the temperature preferences of residents and automatically accommodate them. In health care, intelligent glucose monitors equipped with algorithms can automatically adjust insulin delivery via an implanted pump.
This is just the beginning—IoT changes the relationships we form with physical objects. IoT gives manufacturers unprecedented visibility into how customers use their products. Not only does this enable companies to know their customers better and thus make better products, but it also enables new warranty and equipment rental models—such as guaranteeing products under certain usage constraints and deactivating rented items when the customer stops paying a subscription fee.2 These models may not seem appealing to end users at first glance, but they can radically change the economics of owning or renting certain products, and customers absolutely do respond to better pricing models. IoT has unlocked new possibilities in decision-making, operations, and product differentiation, and it will continue to do so—often in ways we have not yet imagined.
How much will all this IoT-driven change impact the economy? With the total number of connected devices projected to grow from about 20 billion today to 75 billion by 2025,312 analysts expect IoT will contribute up to $11.1 trillion in annual global economic value by 2025.4 That is a staggering amount, equivalent to approximately 11 percent of the global economy, based on the World Bank's projection of $99.5 trillion in global GDP in 2025.
Significant workforce displacement will be a byproduct of IoT adoption and the corresponding automation it enables. I expect the level and timing of job displacement to vary dramatically across industries, but the aggregate statistics are undeniable.
Almost half (47 percent according to the Economist) of American jobs are at risk due to automation, and a substantial portion of this automation is due to IoT. In Britain and Japan, the numbers are similar: 35 percent and 49 percent of jobs are at risk, respectively.5
Individual firms also weigh the impact of automation. UBS CEO Sergio Ermotti predicts that automation caused by new technology adoption could cause the company to downsize by 30 percent. At UBS alone, that is almost 30,000 employees.6 Former Deutsche Bank CEO John Cryan predicted the firm will cut its 97,000-person organization in half due to automation.7 Goldman Sachs estimates that self-driving cars could destroy 25,000 driving jobs every month in the U.S. alone.8
However, job displacement doesn't mean people will no longer work. New jobs will emerge even as traditional jobs disappear. Advanced technologies will create more jobs than they will eliminate, and this change will happen quickly.
New opportunities will abound for those with immediately relevant skill sets and new types of roles will emerge that we cannot even imagine today. In 2018, 7 of the top 10 fastest-growing job titles on LinkedIn were data science and engineering roles.9 This growth in data science will continue for the foreseeable future: In 2020, there are expected to be about 700,000 job openings for data scientists and similar roles in the U.S.10 Similarly, operational roles for those who manage IoT devices of all sorts, as well as new types of IT, networking, and telecommunications jobs, are likely to grow. These high-value jobs will often be cross disciplinary, grounded in business and technical knowledge.
There is every reason to be optimistic. But employers, governments, and schools will need to train and retrain millions of people for these new jobs. Millions of existing workers will have to find new jobs. I believe we in the commercial sector have a responsibility to promote training and education for these new roles. IoT, when paired with AI, is causing a structural shift in the employment landscape. IoT and the technologies it enables will affect our world at a scale that is difficult to overstate.
---
1 James Manyika et al., "Unlocking the Potential of the Internet of Things," McKinsey, June 2015, https://www.mckinsey.com/business-functions/digital-mckinsey/ourinsights/the-internet-of-things-the-value-of-digitizing-the-physical-world
2 Michael Porter and James Heppelmann, "How Smart Connected Products Are Transforming Competition," Harvard Business Review, November 2014; Michael E. Porter and James E. Heppelmann, "How Smart, Connected Products Are Transforming Companies," Harvard Business Review, October 2015.
3 "Number of Connected IoT Devices Will Surge to 125 Billion by 2030, IHS Markit Says," IHS Markit, October 24, 2017, http://news.ihsmarkit.com/press-release/number-connected-iot-devices-will-surge-125-billion-2030-ihs-markit-says
4 Manyika et al., "Mapping the Value."
5 "Automation and Anxiety," The Economist, June 25, 2016, https://www.economist.com/news/special-report/21700758-will-smarter-machines-cause-massunemployment-automation-and-anxiety
6 "Technology Could Help UBS Cut Workforce by 30 Percent: CEO in Magazine," Reuters, October 3, 2017, https://www.reuters.com/article/us-ubs-group-techworkers/technology-could-help-ubs-cut-workforce-by-30-percent-ceo-inmagazine-idUSKCN1C80RO
7 Abigail Hess, "Deutsche Bank CEO Suggests Robots Could Replace Half the Company's 97,000 Employees," CNBC, November 8, 2017, https://www.cnbc.com/2017/11/08/deutsche-bank-ceo-suggests-robots-could-replace-half-its-employees.Html
8 Anita Balakrishnan, "Self-Driving Cars Could Cost America's Professional Drivers up to 25,000 Jobs a Month, Goldman Sachs Says," CNBC, May 22, 2017, https://www.cnbc.com/2017/05/22/goldman-sachs-analysis-of-autonomous-vehicle-jobloss.html
9 Louis Columbus, "LinkedIn's Fastest-Growing Jobs Today Are in Data Science and Machine Learning," Forbes, December 11, 2017, https://www.forbes.com/sites/louiscolumbus/2017/12/11/linkedins-fastest-growing-jobs-today-are-in-datascience-machine-learning
10 Louis Columbus, "IBM Predicts Demand for Data Scientists Will Soar 28% by 2020," Forbes, May 13, 2017, https://www.forbes.com/sites/louiscolumbus/2017/05/13/ibmpredicts-demand-for-data-scientists-will-soar-28-by-2020