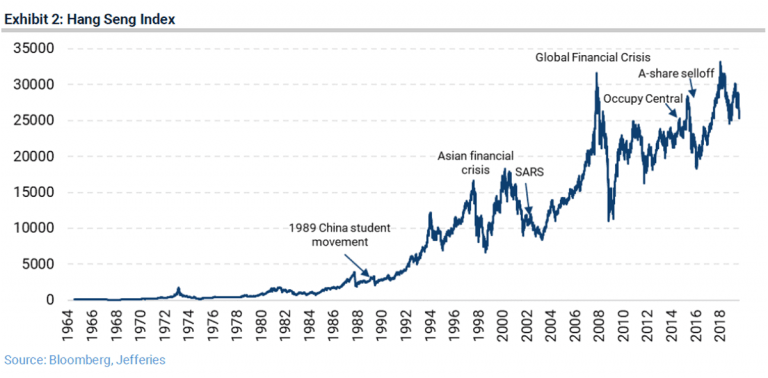 The Hong Kong protests have been weighing heavily on the region's stock market with no signs of letting up. How long will they last, and what do they mean for Hong Kong investments? One analyst offered lessons from the SARS epidemic there several years ago.
The Hong Kong protests are now in their eleventh week, and thus far, demonstrators have remained mostly peaceful. Some 1.7 million to 2 million people have taken to the streets to call for full democracy and an end to a bill that would allow citizens to be extradited to mainland China more easily.
In his "Greed & Fear" report this week, Jefferies analyst Christopher Wood outlined his base case for the Hong Kong stock market based on the months-long protests. He believes officials are hoping that the economic impacts of the protests will cause a gradual loss of support for the demonstrators. However, as far as Hong Kong investments go, history suggests the market will be resilient.
Peter Lynch: How Investors Can Find Their Edge
Peter Lynch was one of the best growth investors of all time. As the Magellan Fund manager at Fidelity Investments between 1977 and 1990, he averaged a 29.2% annual return. Q1 2021 hedge fund letters, conferences and more The fund manager's investment strategy was straightforward. He wanted to find growth companies and sit on them Read More
Citing another recent Jefferies report, he noted that the Hang Seng Index has always bounced back after major crisis like the Hong Kong protests and SARS epidemic:
There is a short-term impact to the demonstrations, however. Wood noted that tourist arrivals in Hong Kong for the first 10 days of this month dropped more than 30% year over year. This is important because tourism accounts for 25% to 40% of retail sales in the city.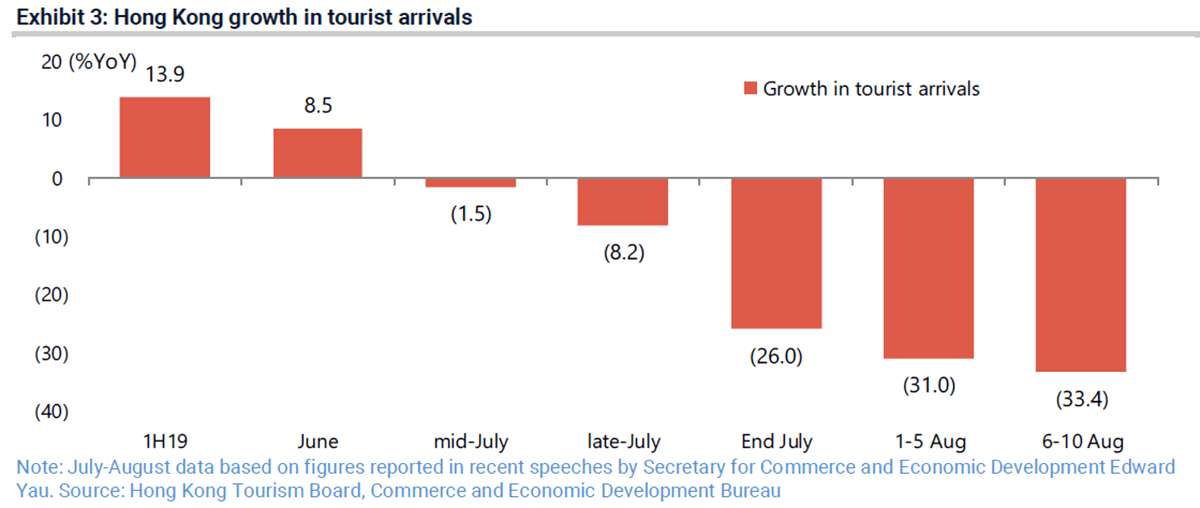 Additionally, 78% of the inbound tourists last year came from mainland China, which will further weigh on the city's tourism. He said mainland views of the demonstrators see them as "spoiled brats."
Wood expects the negative views of the Hong Kong protests to be especially bad for the retail sector. He added that some members of the Hong Kong Retail Management Association saw double-digit year-over-year declines in sales since the demonstrations began in June. Retail sales tumbled 6.7% year over year in June.
He also expressed concerns about the demands of the protesters, which he said have "long since evolved from the original cause." He believes that while some of the new demands can be met, some probably cannot. The one demand he thinks will be non-negotiable from Beijing's point of view is the call for universal suffrage for the chief executive and legislative council elections." Some more radical members of the protest are even demanding independence from China.
"If universal suffrage is non-negotiable, GREED & fear also continues to assume that the last thing Beijing wants to do is to intervene directly by sending in the People's Liberation Army," and will only resort to such a move if there is out-of-control violence," he added.
Thus, he said the possibility of a lengthy standoff between the government and demonstrators is meaningful. He will be watching to see if the Hong Kong protests start to wind down after students return to school and university next month. However, he added that some student unions announced two-week class boycotts.
As far as Hong Kong investments go, Wood believes domestic-focused stocks in the MSCI Hong Kong Index have already priced in many of the negatives. He added that the MSCI Hong Kong has underperformed the MSCI AC World Index by 13.3% since Early May. He also noted that the MSCI Hong Kong underperformed the MSCI AC World by 14.7% during the SARS epidemic in March and April 2003.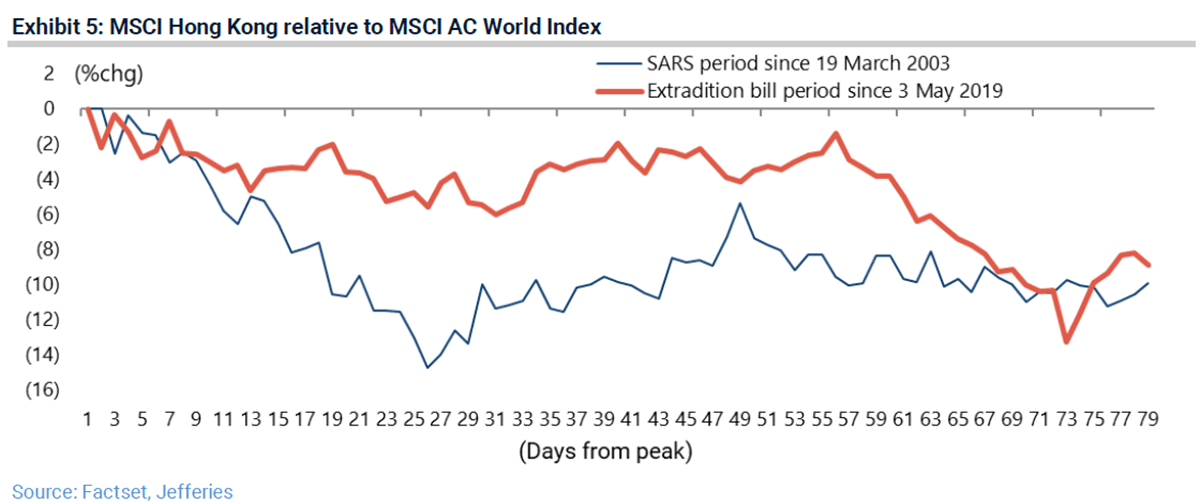 However, he also pointed out a key difference in the underperformances.
"SARS was a V-shaped bottom where blind panic was swiftly followed by euphoric relief, which is why an admittedly boastful GREED & fear was happy to buy a flat in Hong Kong during that period and sell it six months later," he wrote.
Wood's base case is that the Hong Kong protests continue for the rest of this year or possibly even longer. If that happens, a key concern will be that Beijing signals to mainlanders to stop visiting Hong Kong. Despite this potential issue, he isn't ready to increase his current underweight in his Asia Pacific ex-Japan relative-return portfolio because many of the problems have already been discounted.
He added that the base case also assumes that violence will not be out of control. If that does happen, he anticipates "a SARS-like panic which would, in turn, create a great buying opportunity for supply-constrained Hong Kong residential property."
Another possible concern is that Beijing could halt capital raisings like the proposed Alibaba equity raise in Hong Kong, although he sees this happening only in an extreme case. Wood believes Beijing needs Hong Kong as long as it isn't prepared to "open fully its capital account," and he doesn't see that happening under current circumstances.