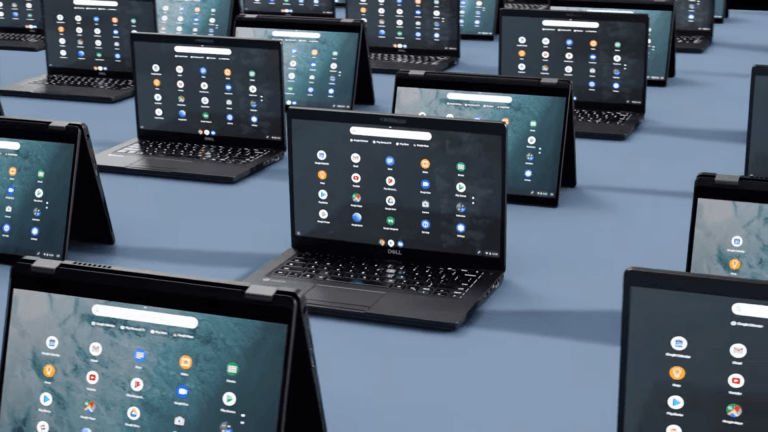 Microsoft has dominated the enterprise computing market for decades. Windows is an integral part of the business IT infrastructure. But Google is pushing to capture a piece of the business space with new enterprise Chromebooks. Google's Chrome OS is immensely popular in education and small businesses. The search engine giant has launched the "Chromebook Enterprise" program to offer everything your business needs right out of the box to deploy Chrome.
Google has teamed up with Dell to launch Latitude-branded business Chromebooks that focus on serviceability. The new Dell Latitude 5400 Chromebook Enterprise and Dell Latitude 5300 2-in-1 Chromebook Enterprise were launched at VMWorld 2019 event. Google's deal with Dell is not exclusive, so you can expect other vendors such as HP and Lenovo to launch enterprise Chromebooks in the future.
Both Latitude Chromebooks will be available to order starting August 27th in more than 50 countries. The Latitude 5400 model starts at $699 while the 5300 2-in-1 model would cost $819 for the base model. The entry-level version of both laptops would run Intel's Celeron 4305U processor. They can be configured up to 8th-gen Intel Core i7 processors, 32GB RAM DDR4 RAM, and 1TB SSD storage.
This event-driven fund is betting on ChampionX, Caesars and Vista Outdoor [Q1 Letter]
Gates Capital's ECF Value II fund was up 9.4% for the first quarter, compared to the HFRI Event-Driven Index's 8.2% gain, the Russell 2000's Value Total Return Index's 21.2% gain, and the S&P 500's 6.2% return. Q1 2021 hedge fund letters, conferences and more Gates Capital Management is an event-driven value . . . SORRY! Read More
The 2-in-1 model features a 13.3-inch Full HD display. It has a 360-degree hinge that allows customers to use it in the laptop, tablet, tent, or presentation modes. The Latitude 5400 Chromebook Enterprise sports an HD or Full HD display. You can also choose from touchscreen and non-touch variants. Both Latitude Chromebooks have different battery configurations going up to 60Whr Long Life Battery.
The new Dell Latitude Chromebooks have a spill-resistant keyboard with 10 localized language keyboard options. They also have a Chrome logo on the keyboard. In all other aspects, they look similar to the existing Windows-powered Latitudes. They feature a USB-C port, two USB 3.1 ports, HDMI, memory card reader, and a headphone jack. There is also the option for built-in LTE. The laptops support the latest Bluetooth 5.0, 802.11ac Wi-Fi.
Since the laptops are part of Google's "Chromebook Enterprise" program, they include the Chrome Enterprise fleet management software and "trusted hardware" without a separate license. The laptops will also get management tools, global support, maintenance plans, as well as Unified Workspace that allows IT departments to oversee all devices within their organization.
Google has tried to make life easier for IT departments with the new Chrome Enterprise Upgrade. It brings a new Google Admin console to Chrome OS, which dramatically reduces the loading time. The Latitude-branded enterprise Chromebooks come with Google's Chrome Enterprise Support as well as Dell's ProSupport.
With the launch of enterprise Chromebooks, Google has shown that it's in the enterprise market for the long run. The company is not merely experimenting. The search engine giant is trying to attract businesses that are modernizing their fleet of devices.
The Chrome OS could give Windows a tough competition in the enterprise space considering businesses are increasingly using software as a service (SaaS) and browser-based applications. According to The Verge, Microsoft is developing a 'Windows Lite' to compete with Chrome OS. The 'Windows Lite' will be different from Windows 10S, which is merely a locked down variant of Windows.
Google's VP of Chrome OS, John Solomon told The Verge that the company is not worried about Windows Lite. That's because Google's strength lies in machine learning, which the company has been applying in the Chrome OS. The search engine giant still has a long way to go before it can become a serious competitor to Microsoft's Windows in the enterprise space. Businesses are slow to upgrade their fleet of devices, and they are deeply invested in the Windows ecosystem.