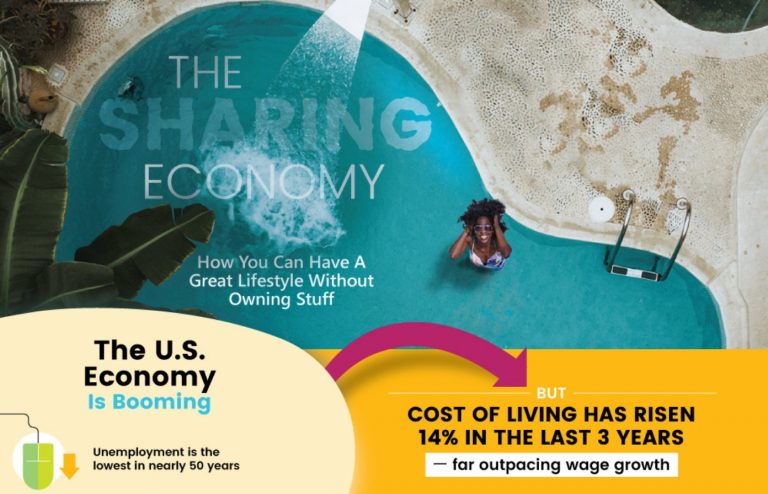 The unemployment rate is the lowest it's been in nearly 50 years, the nominal wage growth is the highest it's been in a decade, and we can finally say the U.S. economy is booming again. The economy continues to grow, but even in the places of resilience post Great Recession, many are struggling. The cost of living has risen 14% in the past three years – far outpacing wage growth and Americans are struggling to afford a great lifestyle. Times are tough, sure, but does that mean that you have to forego a happy lifestyle just to make ends meet?
In one year leading up to 2018, the cost of living had more than a 30% increase. Renters are having to spend over half of their income on necessities, and it's getting harder and harder for anyone to afford basic needs let alone lifestyle luxuries. This expensive price of living means that Americans are needing to earn more money to live comfortably. However, real wages haven't changed. In 1964, the average hourly wage was $20.27. Fifty-four years later, that number increased two dollars and thirty-eight cents with only $22.65 per hour on average. Items or experiences that can't be categorized as a basic need are disappearing due to the inverse correlation between cost of living and wages. In 2019, two in three Americans couldn't afford to go on vacation and a little over half of Americans have less than $1,000 in savings. It's stressful not having enough money to live more than solely surviving and at this rate, general happiness continues to decline.
Qualivian Investment Partners July 2022 Performance Update
Qualivian Investment Partners performance update for the month ended July 31, 2022. Q2 2022 hedge fund letters, conferences and more Dear Friends of the Fund, Please find our July 2022 performance report below for your review. Qualivian reached its four year track record in December 2021.  We are actively weighing investment proposals. Starting in November Read More
[REITs]
Q2 hedge fund letters, conference, scoops etc
Since the Enlightenment Era, there's always been the idea that money can't buy happiness. Maybe having money doesn't mean you're happy, but having money can have a huge impact on your mood and emotional well-being. According to studies, participants felt happier when anticipating and participating in planned experiences. Our experiences allow us to reflect on our values and connect with others, overall providing a clearer sense of self.  Take it from Eleanor Roosevelt herself when she said that we should strive to live our lives with experiences and "to reach out eagerly and without fear for newer and richer experience." While many impactful experiences do not have to cost us any money, we shouldn't have to constantly worry about our financials or break the bank when trying to live to the fullest.
The sharing economy allows us to put buying and owning in the past, and start participating in experiences we couldn't afford on our own. This economy involves peer-to-peer platforms that provide access to shared goods and services such as accommodations, storage, and transportation. In a struggling economy, ownership feels fleeting. Embracing the sharing economy means on-demand access, no burdens of ownership, and is a triple threat by even being better for the environment. Learn more about how to save money and increase happiness in the sharing economy from the infographic below.

Updated on