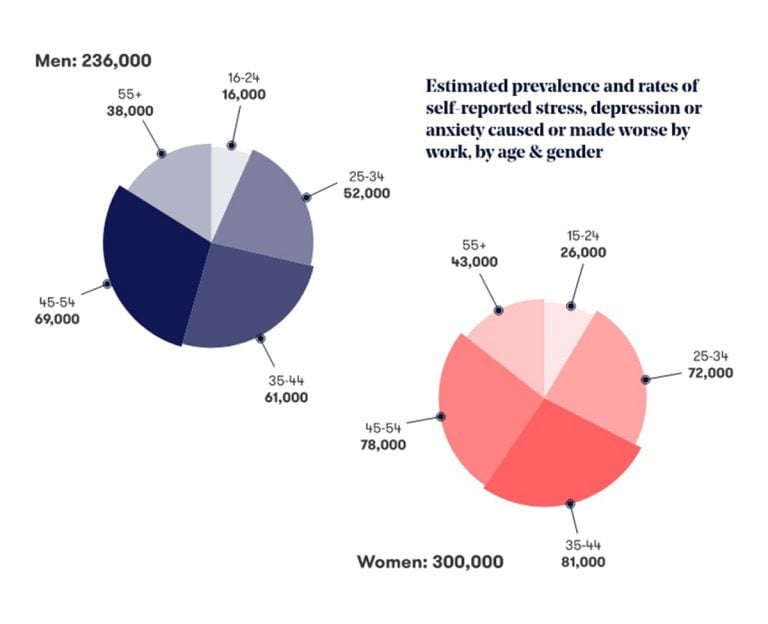 Health, social and education workers amongst the most stressed, new research suggests
While the health and social industry topped the list of the most stressful industries to work in, employees in the education industry suffer with the highest rates of workplace stress within the total UK workforce, according to new research by The Office Group.
[REITs]
David Einhorn At The 2021 Sohn Investment Conference: Buy These Copper Plays
There's a gold rush coming as electric vehicle manufacturers fight for market share, proclaimed David Einhorn at this year's 2021 Sohn Investment Conference. Check out our coverage of the 2021 Sohn Investment Conference here. Q1 2021 hedge fund letters, conferences and more SORRY! This content is exclusively for paying members. SIGN UP HERE If you Read More
Q2 hedge fund letters, conference, scoops etc
The statistics were revealed after an investigation into workplace wellbeing in which the UK's most stressful industries were ranked.
Based on several factors, such as reported cases of workplace stress, working days lost to stress, the number of hours worked and average wage, health and social work was deemed the most stressful industry, followed by finance.
Health and social work employees work an average of 43.1 hours a week, 4 more than the average while being paid 15% less than average, suggesting a combination of long working hours and below-average salaries contribute to a stressful working environment.
Second on the list was the finance and insurance industry, which conversely pays employees over £200 ($240) more a week than the average. However, like those in health and social work, finance and insurance employees work above-average hours at 41.2 per week.
More than 82,000 cases of workplace stress were reported by the education industry last year compared to an average of 38,667 across other all other industries, making the education industry the one with the highest rates of stress reported by employees.
How does your industry compare?
| | | |
| --- | --- | --- |
| Rank | Industry | Stress Score % |
| 1 | Human health and social work activities | 83.6% |
| 2 | Financial and insurance activities | 80.8% |
| 3 | Public administration and defence; compulsory social security | 78.0% |
| 4 | Education | 73.8% |
| 5 | Administrative and support service activities | 57.1% |
| 6 | Transportation and storage | 55.7% |
| 7 | Wholesale and retail trade; repair of motor vehicles and motorcycles | 52.9% |
| 8 | Professional, scientific and technical activities | 47.3% |
| 9 | Accommodation and food service activities | 34.8% |
| 10 | Manufacturing | 29.2% |
| 11 | Construction | 26.4% |
| 12 | Information and communication | 25.0% |
The study also investigated stress at work in relation to age and gender. It was found that those aged 45-54 are 31.5% more likely to report stress than any other age group and women are 24% more likely to report stress than men.
The research highlights the importance of wellbeing in the workplace as well as a demand for UK companies to put facilities in place to combat stress caused by work.
"All employers can put stress management practices in place to keep their employees as healthy as possible," says Alessa McNally, Head of Member Experience at The Office Group.
"We believe flexibility is fundamental to workplace wellbeing. Our office members can work from all 35 of our locations. We provide a variety of spaces to work and recharge from, including meditation rooms, libraries, fitness gyms and roof terraces, as well as a range of wellness services, such as nutrition workshops, yoga and meditation mornings."
With mental health and wellbeing measures put in place, the latest figures suggest productivity can increase by as much as 12%, furthering the business need to practice wellbeing in the workplace.
"A positive working environment is essential to the productivity and success of a business and the people it employs. When looking at potential office locations for Grubhub, we knew we wanted a bright and airy space, a friendly atmosphere and facilities that made collaboration easier."
Dan Cohen, Managing Director (UK) of Seamless.com
Experts note that providing facilities only goes so far to improving employee wellbeing and that a strategy that combines wellness initiatives with an ethos that encourages and nurtures staff should be at the core of every company's values.