Whitney Tilson's email to investors discussing Enrique Abeyta on the latest blowup of Kraft Heinz Co (NASDAQ:KHC); Buffett's first television interview; meeting with The Mooch.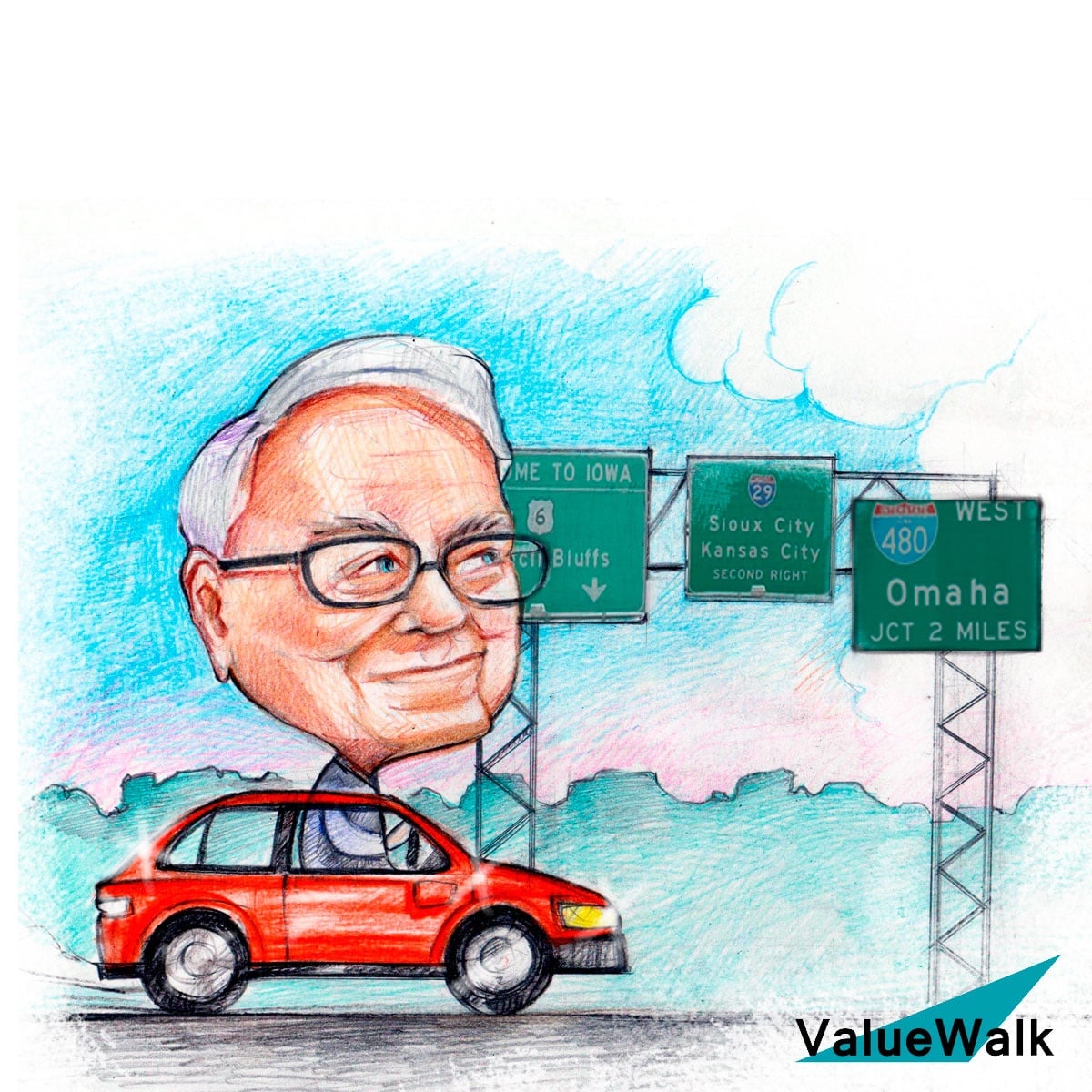 1) My friend and longtime veteran of the Wall Street/hedge-fund world, Enrique Abeyta – who's recently joined me at Empire Financial Research (stay tuned for details about his new daily newsletter that we'll be launching) – nailed the impending blowup of Kraft Heinz (KHC) at our first shorting conference on May 3 of last year. You can watch the 15-minute video of his brilliant presentation here (he mentions KHC starting at 13:56) and I've posted his slides here.
ValueWalk's July 2022 Hedge Fund Update: Tiger Cub Hedge Fund Shuts Down
Welcome to our latest issue of issue of ValueWalk's hedge fund update. Below subscribers can find an excerpt in text and the full issue in PDF format. Please send us your feedback! Featuring Andurand's oil trading profits surge, Bridgewater profits from credit, and Tiger Cub Hedge Fund shuts down. Q1 2022 hedge fund letters, conferences Read More
Q2 hedge fund letters, conference, scoops etc
After reporting dismal first-half earnings yesterday, KHC dropped 9% to a multiyear low, and is now down 49% since Enrique warned us about it.
When KHC crashed 28% from $48 to $35 on February 22, I wrote about it in my daily e-mails that day and two days later. In the latter, Enrique wrote:
My views on KHC (and several other similar companies in the consumer product space) remain unchanged – ALL of the legacy consumer product companies that have traditionally benefited from scale are being – and will be further impacted – by the impact of technology on marketing, production and distribution which is allowing the market entry of thousands of competitive products.
From here things will not get any better and perhaps get much worse.
The worst positioned are those that took on a "private equity" model predicated on high leverage, stable low growth and cost-cutting. This financial approach is eerily similar to the approach taken by the newspaper companies in the mid-2000s and when "stable low growth" turned into a -30% revenue decline that led to an erosion (or complete destruction) of the equity "stub" on these highly levered companies.
I also think these disruptive forces are impacting media and telecom as well (hence my bearishness on AT&T, my favorite short among these, as well as Disney).
For a fun exercise, just put together a list of the top companies in these three sectors (above $25b market cap) and rank them by leverage (EV/EBITDA) highest to lowest and there you have your hunting ground.
At this point, I believe that there is NO solution that doesn't involve further pain for equity holders. It is just a matter of whether managements are willing/able to inflict a medium amount of pain to save the (equity) patient or will they be willing to take little or no pain and end up with BIG losses. History points to the latter...
There is going to be a LOT of equity value destruction here in the next 5+ years, regardless of the economic environment.
The stock is down another 19% since then.
I checked in with Enrique today for his latest thoughts:
I think it's interesting to compare the recent difficulties of Anheuser-Busch InBev (BUD) and Kraft Heinz, and how their principal shareholder, Brazilian private equity firm 3G Capital, has tried to address them.
When I gave my presentation on BUD last year, I was extremely impressed with a speech that 3G partner Jorge Paulo [Lemann] had given only a few days before, essentially acknowledging many of the secular trends that I was speaking about. In particular, he acknowledged the impact that increasingly widespread low-cost technology (social media, cloud computing, etc.) and distribution infrastructure has had on the ability of new entrants to come into these markets and take share from the incumbents.
In response, BUD has done a good job of selling off assets and paring debt. The stock has responded accordingly and is now up more than 50% from its December lows. The company still has many challenges, but it has come up with a clear plan, focused on asset sales, and has brands that can support it, especially in international markets.
3G has tried the same plan with Kraft Heinz, but it's not going so well... The company tried to sell some of its weaker brands, which basically went nowhere. Additionally, many of its core brands like Oscar Meyer, Maxwell House, Kraft (cheese), Velveeta, and Philadelphia are in much more fragmented markets than beer, and are also more quickly being replaced by "healthier" brands. There are health trends in the beer industry as well, but ultimately customers are still drinking beer! In contrast, it's easy for someone to completely take Velveeta out of their life – and I don't see how Kraft can mitigate this by creating a healthier version of it. Heinz is probably the best of the brands, but it has high market share and is just getting picked apart. In summary, Kraft Heinz's brands are in a much weaker position than BUD's.
Here's now I think this will play out... Unless they find some "sucker" money to do a debt recap, I think that Kraft Heinz will be forced sell some of its stronger brands to bring leverage down from the current level of 4-5x debt/EBITDA (depending on what you think EBITDA is; net debt is $29.7 billion). That will be the right move to prevent potential liquidity issues. Asset sales, however, will reduce earnings power and likely lead to an even lower stock price. That being said, this is the right move...
From a trading perspective, I would absolutely cover some or all of my KHC short here (its relative strength index is only 28!) because the stock's next move is likely to be sideways to up. But I think the long-term trend is down, so I'd look to re-short it on any meaningful bounce.
2) While Buffett is taking a beating on his Kraft Heinz position, he remains the greatest investor of all time – something that was obvious back in 1985 when he laid out his timeless investing principles in his first television interview (7:29)... when he was "only" worth $500 million.
3) Anthony ("The Mooch") Scaramucci and I started in the investing business around the same time two decades ago and our paths keep crossing in the hedge-fund, media, conference, and political worlds. While we have some big political differences, I've never had a negative interaction with him. I've always found him to be smart, a straight-shooter (as he says, a "front stabber" – LOL!), and very charming, so don't believe every caricature that you see on TV.
Yesterday, I stopped by the offices of Skybridge Capital – the $10 billion fund-of-funds he's built – to catch up. I wore one of my favorite T-shirts because I knew it would crack him up! Here's a picture of us (Note that he's holding a copy of his book, Trump, the Blue-Collar President)...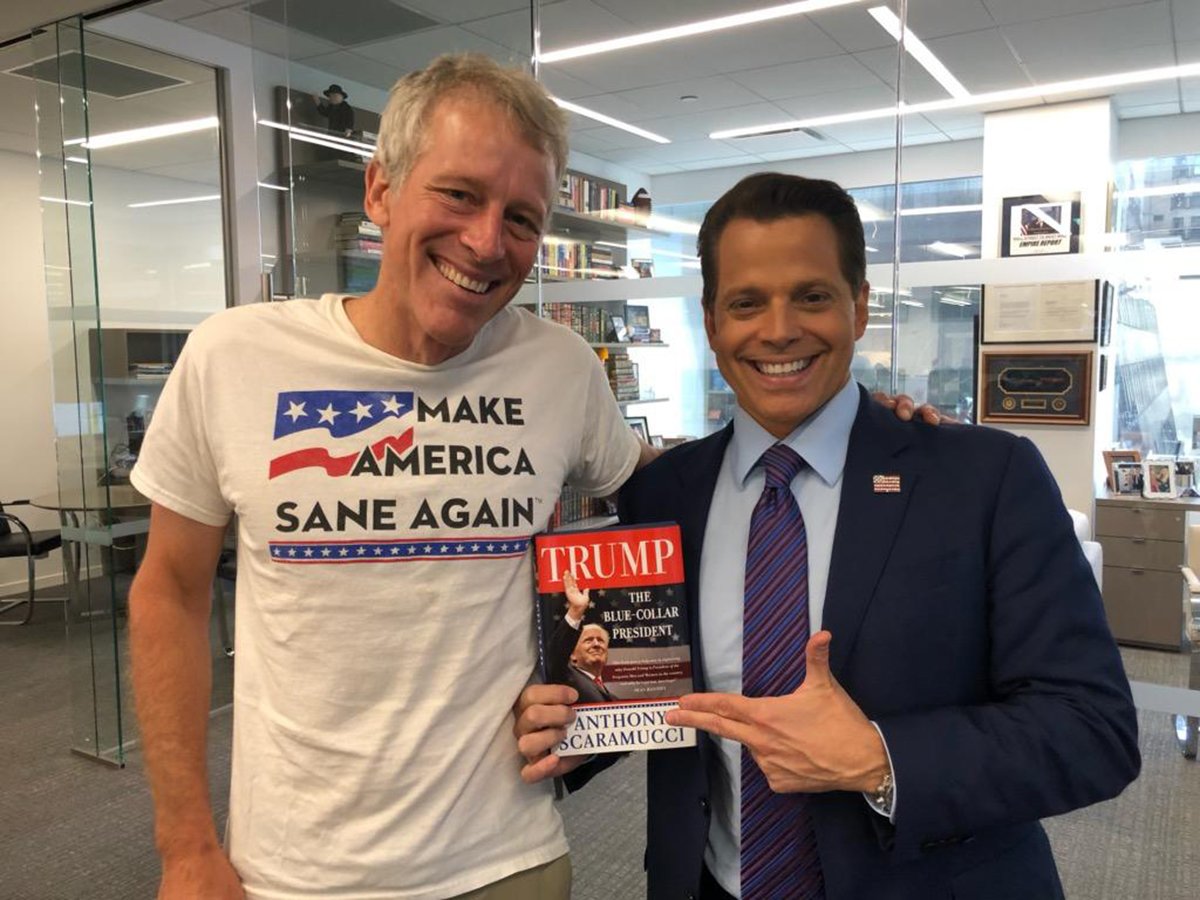 We had a wide-ranging discussion. Here are some of the most interesting things he said:
"Whitney, I was right about the election, and you were right about the craziness! If he could only focus on policy."
"I'm now a pariah in both parties: Democrats don't like me because I supported Trump, and Republicans don't like me because I said his recent tweets were racist. But I don't think he's truly a racist. He's a narcissist – he treats everyone badly!"
"While I support getting tough with China on trade, there's a risk that he overdoes it. Crushing China's economy could be very destabilizing."
"Assuming the economy holds up, I think he's almost certain to win re-election."
"I think the strongest ticket the Democrats could run against him would be Buttigieg/Harris."
For more on The Mooch, see these stories:
A) In June 2018, The Mooch spoke to and fielded questions from the students in a seminar my friend Glenn Tongue and I were teaching. For 43 minutes he shared honest (and sometimes raw) stories and reflections on a wide variety of topics, like his family (his father was a sand shoveler who never made more than $32,000 a year), his education, business career, the two times he's been fired (by Goldman Sachs and John Kelly, with whom he's now friendly), why he backed Trump, why Trump wants interest rates up, what happened during his 11 days in the White House (a period of time now known as "a Mooch" – LOL!), and why he really got fired (not the New Yorker article, which he said Trump loved). In short, The Mooch was AWESOME!
He gave us permission to post the video, which you can watch here (43 minutes). A 2:29 clip of him discussing leadership and empowering others is posted here.
B) The Surprisingly Tolerable Second Act of Anthony Scaramucci, from the Washington Post. Excerpt:
It's possible that in the history of American politics, no one has done more with less experience at the seat of power. Scaramucci has turned his moment of public humiliation into a rousing comeback tale, rising (at least in some circles) above his status as a national punchline. You could attribute it to pure persistence, pure ego or a complete absence of shame. But at heart, it's a triumph of self-deprecation. In a political climate where absolute certainty is rewarded and no one ever apologizes – or even signals self-doubt – about anything, Scaramucci is creating a second act simply by being in on the joke.
C) Anthony Scaramucci was fired from the Trump White House after 11 days. Now, he's convening A-listers for bipartisan healing, from the Washington Post. Excerpt:
Scaramucci's 2017 tenure as White House communications director – from July 21 to 31 – broke records for its shortness and made Scaramucci a punchline. His name is now an unofficial unit of time: Eleven days is one "Mooch."
D) Anthony Scaramucci Is Back in Business, Worth. Excerpt:
From Celebrity Big Brother to the return of SALT, everyone's favorite Trump World celebrity is having the time of his life – but the Mooch can't stop talking about why Washington blows and hedge funds suck.
Best regards,
Whitney
Updated on