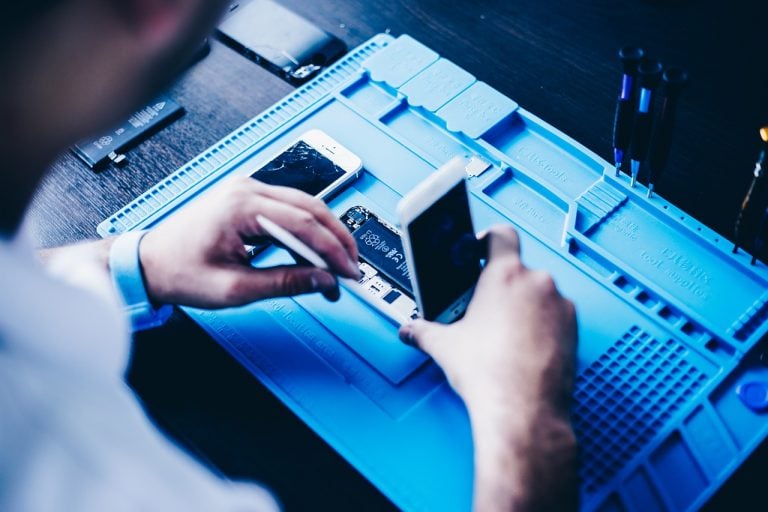 Apple is known for keeping strict control on all aspects of the iPhone, including software, hardware and repairs as well. The iPhone maker has long been lobbying against the Right to Repair bill. Now, Apple is making it difficult to get even iPhone battery repair from an outside source.
According to repair specialists iFixit, the iPhones (XS, XR and XS Max) now show a "Service" message saying that the batteries need to be repaired, if they are not replaced by Apple. This message has appeared for users on iOS 12 and iOS 13 beta. Moreover, the message is appearing even if you have a genuine Apple battery installed, but not by Apple or one of its Authorized Service Providers.
Also, users who got their iPhone battery repair from an outside service source, won't be able to check the battery health information either. After the "Service" message, if you go to the "Battery Health" menu, you will be met with an "Important Battery Message," saying "Unable to verify this iPhone has a genuine Apple battery. Health information not available for this battery." This message will appear in place of the battery indicator, which shows the health of the battery in the iPhone.
David Abrams Explains How To Value Stocks
Continued from part one... Q1 hedge fund letters, conference, scoops etc Abrams and his team want to understand the fundamental economics of every opportunity because, "It is easy to tell what has been, and it is easy to tell what is today, but the biggest deal for the investor is to . . . SORRY! Read More
Additionally, the maximum capacity and peak performance capability metrics do not work as well. Users get a message here as well saying "This iPhone is unable to determine battery health. An Apple Authorized Service Provider can service the battery."
Apple has not talked about the Service battery message in the release notes for iOS 12.4, nor is anything mentioned about it on Apple's website. The website, however, does say that users should contact Apple or an authorized service provider for any help. Apple is still to comment on this Service message for the iPhone battery repair.
It must be noted that these Service messages in no way obstruct the working of the iPhone or the battery. However, in the absence of battery health information, it will be difficult to know the time when the battery needs to be replaced. For now, this Service message affects only the iPhone XR, XS and XS Max.
iFixit believes that Apple has activated a "dormant software lock," which requires Apple or an Authorized Service Provider to approve the replacement of a part in the device. The repair specialists compare Apple's latest trick to the "Oil Change" indicator in a car that only turn's off after the oil is changed at Ford's service center, for example.
Similar to batteries in other smartphones, the batteries that Apple uses feature a Texas Instruments bq27546 microcontroller, which transfers battery-related data such as time to full discharge, temperature and capacity. Apple's latest batteries also include an authentication module, which saves data useful for pairing the cell with an iPhone's logic board, according to a recent video by TheArtofRepair.
iFixit says that it is "technically" possible to take out the microcontroller chip from the original battery and put it into the new battery that you are getting from outside. Such a procedure will do away with the Service message and restore the Battery Health feature as well. iFixit, however, notes that such a "procedure isn't for the faint of heart, and it's an unreasonable requirement for any repair, much less something as simple as a battery swap."
This is not the first time Apple has faced criticism over its battery-related policies. A couple of years back, Apple faced massive backlash after it was discovered that Apple intentionally throttled older iPhones to preserve the battery life. At the time, to somewhat compensate for the battery debacle, Apple had to drastically reduce the cost of the battery replacement for a year.
Easy access to repair is important for any smartphone user. Additionally, getting the components replaced extends the life of the gadget and saves you some money as well. It has been proven that people hold onto their phones for longer if they have access to cheap repairs. This, along with Apple's recent battery replacement program, which many iPhone users took advantage of, has adversely affected the sales of new iPhones.
Apple has long been making repairs difficult for people outside of the Apple ecosystem. For instance in 2016, the company completely bricked iPhones that had been repaired previously with users getting an Error message.  Apple also paired Touch ID home buttons with the logic board, making DIY repairs extremely difficult. Recently, Apple also started disabling TrueTone on screen replacements even if you are using a genuine iPhone screen.
"This pattern of behavior proves, once again, that Apple is out to stop all repairs performed by anyone except Apple themselves," iFixit says.
Meanwhile, those in favor of the Right to Repair bill continue to lobby the U.S. government, arguing that companies like Apple are trying to monopolize repairs to maximize profits.