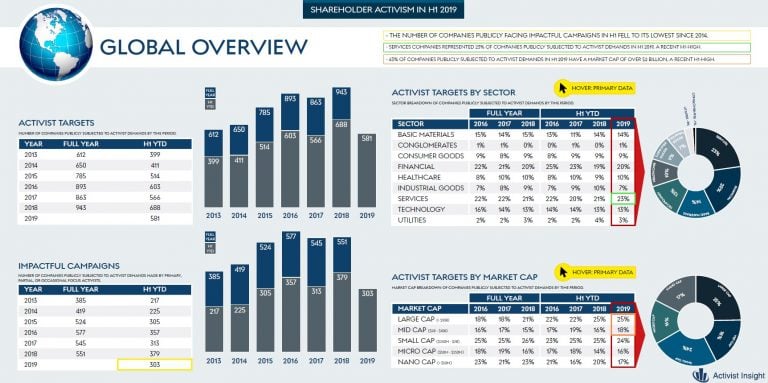 We'll be publishing our Half-Year Review next week, again in association with Olshan Frome Wolosky and showcasing all the usual analysis and data on the latest trends in activism worldwide. I thought it would be worth giving our readers a sneak peak, especially since our H1 stats presentation is now available to download.
Firstly, 2019 has witnessed something of a slowdown in almost all markets. The number of companies publicly subjected to activist demands continues to be below last-year's total at this point, although it is ahead of 2017's. It's hard to say what might be driving this – the obvious answer might be soaring markets but given the attractive entry point following the fourth-quarter meltdown and the fact that it is sub-$2 billion market-capitalization companies – those most likely to be undervalued – that have witnessed the biggest fall, and that answer alone doesn't seem to be sufficient.
Alkeon on why this is one of the best eras for stock picking ever [Q4 Letter]
Alkeon Growth Partners was up 11.42% net for the fourth quarter, bringing its full-year return to 54.4% for 2020. The MSCI AC World returned 14.35% for the fourth quarter and 14.34% for the full year. Q4 2020 hedge fund letters, conferences and more   The best environment for stock picking In their fourth-quarter letter to Read More
Q2 hedge fund letters, conference, scoops etc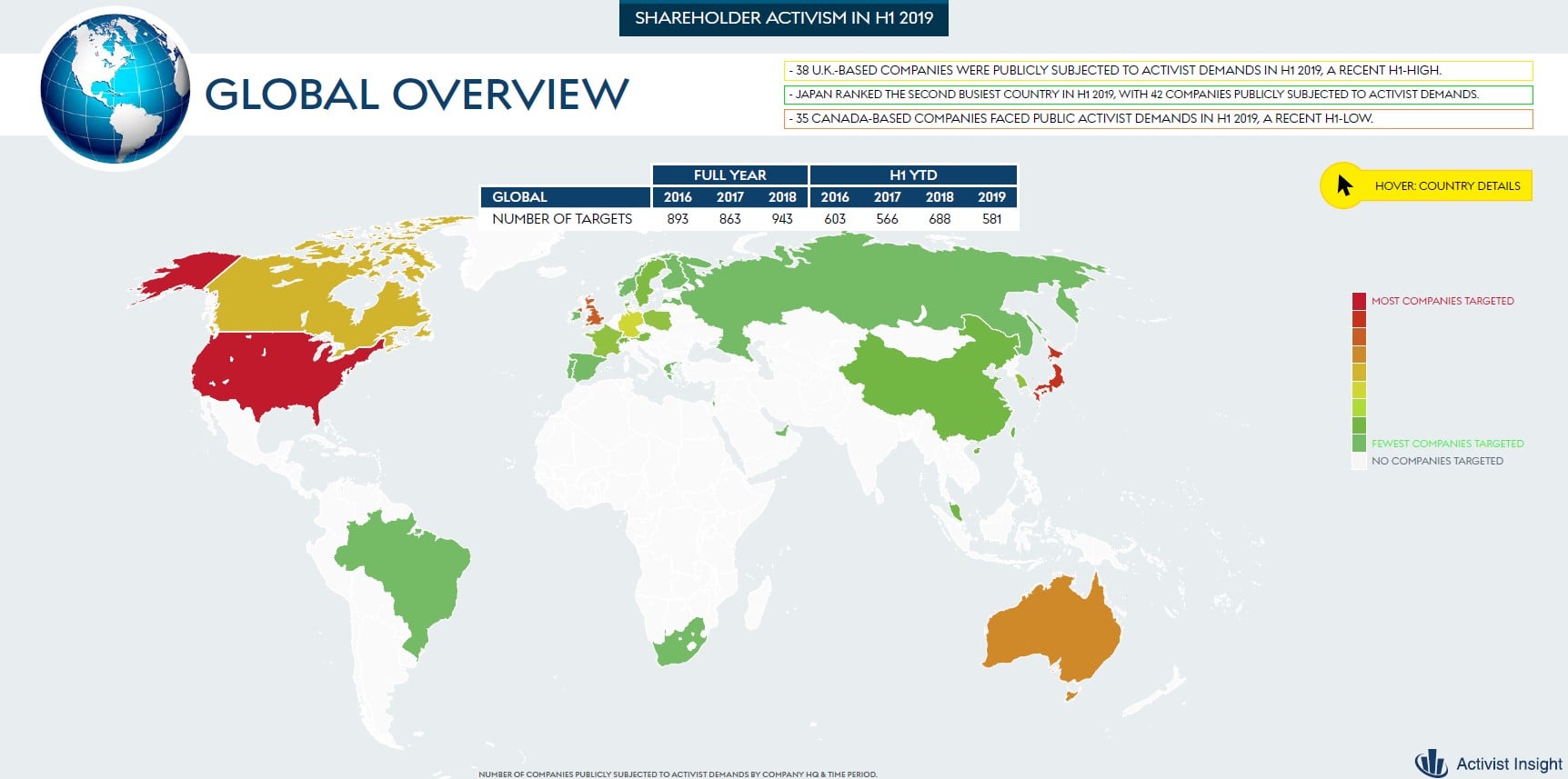 Two markets remained high on activists' hit lists – Japan, which jumped from fourth in 2018 to second so far this year, and the U.K. Volume in the former is being driven more by U.S. activists than in the latter, although both have had some interest.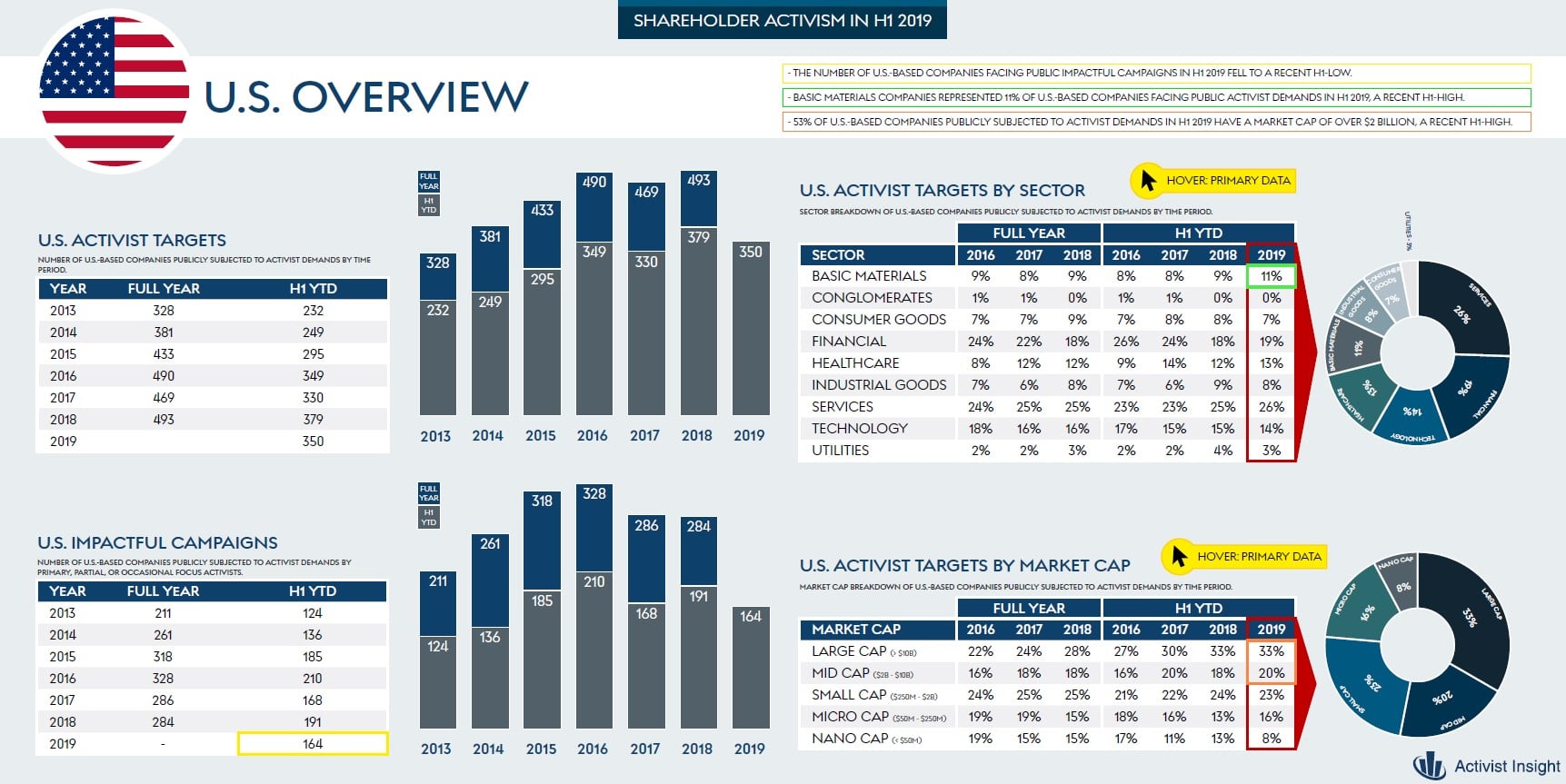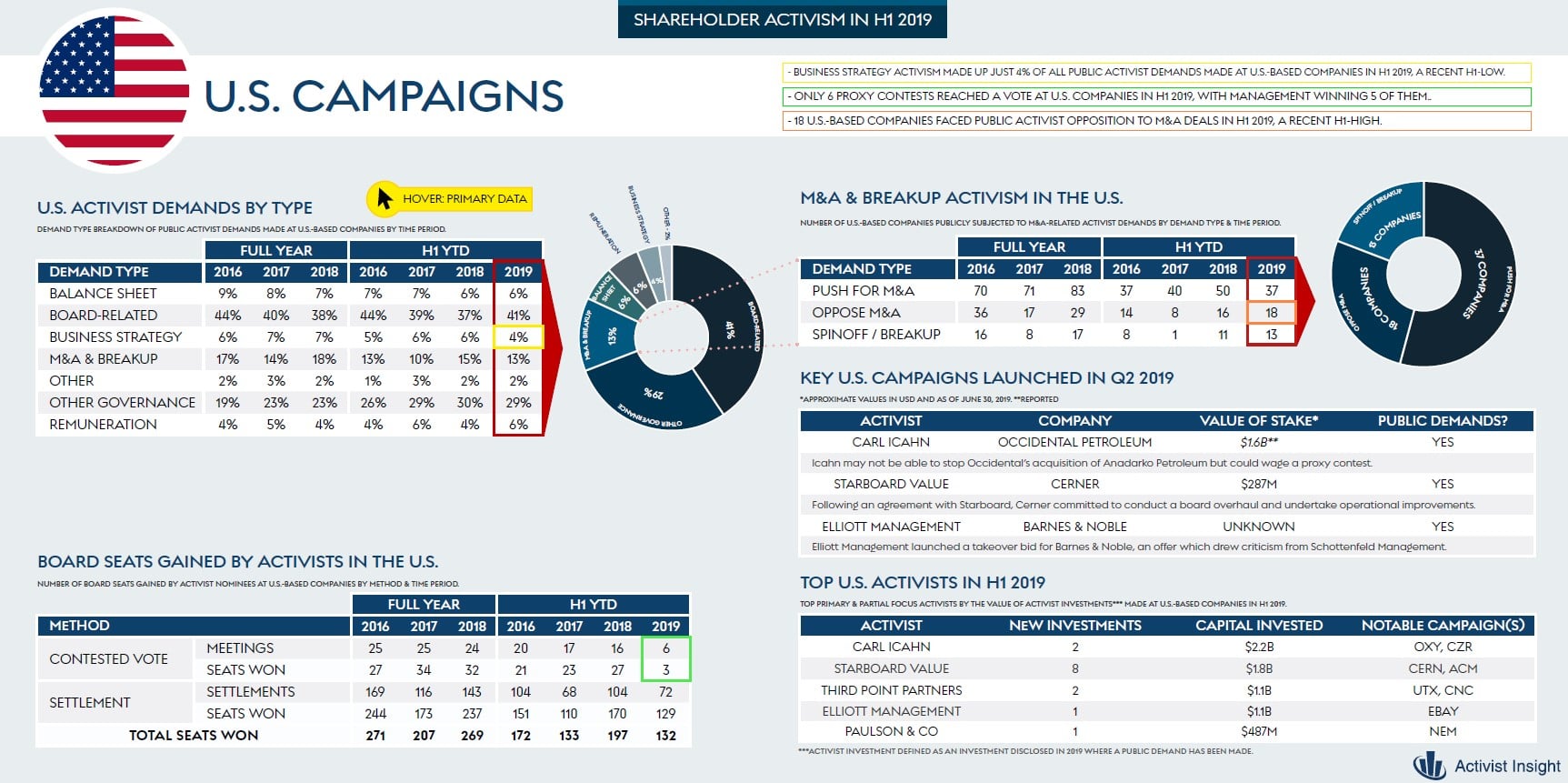 In the U.S., the most observable trend has been an increase in anti-deal activism. Yet while opposition to M&A is indeed up slightly, the amount of pro-M&A activism – putting companies on the auction block or trying to buy companies – is down. That is despite the apparent uptick in activists launching their own takeover bids.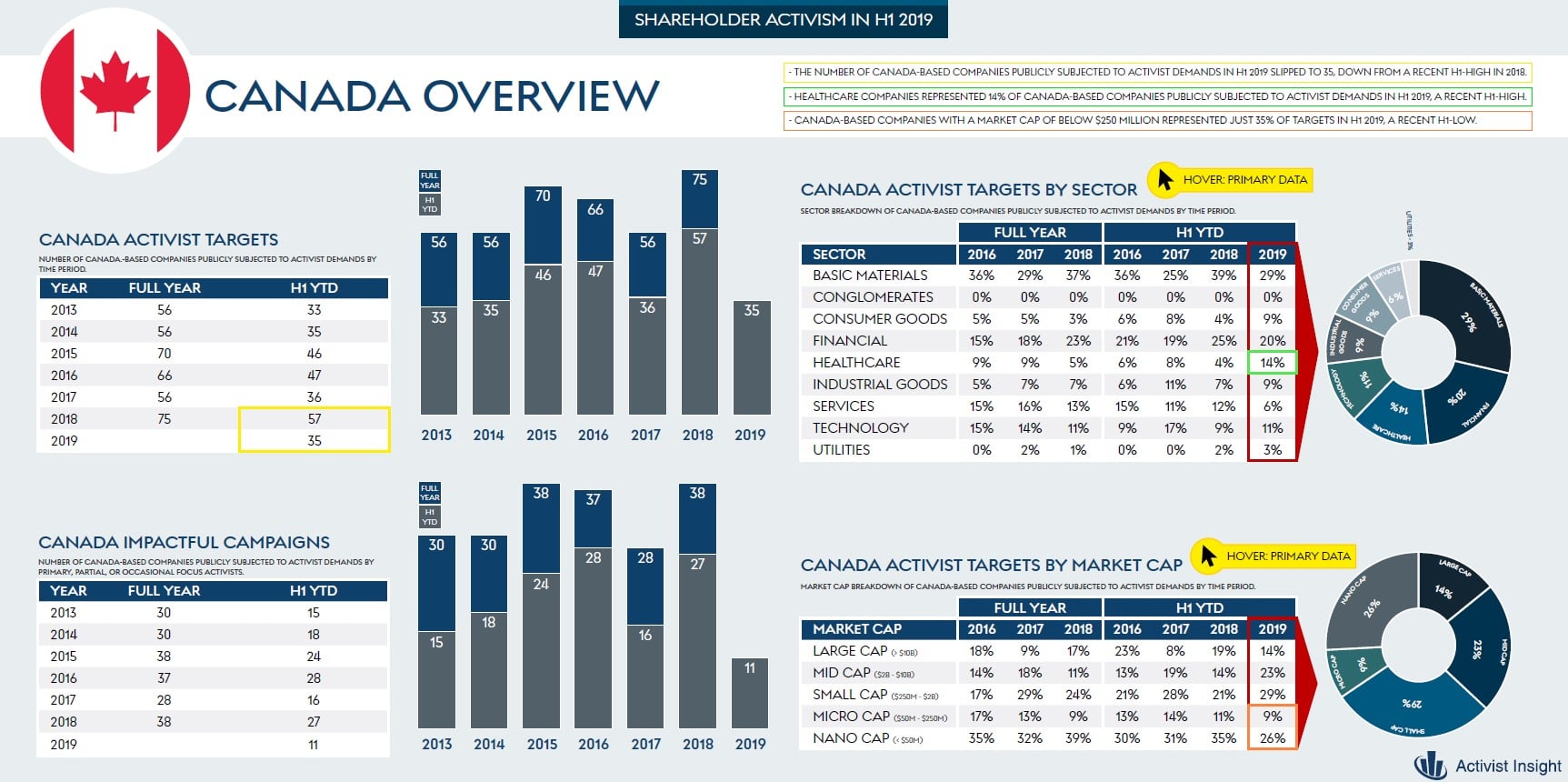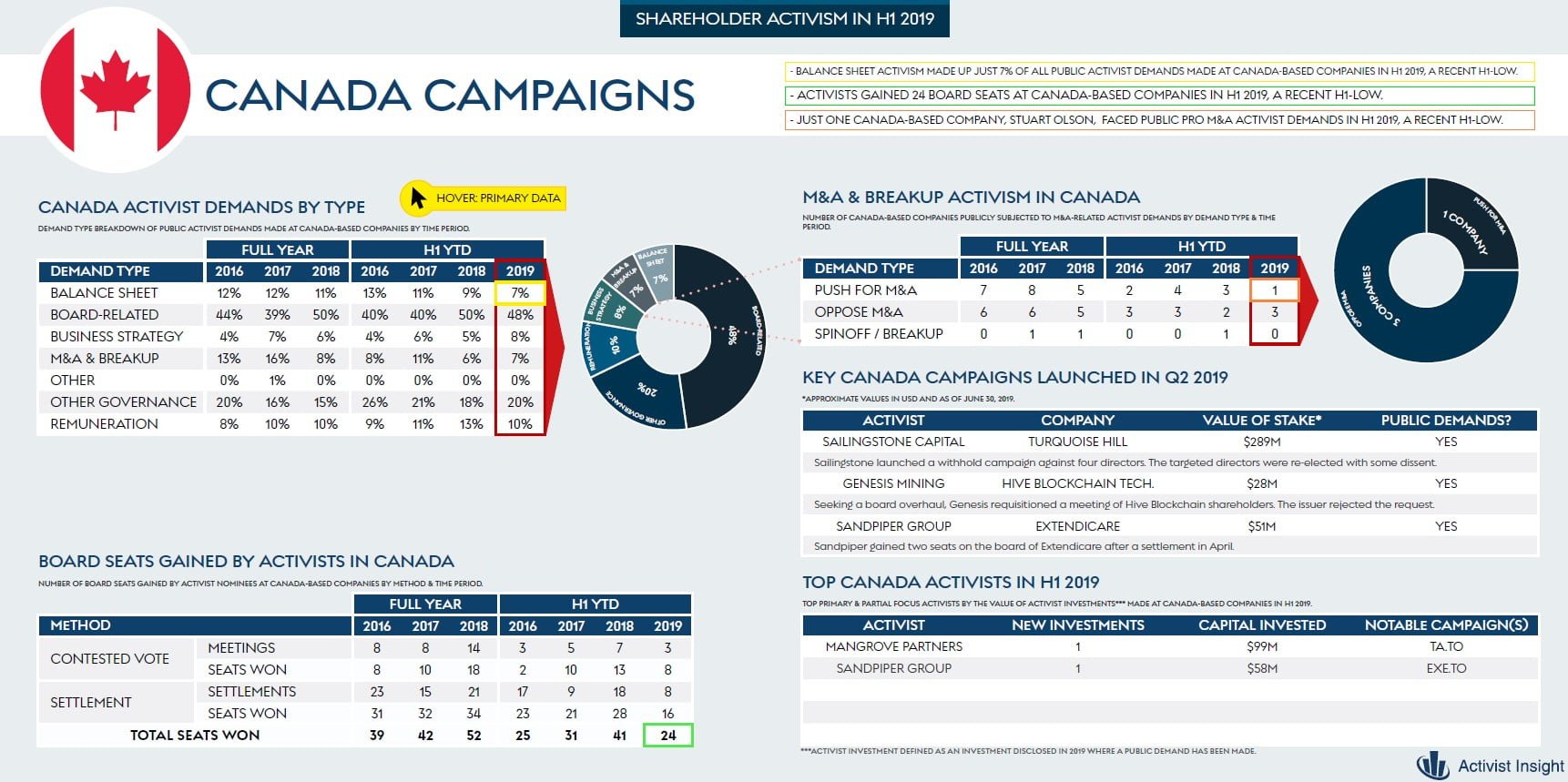 Conspicuous by their absence have been proxy contests. Although next week will see the biggest and closest go to a vote (the likelihood of EQT holding off the Rice brothers is hard to handicap), there were only six U.S. proxy contests that have gone to a vote in the first half of 2019. Given the overall decline in volume, a decline in public settlements doesn't necessarily mean these aren't being solved earlier. However, it does seem that activists are giving companies space to respond before they push for changes. Starboard Value holding off from a proxy contest at Dollar Tree this year may be a case in point.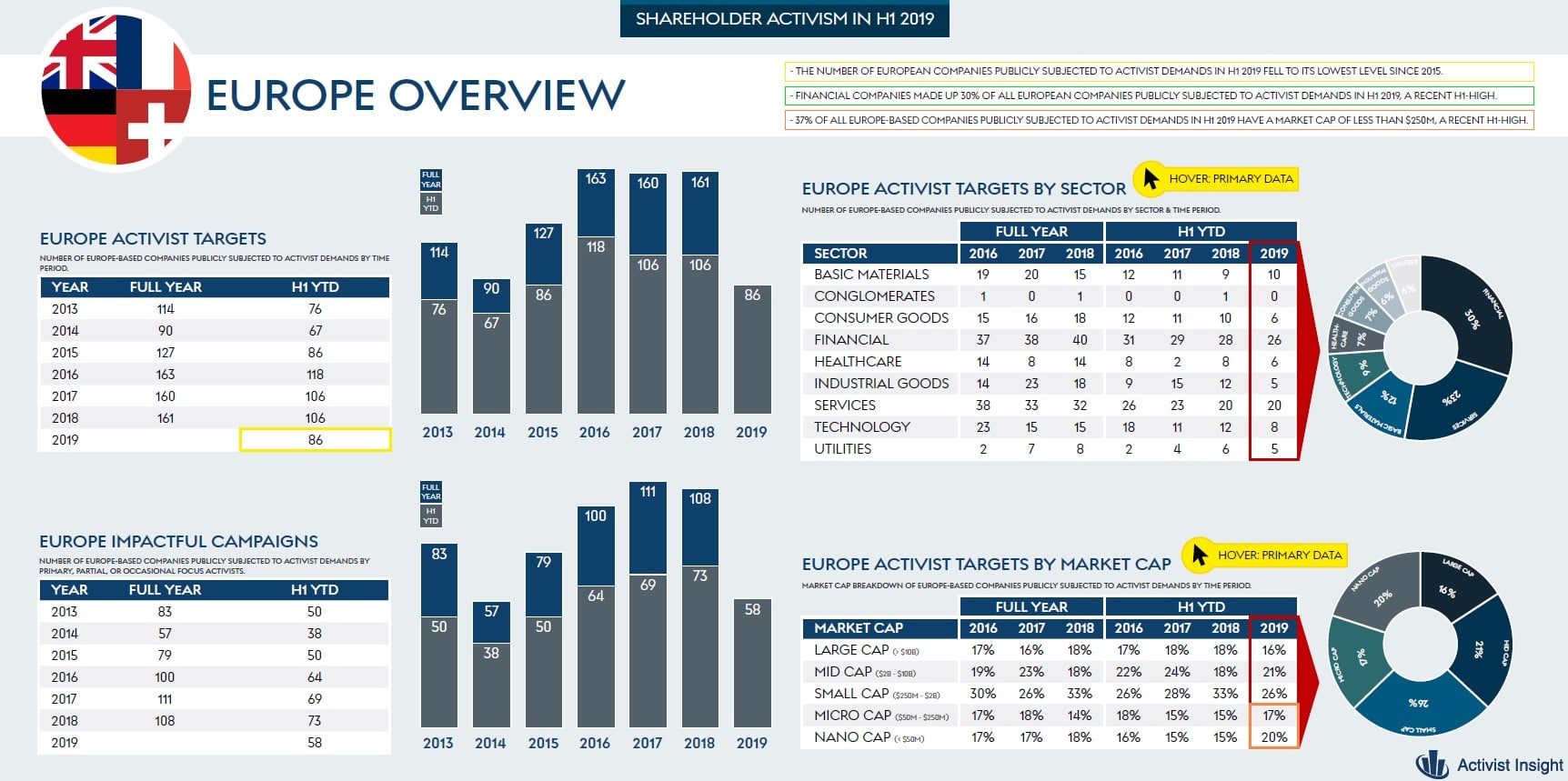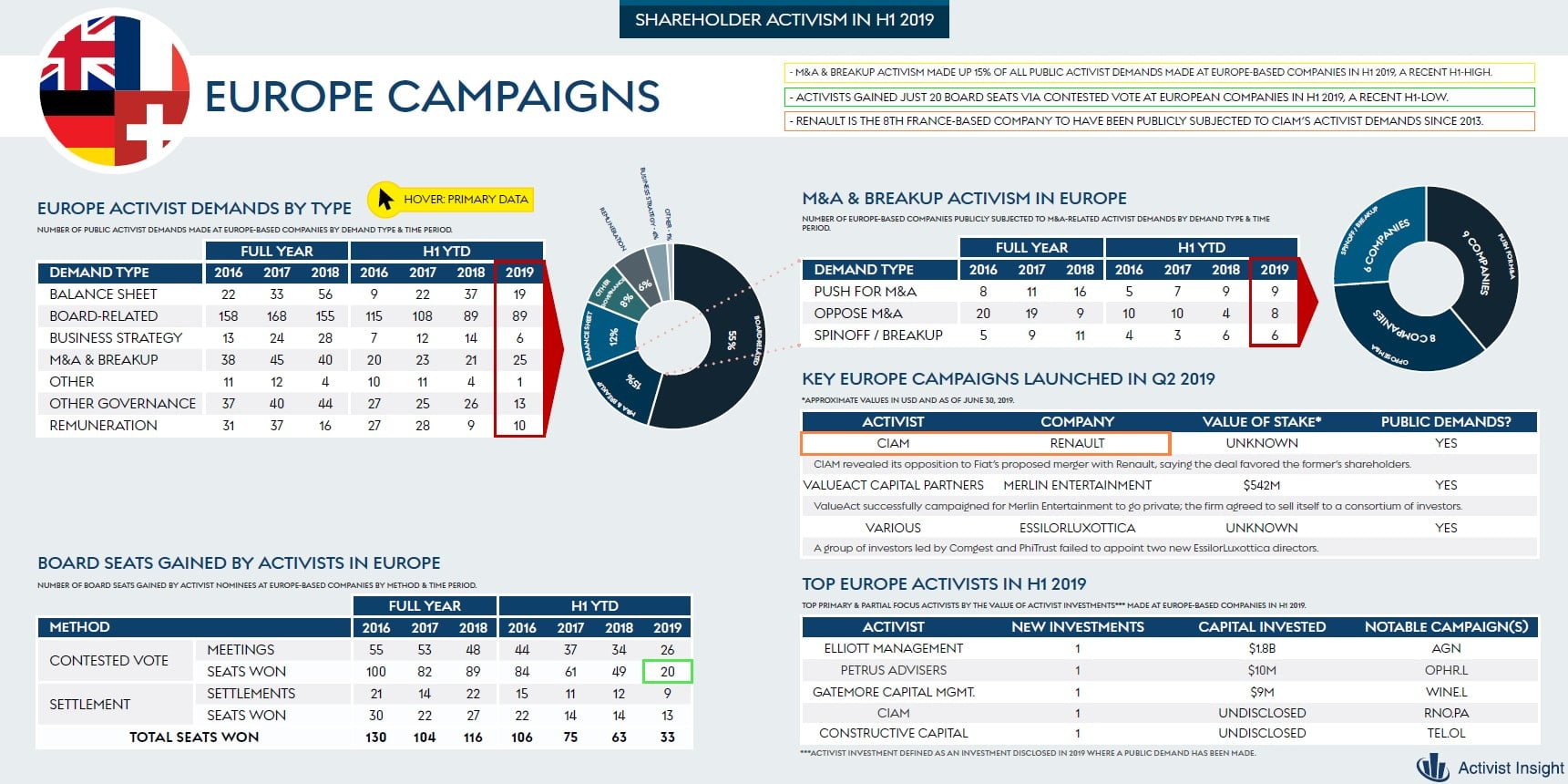 Europe remains an interesting market – with much of Elliott Management's activity taking place there. As a whole, it has seen notable increases in board-related and M&A activism compared to last year. Yet the Continent is having a fairly undynamic year. A merger between Renault and Fiat-Chrysler, which had activists advocating on both sides, barely lasted through initial talks. Progress at ThyssenKrupp is stalled. Even Elliott's play at Bayer is waiting for the cloud of litigation to lift.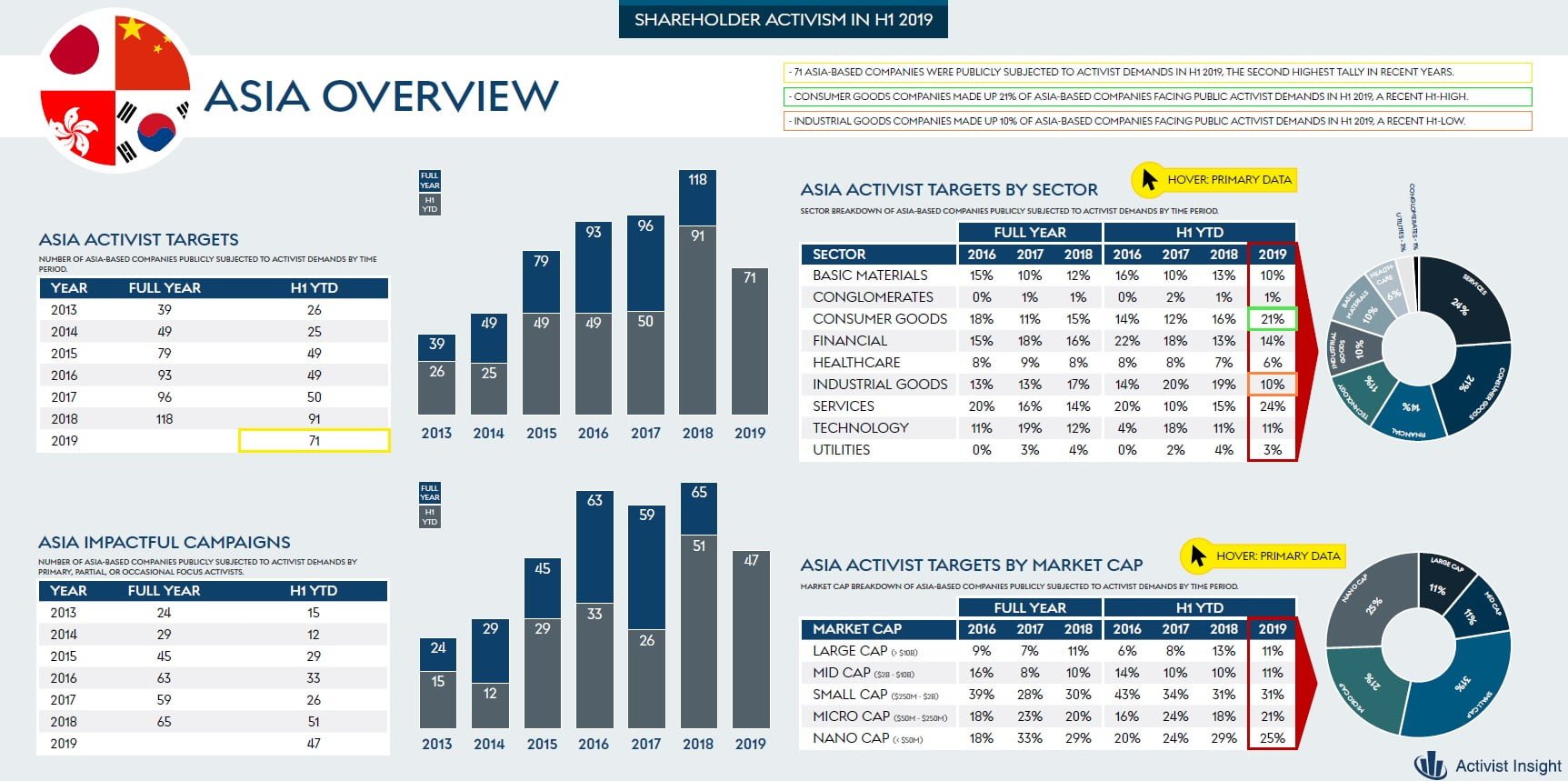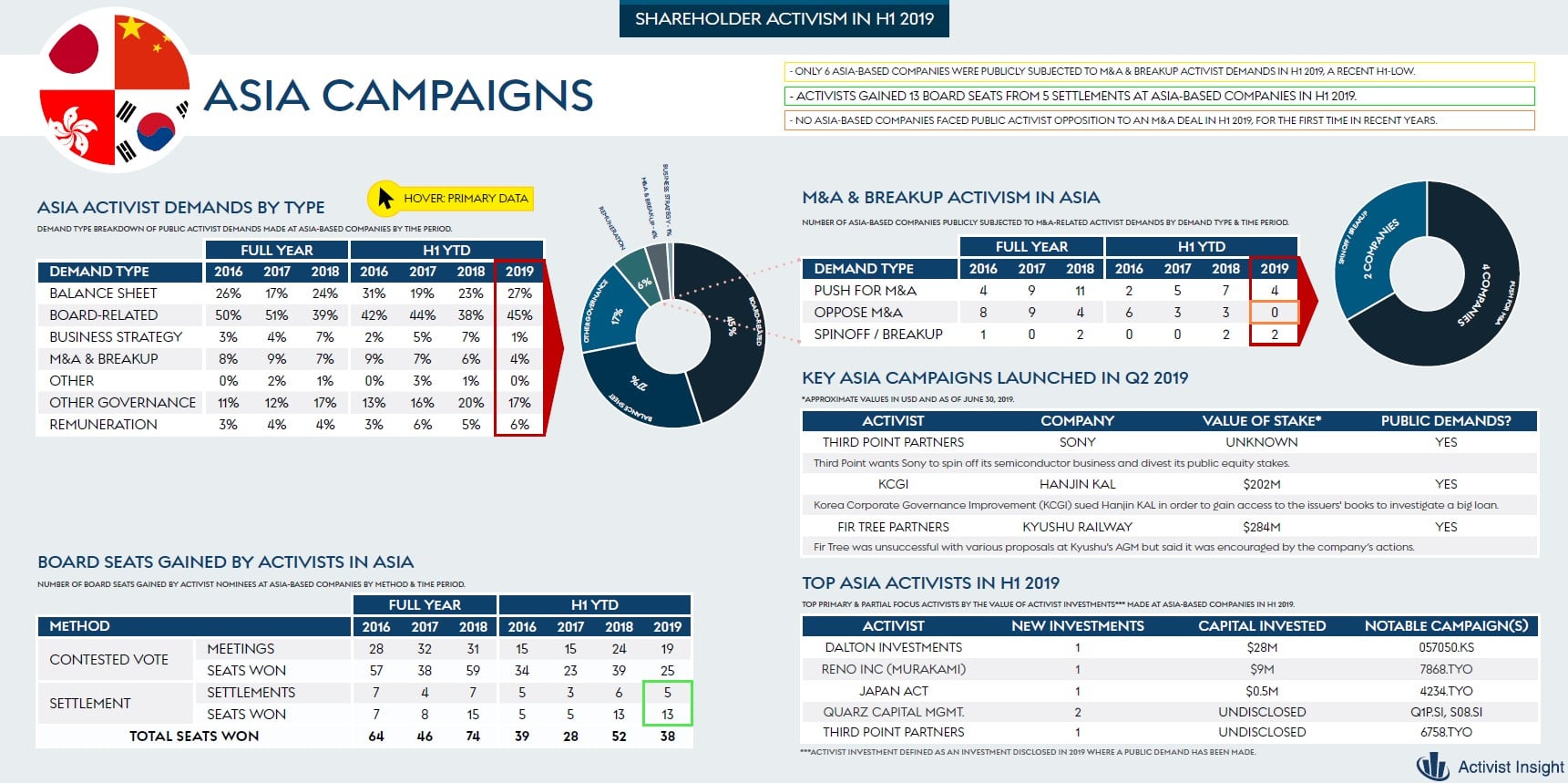 Where does that leave the outlook for the second half of 2019? Markets are at a difficult to forecast equilibrium, while money is likely to stay loose and buybacks to continue. That should keep some companies out of danger and threaten stock pickers' ability to earn their crust. Many larger activists have evolved into outfits that can operate in any market or region – discounting for potential individual missteps, they should retain this position. Small cap activists may need new ideas and new tools. Teaming up to target bigger prey, as Legion Partners, Macellum Advisors, and Ancora Advisors did at Bed Bath & Beyond, may be a model for the future.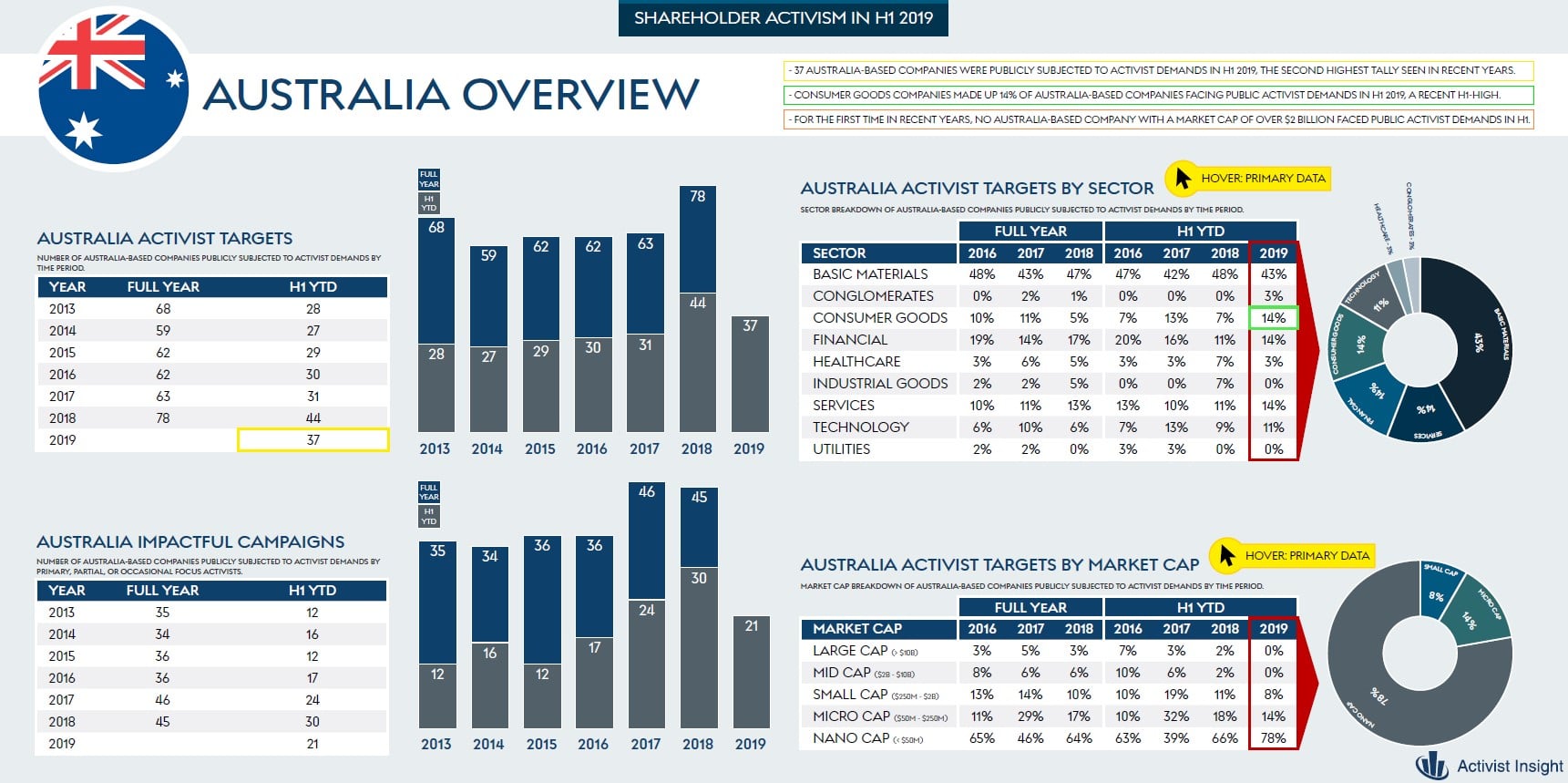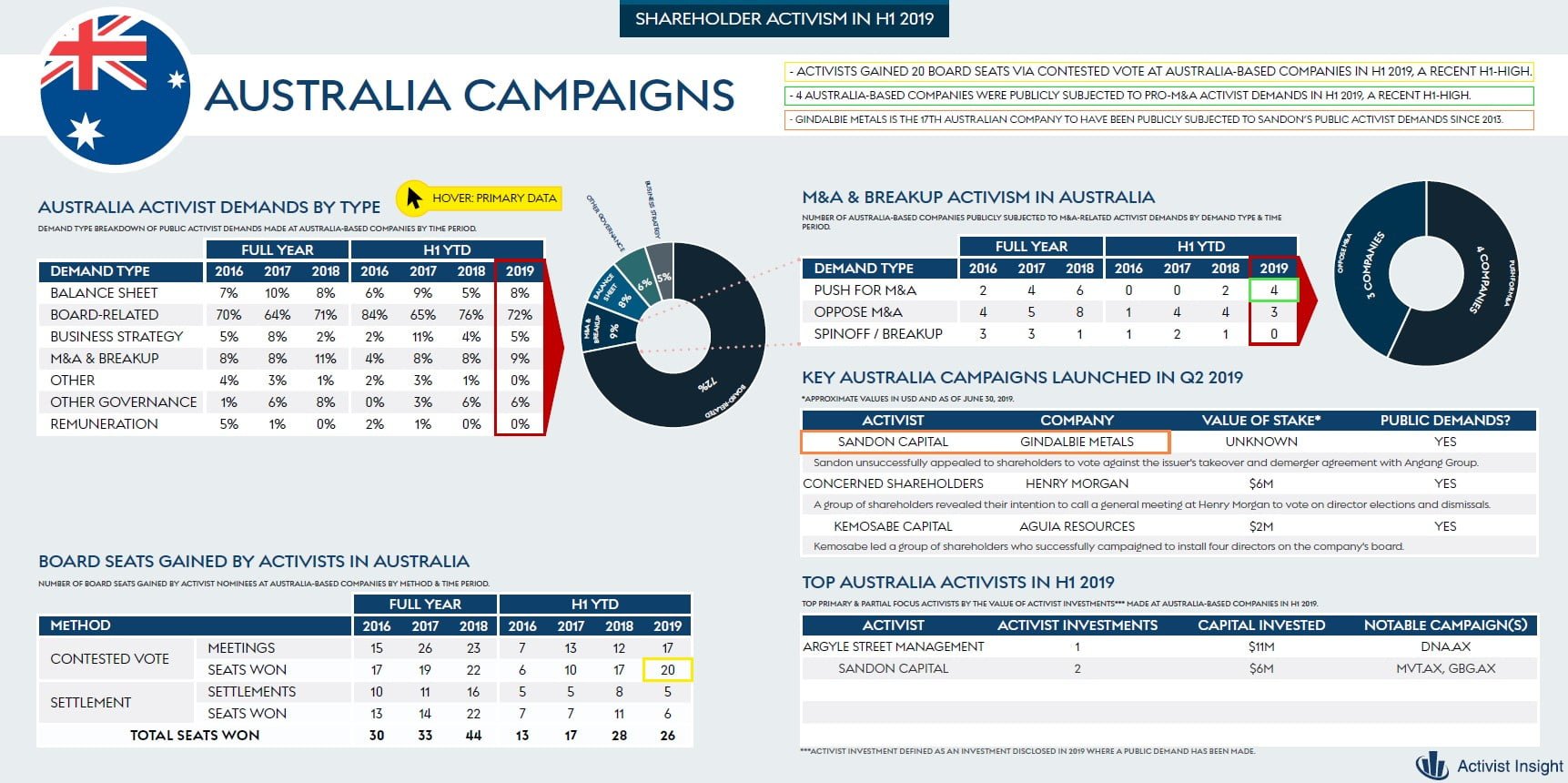 ---
Quote of the week comes from a Nikkei Asia Review interview with Dan Loeb – part of the Third Point Partners' founder's strategy of dialing up the pressure on Sony. The activist gave management "six months to a year" to respond in full to his proposed breakup plan, and said he would hold the stock for many years if it made sense to. But there is unlikely to be a proxy contest at this stage.
"I don't think we need to ask for a board seat, but I do think they need to diversify their board and have more people that have experience that's aligned with their operations," Loeb told the newspaper. "Right now, most of the people have semiconductors and electronics experience. Very little experience in gaming, music or entertainment."