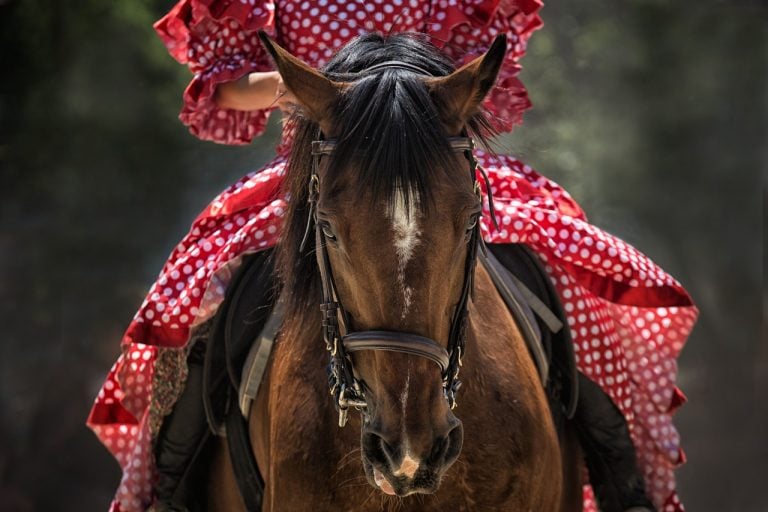 In 1955, my grandfather, veterinarian Dr. Leonidas Euclid Irby, took a Tennessee Walking Horse named Sunset Sue E. in a trade for a bill owed to him for doctoring a friend's horses. Had it not been for that particular event I doubt that I'd have ever been born because my father, a Tennessee Walking Horse trainer, and mother, an avid horsewoman met through involvement in walking horses.
Following my grandfather's horse trade, in order to transfer the horse's registration papers into his own name, Dr. Irby joined the Tennessee Walking Horse Breeders' & Exhibitors' Association and began to study and breed horses – with the breed officially established 20 years prior in 1935, and recognized by the U.S. Department of Agriculture as a distinct breed in 1950.
Q2 hedge fund letters, conference, scoops etc
Odey's Special Situations Fund highlights Formula One and Shaw
The Odey Special Situations Fund was down 0.27% for April, compared to its benchmark, the MSCI World USD Index, which was up 4.65%. For the first four months of the year, the fund is up 8.4%, while its benchmark returned 9.8%. Q1 2021 hedge fund letters, conferences and more The Odey Special Situations Fund is Read More
Known for its unique four-beat running-walk and flashy movement, the Tennessee Walking Horse was a favorite in the southern United States for use on farms and plantations. The breed maintains a calm disposition that unfortunately easily lends itself to abuse – particularly, a barbaric practice known as "soring." Soring is the intentional infliction of pain to horses' front feet and legs by applying caustic chemicals such as mustard oil and diesel fuel to the skin or inserting sharp objects into the horses' hooves to achieve an artificial pain-based high-stepping gait known as the "big lick."
At the time Dr. Irby was introduced to the breed, the practice of soring was in its infancy. The old-timers in the breed have said that Steve Hill, a well-known top trainer in the industry, utilized some chemical agents for the purpose of healing Talk of the Town, the 1951, 1952 and 1953 World Grand Champion that was considered "unbeatable" by those competing against him.
None of the other horses performed quite like Talk of the Town, and other trainers began practicing this egregious abuse by utilizing mustard oil to burn the skin around the horses' ankles, and in some circumstances even placed barbwire around the ankle to create the reaction that later became known as the "big lick."
The 1960's saw the practice of soring publicly exposed on a regular basis in Sports Illustrated, and LIFE Magazine, and more and more people began to pay attention – particularly, animal protection advocates and a U.S. Senator from Maryland named Joseph D. Tydings. Tydings was an avid horseman, and animal lover who was one of the last Americans to defend our country on horseback in the U.S. Cavalry.
After some years of negotiation on how to best end the practice of soring Tydings partnered with the legendary Senator Howard Baker (R-TN), and together they shepherded to passage the Horse Protection Act in 1970 – the very first federal law designed specifically to help the iconic American equines we all revere.
Today, that law is in need of a serious upgrade, because trainers have figured a way around the proscriptions in the law, and if you read an article today about soring, and one from 1960 they sound just the same – as do most of the articles from every decade in between. Soring continues to persist. In an ideal circumstance the Act should have eliminated the use of large stacked shoes or pads, and action devices such as ankle chains, but it didn't, and those devices are still highly utilized in 2019.
Senator Tydings, who continued his fight to end soring until he passed away last fall, once told me that when he passed the Act in 1970 he knew that it wasn't as good a law as it could be, but he had to compromise to get something done, and thought he'd be able to later amend it to reflect the necessary provisions to eradicate soring for good. He said that what he didn't count on was not getting re-elected and becoming a one-term Senator.
But now – six decades later – there is hope for the Tennessee Walking Horse with the introduction of the U.S. Senator Joseph D. Tydings Memorial Prevent All Soring Tactics (PAST) Act, H.R. 693, introduced by Congressmen Kurt Schrader (D-OR) and Ted Yoho (R-FL) – two large animal veterinarians like my grandfather, and co-chairs of the Congressional Veterinary Medicine Caucus.
This new legislation would amend Tydings' 1970 law to eliminate the use of the large stacked shoes, and ankle chains, replace the industry's failed self-policing system with licensed USDA inspectors at no cost to the taxpayer, and increase penalties for abusers.
And after six years of being blocked by politicians from Tennessee and Kentucky whose campaign coffers have been filled with cash from abusers – the PAST Act has reached a new highwater mark with 308 cosponsors in the U.S. House – a threshold exceeding 290 cosponsors that is the trigger for a bill to move straight to the House floor for a vote, a feat that only one-tenth of one percent of thousands of pieces of legislation have achieved this year.
The timing for the PAST Act vote in the House is critical because it sets the stage for the final battle ahead in the six-decade long war against soring – the U.S. Senate. Those who oppose the PAST Act, S. 1007 introduced by U.S. Senators Mike Crapo (R-ID), and Mark Warner (D-VA), are few – but they are powerful. And the horses need your help to win this final battle by clicking here to ask your U.S. Senators to cosponsor S. 1007, and join the movement to eradicate this intentional cruelty.
Once the war against soring has ended, and the dust settles, it is my hope to see the Tennessee Walking Horse grow for generations to come and take its rightful place as America's horse – the horse that Dale Evans, Roy Rogers and even John Wayne once proudly rode – no longer America's dirty little secret.
---
Article by Marty Irby
Marty Irby is the executive director at Animal Wellness Action in Washington, D.C, and a past president of the Tennessee Walking Horse Breeders' & Exhibitors' Association.