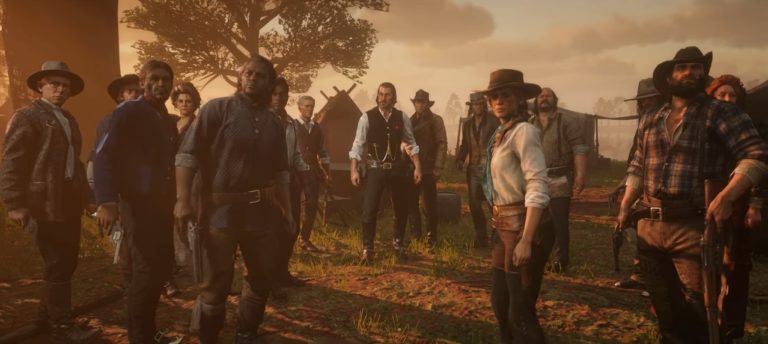 Fresh downloadable content for Red Dead Redemption 2 could land some time in the first quarter if this latest rumor is true. A Reddit user said a friend who works as an environment artist at Rockstar told him that the Red Dead Redemption 2 DLC will be "alien centered" as has been rumored and hinted at by the UFO Easter egg.
The Redditor also said players will still be Arthur for the Red Dead Redemption 2 DLC. Other than that, there weren't a whole lot of details about it. As would be expected from a leak such as this one, a healthy debate about the likelihood of this actually happening ensued. If the rumor about the Red Dead Redemption 2 DLC is correct, then we would expect Rockstar to make an announcement about it in the coming months.
The folks at Comic Book seem to have been the first to report on the Reddit post, and they point out that the first edition in the series did receive single-player DLC called Undead Nightmare. Additionally, they that while Arthur has died at the end of the game's main content, it wouldn't be out of the question to bring him back for the Red Dead Redemption 2 DLC.
Baupost's Seth Klarman: the Fed has broken the stock market [Q4 Letter]
Baupost founder Seth Klarman told investors that the large amounts of stimulus that have been poured into the world's economies are masking the severity of the problems caused by COVID-19. Q4 2020 hedge fund letters, conferences and more In a letter seen by the
They cite the fact that John Marston was dead at the end of the first title in the series, but he was still the playable character in the Undead Nightmare DLC. The original title's DLC contained events which played separate from the main campaign, so Rockstar could be planning the same thing for the Red Dead Redemption 2 DLC.
In addition to the few details about the DLC, the Redditor also said the original RDR title is being done as a remake rather than a remastered title, as has been rumored. He said the new features from the new game will be imported into the first title, and the map will be expanding a bit to make the desert bigger. He also said the character actor has recorded some new dialogue to connect the two stories by adding references to Arthur and the events of the second installment in the franchise.
Although the alleged remake of RDR 1 was supposedly targeting a release for its tenth anniversary, bugs have reportedly set the development back a bit. The remake is supposedly slated for release in December 2020 or January 2021. At this point, we would take both parts of this report with a grain of salt because Rockstar rumors in general can be somewhat unreliable.