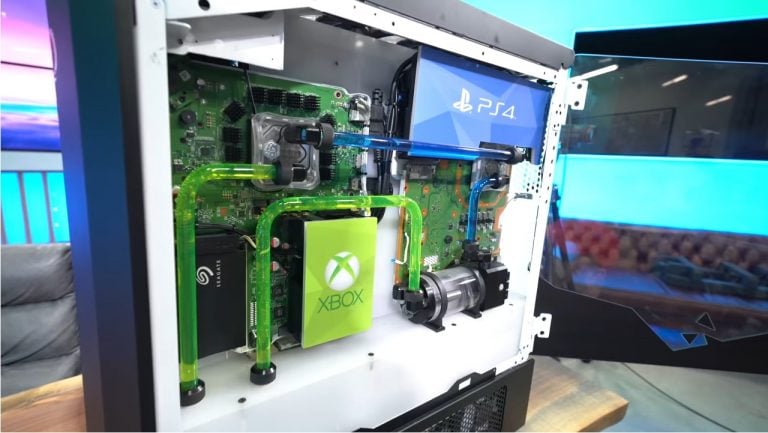 Most have heard of custom gaming machines designed to suit different gaming styles. However, Origin PC went one step further to designing a machine that offer gamers a mashup of the best consoles currently available. This machine, called Origin's Big O gaming PC, includes an Xbox One X, PS4 Pro and Nintendo Switch.
Origin's Big O gaming PC is undoubtedly a dream come true for gamers who want the best of PCs and consoles in one box. The machine packs high-end gaming specs, including a ninth-generation Intel Core i9 CPU, a Titan RTX GPU, 64 GB of RAM and a 14 TB hard drive.
"When Origin PC began in 2009 we set out to build powerful PCs including the Big O: A custom gaming PC that included an Xbox 360 showcasing our customization prowess," Origin said. Further, the company says its new PC requires "extensive chassis modifications" and is inspired by previous custom builds. The modifications include taking the Xbox One X and PS4 Pro out of their cases and putting them into the PC.
Hedge Fund Launches Jump Despite Equity Market Declines
Last year was a bumper year for hedge fund launches. According to a Hedge Fund Research report released towards the end of March, 614 new funds hit the market in 2021. That was the highest number of launches since 2017, when a record 735 new hedge funds were rolled out to investors. What's interesting about Read More
After considering a few concept designs and running some tests, the company found that it is possible to put all the consoles, a high-end PC and two custom hard-line loops in its Genesis chassis. The machine also features USB 3.0 extension cables and an Ethernet switch.
The Xbox One X, PS4 Pro Nintendo Switch and PC are powered by a single 1,000W power supply unit. When such powerful gaming machines are stitched together, one thing that will be in abundance is heat. To offset this, the big PC has a custom cooling system.
"The finished Big O features a PC, Xbox One X, and PlayStation 4 Pro cooled by a custom Cryogenic hard line liquid cooling system controlled by the PC," the company says.
To make the PC look attractive, the liquid cooling tube for the PS4 Pro and Xbox One X are colored to match the brands' aesthetics. Nintendo Switch fans will be happy to know that the cooling block for the PC's graphics card, the power supply's cables and CPU is colored in Nintendo's signature red.
In addition to the cooling systems, Origin has replaced the standard drives that come with the PS4 Pro and Xbox One X. Both now feature new 2 TB solid-state drives. There is no change in Nintendo Switch, and it has been fitted by installing a Switch dock in the PC's case. The Nintendo Switch dock is accessible by opening a front panel. Like a normal dock, one can easily remove the console. This implementation is line with the nature of the console because unlike the Xbox One and PS4 Pro, gamers will want to take the Switch with them.
Even though Origin's Big O gaming PC will be a dream come true for any gamer, the company is not putting it up for sale. This machine is just a proof of concept and has been developed to celebrate the company's tenth birthday.
"Any company can build a PC, but few can build a custom gaming PC worthy of playing the latest games," Origin said. "A real gaming PC must be focused on Customization, Service, Gaming, and Technology. This is Origin PC's specialty."
Another possible reason the company is not putting it up for sale is because it would cost a fortune to buy such a machine. Although the machine is not available for sale, you can still see it in action via a YouTube video uploaded by Unbox Therapy.
In other gaming news, Nintendo now looks very determined to give the Switch a makeover. The company unveiled the handheld-only Switch Lite a couple of weeks ago, a new model with improved battery life is coming next month, and the Joy-Cons are getting new colors.
In addition to these changes, the Japanese company also announced a new Disney-themed Switch bundle for Japan. This new version ties into Disney's Tsum-Tsum franchise and promotes an upcoming game called Tsum-Tsum Festival. Tsum-Tsum Festival, which will be released on Oct. 10, includes Switch-exclusive minigames and the ability to play the regular Tsum-Tsum mobile game by holding the Switch vertically.
This new Switch bundle includes a patterned dock with Tsum-Tsum characters. The pink and purple Joy-Cons have been decorated similarly. Moreover, the Switch model that comes with the bundle is the new one with improved battery life.
Releasing in Japan on Oct. 10, the game will cost 36,080 yen ($333). As of now, there is no information on the release of the game outside Japan. The Disney-themed console is now available for pre-order.
Updated on