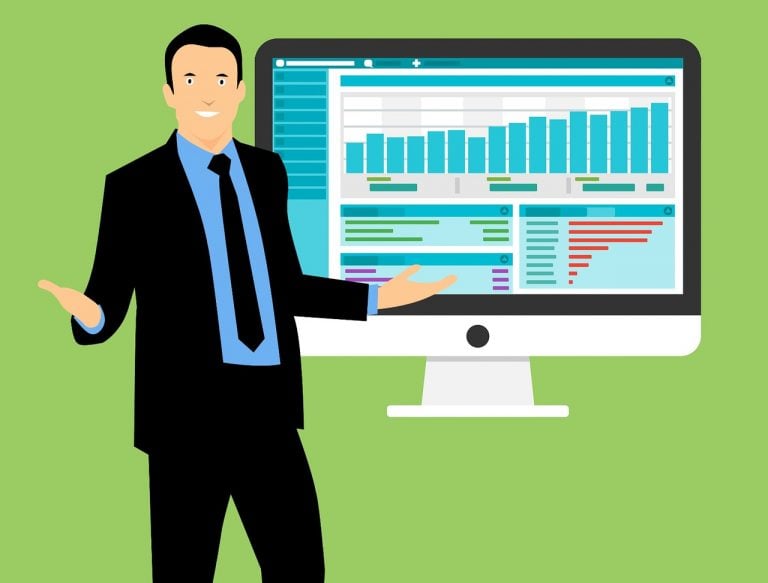 Logos LP commentary for the month of July 2019, titled, "The Disciplined Pursuit of Less."
Stocks fell from all-time highs on Friday after the release of stronger jobs data dampened hope for easier Federal Reserve monetary policy.
Q2 hedge fund letters, conference, scoops etc
Benjamin Graham GEICO Buy Was Just A Simple Value Play
Was Ben Graham's big purchase of GEICO shares actually a value investment? Perhaps it was contrary to what many believe. "In 1948, we made our GEICO investment and from then on, we seemed to be very brilliant people." -- Benjamin Graham, 1976 Both Benjamin Graham and Warren Buffett can attribute a large part of their Read More
Despite Friday's losses, the major indexes posted solid weekly gains. The Dow and S&P 500 rose more than 1% each this week while the Nasdaq gained nearly 2%. Stocks also posted all-time highs on Wednesday.
The U.S. economy added 224,000 jobs in June. Economists had forecast the U.S. added 165,000 jobs in June, after a stunningly low 75,000 jobs were created in May, according to Dow Jones.
Our Take
Summer is upon us and the market has so far continued to reward the bulls after what has been a great first half of the year. In fact, we just witnessed the best June for the S&P since 1955. Pretty impressive given the noise we heard from the "Sell in May crowd". The latest market high was the 210th for the S&P 500 since 2013. Funnily enough, for those paying attention, every one of them was called THE top…
Having said that, we are finding it more difficult than ever to find fairly/under priced assets of ANY kind. Looking across public, private, alternative and real estate markets we see little opportunity for outsized returns moving forward.
The balance of probabilities is beginning to tilt to the downside rather than to the upside as most of the silver bullets have been fired: tax cuts, rate cuts, accomodative monetary policy, share buybacks and animal spirits. What drives earnings higher and further multiple expansion we are beginning to become unsure...at the end of the day as Michael Batnick has recently reminded us the last 10 years have been the best ten ever for U.S. stocks: "Can this bull market continue? Yes, of course. It's already gone on longer than many people thought it would, myself included. But is it likely to be as strong as it was over the last ten years? No, almost certainly not."
In other news our CIO Peter was featured on MOI Global to discuss Zscaler.
Musings
Last month I took a much needed week off and early into my European vacation, something startling occurred: my cellphone vanished. As someone typically attached to their phone, as a "necessary work evil", my initial reaction was panic.
How was I to know what was going on without my notifications? How would I be aware of the "newsworthy" developments as they transpired? How were my clients to reach me on a whim? How would I be able to react with immediacy and urgency upon notification? How would I be privy to my professional network's latest career "humble brags" on LinkedIn? And of course (I'll admit it), how would I be able to observe what my "friends" on Instagram were up to?
I saw my options as two-fold: 1) get a new phone 2) spend my week of vacation without a phone and use my laptop which I had with me to periodically check emails
After a bit of deliberation, looking out over the Mediteranean, I decided to choose option 2. I found the first day without my phone hard. I became acutely aware of the habit I had built up which many of us seem to share: the urge to reach for my phone. I felt it on numerous occasions. At times precipitated by seeing my friends reaching for/looking at their cell phones and at other times simply a habit in which I would feel myself reaching for my phone only to find nothing to grasp.
As the days rolled by, the habit began to fade. Instead of yearning for my phone seeing others on theirs, I began feeling more intimately connected with the present moment. Riding in a taxi became about observing the beauty of the scenery as it flashed by and laying on the beach became about reflecting on my life, rather than scrolling through emails, reading the news or worse scrolling through curated images and videos of other people's lives.
What I learnt in my week without a phone was the following equation:
No phone = less noise = more presence in the moment = more clarity. 
This isn't to say I didn't get a phone when I returned from my vacation, but it is to say that my experience brought to my attention what Greg McKeown has dubbed "the clarity paradox".
The clarity paradox can be summed up in four phases:
Phase 1: When we really have clarity of purpose, it leads to success.
Phase 2: When we have success, it leads to more options and opportunities.
Phase 3: When we have increased options and opportunities, it leads to diffused efforts.
Phase 4: Diffused efforts undermine the very clarity that led to our success in the first place.
Curiously, success can be a catalyst for failure. When we reach a certain level of success, we often then pursue more of it in an undisciplined way. We become attached and get side tracked. We get off course attracted by the allure of the "next opportunity" or "next thing".
What my cell phone experience opened my eyes to, of were phases 3 and 4 of the clarity paradox. Unenlightened about our phone's ability to clutter our minds with increased options and opportunities, we often allow our attention to be diffused at best, or completely monopolized at worst.
It's no surprise to me that in a recent article on CNBC, the biggest complaint millennials had about their lives is: "I have too many choices and I can't decide what to do. What if I make the wrong choice?".
When faced with too many choices: 
Quality of decision making goes down
Satisfaction with choices goes down 
Decision paralysis sets in and no choice is made at all 
Now home with a new phone, armed with a more enlightened understanding of its impact on my psyche, I've resolved to do things a bit differently in my personal and professional life, to engage in the "disciplined pursuit of less":
Remove clutter by narrowing focus:  If you don't absolutely love something then eliminate it. Don't settle for good opportunities, focus on great ones which sit at the intersection between: your talents, what the world needs more of and what you are passionate about.
Ask what is essential and eliminate the rest: We naturally gravitate towards clutter and attachment, we hoard, we suffer from loss aversion, the sunk cost fallacy and the endowment effect ie. we value an item more once we own it and we make the things we are attached to a part of our identities. We prefer to hold onto people, places, things and investments rather than let them go. If we can instead ask "is this necessary?" we will quickly realize most things aren't. Remove them. Want to try something new? Get rid of something old first.
Practice self-awareness and equanimity: This is the most important factor in attaining and maintaining clarity. Make a habit of looking in the proverbial "mirror" and asking "who am I?" What is important to me right now? How do I feel about my current situation? We as humans suffer from attachment which refers to the unrelenting drive to succeed, to acquire, to compete, to control, and to the inability to let go. Without the things we attach to, our views of ourselves become unacceptable, as if the house, the car, the job title, the watch or the fancy friends make us worthy and enhances our self esteem and position in the world. On the other hand equanimity refers to the ability to accept what is without resistance. When you resist, not only do you suffer but you also perpetuate suffering. The reality is that when you resist, suffering persists. Resisting what arises internally causes concentration, clarity and equanimity to decrease and as they decrease, suffering increases. Lost the promotion? Couldn't afford the new watch? Startup has collapsed? Practicing equanimity and non-attachment allows us to avoid suffering and maintain clarity. This isn't to suggest a passive or indifferent attitude. It is instead to embrace "a gentle matter of factness" with your sensory experience. "Equanimity" means balance; and in practical terms means "don't fight with yourself" accept people and situations for what they are not as you wish they were. 
Whether as an organization or as an individual the ability to establish and maintain clarity will have an enormous impact on whether outcomes will be positive or negative. Purposefully having the courage to address "the undisciplined pursuit of more" by practicing "the disciplined pursuit of less" will differentiate your outcomes from the crowd, whether you throw your cellphone to the wind or not.
Charts of the Month
The current expansion has just tied the 1990s' expansion for the longest in history, and then anything after that will be a record. Good news, but the recovery has also been the weakest.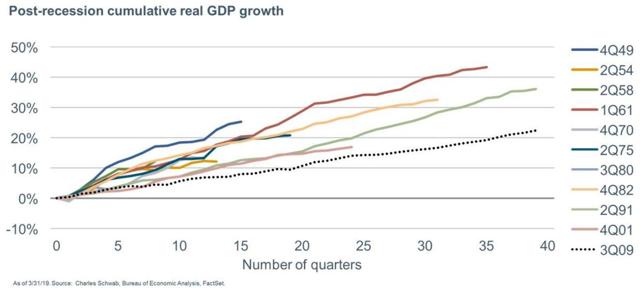 Monthly data from the Conference Board showed that the leading versus coincident indicator ratio was down slightly on the month.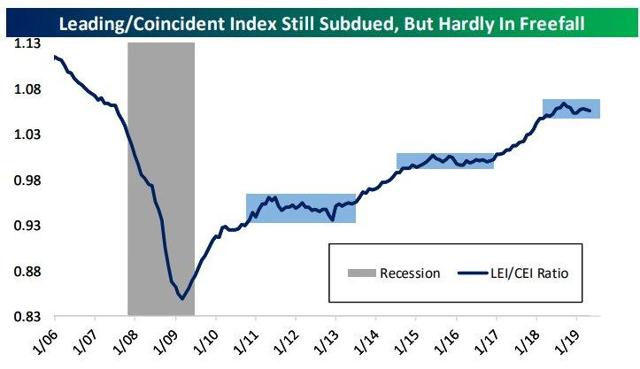 Household debt in the USA may be at record levels yet household debt as a percentage of personal income is at a 40 year low.

Logos LP June 2019 Performance
June 2019 Return: 5.57%
2019 YTD (June) Return: 25.35%
Trailing Twelve Month Return: 3.25%
Compound Annual Growth Rate (CAGR) since inception March 26, 2014: +15.31%
Thought of the Month
"An intense love of solitude, distaste for involvement in worldly affairs, persistence in knowing the Self and awareness of the goal of knowing-all this is called true knowledge." -The Bhagavad Gita
Articles and Ideas of Interest
Missed a Post? Here's the Last 5:
These Halcyon Days
Stocks Have Become Cheaper Than 4 Years Ago
Get Out or Go All In?
Can God Beat Dollar Cost Averaging?
2018 Meltdown and What to Think of 2019?