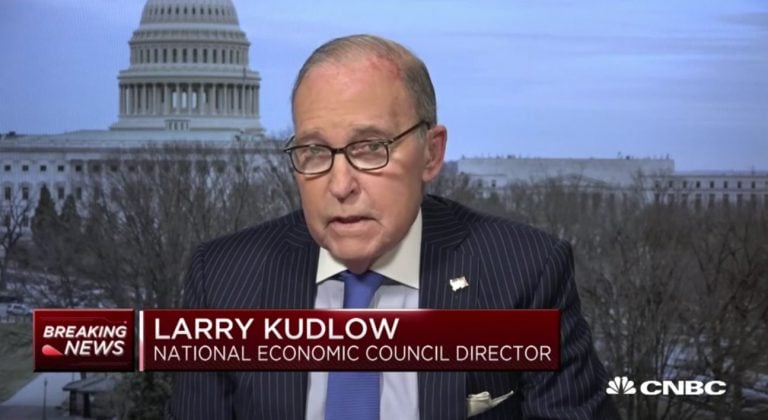 First On CNBC: CNBC Transcript: National Economic Council Director Larry Kudlow Speaks with CNBC's "Squawk on the Street" Today
WHEN: Today, Friday, July 26, 2019
WHERE: CNBC's "Squawk on the Street"
Interview With Joe Koster Of Boyles Asset Management [Part One]
This is this first part of an interview with Joe Koster of Boyles Asset Management, part of ValueWalk's new, exclusive interview series. Throughout this series, we are publishing weekly interviews with up-and-coming value-oriented hedge fund managers. You can find links to the first two interviews below: Interview With Scott Miller Of Greenhaven Road Capital [Part Read More
The following is the unofficial transcript of a FIRST ON CNBC interview with National Economic Council Director Larry Kudlow on CNBC's "Squawk on the Street" (M-F 9AM – 11AM) today, Friday, July 26th. The following is a link to video of the interview on CNBC.com:
Q2 hedge fund letters, conference, scoops etc
Economic advisor Larry Kudlow on the economy and GDP growth
All references must be sourced to CNBC.
SARA EISEN: Let's get back to the economy, though, and that GDP number out this morning. U.S. economy, growing at a healthy clip in the second quarter. Consumer spending did offset a decline in business investment. And joining us now, first on CNBC, President Trump's top economic advisor, Director of National Economic Council Larry Kudlow. Welcome back, Larry. Nice to see you.
LARRY KUDLOW: Thank you, Sara. Appreciate it.
SARA EISEN: So, 2.% growth for the second quarter. It's a step down from the 3% we saw first quarter, but better than expected. How are you guys feeling about it?
LARRY KUDLOW: Well, pretty good, actually. Consumers were the hero. They had explosive economic growth. I guess better than 4% at an annual rate. We lost some ground. We had an inventory correction, which took a point off. That probably bodes very well for the seconds half. We are seeing core CAPEX orders really starting to steam up in May and June. That's great. Retail sales also May and June. That's awfully good. Look, I think, you know, to keep this thing going in the face of severe monetary tightening in 2017 and '18, seven rate hikes, I think it's almost a miracle that the economy is growing as rapidly as it is. It's growing faster, way above the prior trend line, and I think President Trump's policies of tax cuts and deregulation and energy opening and trade reform are having a huge impact. You know, this has not been easy with seven rate hikes.
SARA EISEN: So, that may very well be true, Larry, but I think a lot of people would say it's a miracle we are growing this fast, given President Trump's trade policies. I mean, you call them reform. We saw oy show up. Exports were down. That was a drag. Business investment was down. That was a drag. Now, you have to admit that is weighing on parts of our economy?
LARRY KUDLOW: Well, you know, I don't think this trade factor is near supported as a monetary factor. I mean, the global economy is very slow. So, that would help explain the slowdown in exports. So, I get that. By the way, we have a U.S. MCA NAFTA 2.0 Treaty that's pending. If we get that through, it will add half a point of GDP per year, with about 180,000 jobs. That's what our estimates and the International Trade Commission – so, that's actually, from trade reform, going to be a huge growth factor. We're talking to China. Hopefully, those talks will continue. Secretary Mnuchin, Ambassador Lighthizer are going to Shanghai, I believe next week. That seems to be in play. We will see if they are going to buy the kind of agriculture goods that we have asked them to buy and they have suggested they would buy. That would all be very helpful. But, no, look, getting trade barriers down is absolutely essential. That's President Trump's policy. And if they do, we have such a productive economy, with low tax rates and regulations for business, we will knock the cover-off the ball in terms of exports. And so, job creation -- you know, job creation is part of the consumer story. I don't know if people kind of forget that. Wages are rising. Real disposable income rising. Unemployment is low across the board. I mean, I think it's a pretty good picture. And I'm hoping monetary policy makes the shift that the markets are expecting.
CARL QUINTANILLA: Larry, the revisions to GDP that were lower for last year specifically, does it raise more concern about whether the tax cut gave us the broad macro payoff we were looking for?
LARRY KUDLOW: Well, look, on the yearly basis, 2017-2018, 2.7%. That's a pretty good number. It's almost 3—I know it falls short, but it's almost 3%. And again, we had to suffer through the severe monetary tightening. I went back and looked at the revisions the prior eight years and the last administration, 1.9%. So, we're growing at about a 40, 42% faster pace than that trend line. So, I think you can see the clear improvement going on. And also, let me just add to that, productivity numbers are now trending above 2%. That's a terrific thing. We haven't seen that in many, many years. So, no, I think we are in good shape as, again, we had a lot of monetary headwinds. Hopefully, that's going to be remedied. But I think the economy is really poised for a strong second half as we cross over into the third quarter. As I said, the durable goods report yesterday, core CAPEX very strong the last two months. Retail sales very strong. That looks like we are going to pick up a lot of speed in the second half of this year.
DAVID FABER: Yeah, no doubt the consumers seems to be quite strong, Larry. Wanted to move to China. We'll mention a Tweet from the President, because he just came out and said that Apple will not be given tariff waivers or relief from Mac Pro parts that are made in China. Make them in the USA, no tariffs. Larry, how do things stand right now between the U.S. and China in terms of the negotiations?
LARRY KUDLOW: Well, let's see. They're-- again, as I said, they are going to meet next week in Shanghai. Secretary Mnuchin, Ambassador Lighthizer. I think—I wouldn't expect any grand deal. I think talking to our negotiators, they are going to kind of reset the stage and hopefully, go back to where the talks left off last May. We were doing well. No deal yet, but still on the structural issues regarding IP theft, forced technology, cyber interference, trade and non-trade tariff barriers and so forth, certainly, the enforcement mechanisms. But, if we were 90% there with 10% to go, I call it the seven-yard line, I think our negotiators want to go back to that spot. And, again, let me repeat the very, very important note that we anticipate, we strongly expect the Chinese to follow through goodwill and just helping the trade balance with large-scale purchases of U.S. agriculture products and services. So, you know, I think --
DAVID FABER: Larry, have they given any –
LARRY KUDLOW: Sorry?
DAVID FABER: Have they given any indication, Larry, the Chinese, that they are willing to go back to that place that you just discussed where they will consider yet again those key concessions?
LARRY KUDLOW: I'm going to let those talks unfold next week. I'm not going to predict. I'm not going to evaluate. I want to see how it goes. I have been engaged in this issue for a year and a half up and down here. Sometimes what you hope happens, doesn't happen. Sometimes your greatest fears are not realized. I am going to play this from the optimistic side because it's inbred in my body and soul. But, we will see how those fellows do. We will see.
SARA EISEN: Can you give us any sense, Larry, of the likelihood of more tariffs, either on Chinese imports, on European auto imports? I mean, it's kind of an administration where that could happen at any time. So, what would you tell market participants about the likelihood of more tariffs coming?
LARRY KUDLOW: Well, look, the President—again, the basic thrust of his policy is to lower trade barriers. That's always been the basis of his policy. In an ideal world, zero tariffs, zero non-tariff barriers, zero subsidies. He has, as you know, been willing to negotiate on a number of fronts, including tariffs where necessary. He is not afraid to use tariffs as part of the negotiations. It's part of the discussions. Most of that economic burden, by the way, in our judgment has fallen on China. Now, I'm not going to predict the future. I think, again, in a common-sense way, if the U.S./China talks go well, then we would not expect new tariffs. If they do not go well, the President has indicated that the tariff tool is at his disposal and he might use it. I say might. Depends on how the talks go. Regarding auto tariffs in Europe, all of that is on hold for a good many months. But I will say one thing about Europe: we are very concerned that our friends in France are going to impose a digital tax on the big American tech companies. We think that's absolutely wrong. Treasury Secretary Mnuchin is engaged in negotiations through the OECD to solve the issue of taxes and the new economy and the new tech economy and so forth. We are unhappy that France is going to go ahead with some kind of digital tax, and Ambassador Lighthizer has begun, at the President's request, he has begun a 301 Action. We filed the paperwork. Hearings, I believe, will be held in august and then it will be up to the President to see if he wants to follow through with retaliation. I think the digital tax hike in France is a very, very big mistake. I'm sorry to see it.
CARL QUINTANILLA: Finally, Larry, deficit's up. Debt limit is up. Government spending is up. The sequester has been neutered. When do we hear about fiscal discipline, fiscal responsibility, and entitlement reform which you were talking about as a 2019 story last year?
LARRY KUDLOW: Well, actually, there was some confusion about that. But, let's put that aside. Look, we never seem to get enough spending restraint, but the deal that was passed gets the debt ceiling and any default talk off the table. That's terrific. We continue to fund our defense side. That is vitally, vitally important. And there is nothing in that deal that would preclude the President's policies regarding border security and related matters. So, it wasn't perfect, but at least it's a step in some good directions for our policies. You know, let's see. The deficit in 2019 and 2020 I think is estimated about 4.5% of GDP. I think that's a manageable number. And I don't think it's interfering -- you take a look at the bond market, David, the ten-year is, what, hovering around 2%. So, there is no fear and loathing with respect to all of that. Look, once upon a time, oh, about 35 plus years ago, I worked for a President who was determined to increase defense spending for national security and lower tax rates for economic growth. Here I am 35 years later, some odd, working for a President who wants to shore up our defenses and provide important incentives for economic growth. It worked well for Reagan. It's working well for Trump. I say we stay the course.
SARA EISEN: What's not working well for Trump, according to him, is the strength of the U.S. dollar, Larry. Do we have a weak dollar policy right now? And if so, how far are you willing to take that to please the President and get the dollar down ahead of election?
LARRY KUDLOW: Well, I don't agree with your assertion that the President wants a weak dollar. I don't agree with that.
SARA EISEN: He Tweets about it all the time.
LARRY KUDLOW: You know, he Tweeted last week that the dollar is the dominant currency in the world and he wants it to stay that way. What the President, and I think this might be your misunderstanding, what the President is concerned about is the foreign countries may be manipulating their own currencies lower to try to gain some short-term temporary trade advantage. That, we do not like. But it's not a question of bringing down the dollar. And I will say this. Just in the past week we had a meeting with the President and the economic principals and we have ruled out any currency intervention. So, I just don't agree with your assertion. The steady, reliable, dependable dollar is attracting money from all over the world. And that, along with our incentive policies on taxes and regulations and our hope for trade barrier reduction, that's bringing money to the United States in bundles. We are the hottest economy in the world, and I expect us to stay that way.
SARA EISEN: I mean, thanks for clarifying, Larry, because there are a lot of research notes out there wondering and speculating whether you guys – the Treasury is going to direct the Fed to intervene in the currency market because the President has ramped up his complaints about the value of the dollar. I am not talking about the stability or whether the dollar is the reserve currency. But clearly, he seems bothered by the fact that other countries are doing more stimulus, which is weakening their currencies relative to ours.
LARRY KUDLOW: Well, we don't want that kind of manipulation. We do not want that.
SARA EISEN: It's not manipulation. Their economies are growing slower.
LARRY KUDLOW: Well perhaps so. But in some cases, we think there is manipulation. But I will simply repeat: the President's – his Tweet was the dollar is the dominant currency in the world. We want it to stay that way. And I will also reiterate my point that we have, as a matter of policy, ruled out currency intervention.
SARA EISEN: Larry Kudlow, thank you very much for joining us.
LARRY KUDLOW: Thank you appreciate it.
SARA EISEN: From the White House.