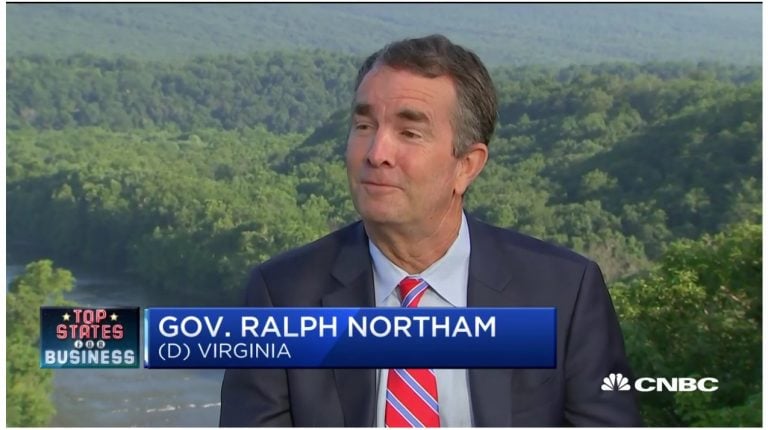 CNBC Transcript: Virginia Governor Ralph Northam Speaks With CNBC Special Correspondent Scott Cohn Today For CNBC's Thirteenth Annual America's Top States For Business
WHEN: Today, Wednesday, July 10th
WHERE: CNBC's "Squawk Box"
Robinhood 2021 Conference: Cathie Wood discusses her investment process with Lee Ainslie [Exclusive]
ARK Invest is known for targeting high-growth technology companies, with one of its most recent additions being DraftKings. In an interview with Maverick's Lee Ainslie at the Robinhood Investors Conference this week, Cathie Wood of ARK Invest discussed the firm's process and updated its views on some positions, including Tesla. Q1 2021 hedge fund letters, Read More
Q2 hedge fund letters, conference, scoops etc
Following is the unofficial transcript of a CNBC interview with Virginia Governor Ralph Northam on CNBC's "Squawk Box" (M-F, 6AM-9AM ET) today, Wednesday, July 10th. Following is a link to the video on CNBC.com:
Here's America's Top State for Business in 2019
To learn more about America's Top States for Business, go to: topstates.cnbc.com.
All references must be sourced to CNBC.
Scott Cohn: Ralph Northam is the 73rd governor of the commonwealth of Virginia. We thank you very much for being with us today and congratulations.
Governor Ralph Northam: absolutely. Thank you, Scott. This is an exciting day for Virginia. You know we want to make Virginia a place for families who want to come and live and work and raise  their families and children and enjoy our great quality of life. What a beautiful morning this is on the Shenandoah river. What a back drop. And you know, one of the things you didn't mention is this is the 50th year anniversary of "Virginia is for lovers" and you can see why Virginia is for lovers.
Cohn: that's right. That famous tourism slogan.
Governor Northam: yes, sir.
Cohn: this is the first time that you have been top state since 2011. It always seems to coincide with when defense spending is up.
Governor Northam: yes.
Cohn: that's been a theme in this state for a long time that there may be too much reliance on defense spending. What are you doing about that?
Governor Northam: you know, we have always relied on our military and government contracting and we always will, but especially during the sequestration – the government shutdown – we realized that we really have to diversify our economy. And so looking at high-tech jobs, looking at biotech jobs – obviously amazon chose to come to northern Virginia, which was a big win for Virginia, but to diversify the economy has been a top priority of ours.
Cohn: it is an expensive state, we talked about that as well. High cost of living, high cost of doing business. Is there anything you can do about that or is that just the nature of the beast?
Governor Northam: absolutely. I think you can start with education and workforce training. We have great colleges and universities in Virginia, actually we are ranked number one for our colleges and universities. We have frozen tuition for those. We have 23 great community colleges. We have a plan that we're getting ready to roll out called the g3 – get skilled, get a job and give back – which will allow Virginians to go to our community colleges without incurring any debt. Putting a lot more emphasis on vocational and technical training at the high school level. Really bringing skills to jobs for the 21st century workforce. Health care, obviously, is very important. Last year, we were able to expand health care to up to 400,000 working Virginians so that was a big deal for Virginia. And affordable housing is something else that we have really worked on and we put a historic amount of funding into our trust fund this year so that people could afford to live in Virginia.
Cohn: you talked about at the outset making this a place where families want to come, where workers want to come. You had a rough start to this year, governor.
Governor Northam: yes.
Cohn: your whole top leadership in the state had some of a rough start to this year. And I don't want to necessarily relitigate all of that, but if somebody is looking to come to Virginia and they see that there were offensive pictures in medical school yearbooks in the '80s. It's not a long time ago.
Governor Northam: yes.
Cohn: what's going on with this state's past? What have you learned out of all of this? What should people know about whether Virginia is an inclusive state?
Governor Northam: absolutely, the occurrences in February hurt Virginians. Confused Virginians. I regret that. We didn't handle it as well as we should have. I have traveled around Virginia, I have listened and learned a lot. I still have a lot to learn, but the more I know, the more I can do. And as we sit here today, Scott, there are a number of inequities in our society to include access to health care, access to  education, access to the business environment, access to the voting booth. So we are really focusing on those inequities and our cabinet members are addressing those. But you know, I want to let this country know and certainly Virginians know that we are an inclusive state. We welcome people to the commonwealth of Virginia. Our lights are on, our doors are open. We're not only open for business, but we're doing business in Virginia.
Cohn: so it's easy to say that you're an inclusive state and you said you are going to dedicate the rest of your term to equality.
Governor Northam: absolutely.
Cohn: what specifically have you done in the five months or so since all of that blew up?
Governor Northam: well, last week as an example, we signed an executive order to level the playing field for small minority and women owned businesses. That's something that, you know, small businesses believe it or not, are about 97% of our economy. They're the backbone of our economy. So that was a real step in the right direction. A couple weeks ago, we were able to on July 1 give drivers their licenses back, over 600,000 Virginians who couldn't drive because they couldn't pay their court fines and fees. We're looking at the infant and maternal mortality rates in Virginia. So a lot of different inequities are being addressed. And as you said, I am committed to doing that for the next two and a half years.
Cohn: and now you have to top yourself as top state for business.
Governor Northam: that's right.
Cohn: Governor Ralph Northam, we thank you very much for being with us and congratulations again. And let you know that you can  see where your state ranks, see our whole study right now at topstates.cnbc.com. We'll have a lot more about this state and the other states and the bottom state, all throughout the day.