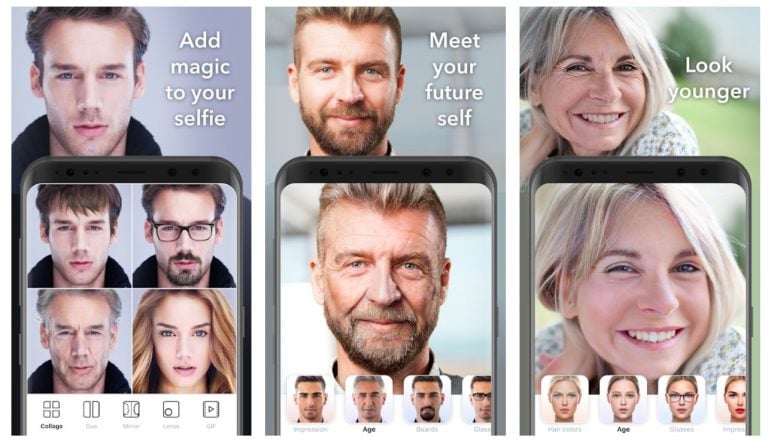 FaceApp has done an excellent job at marketing itself over the last couple of years, most recently with the viral #AgeChallenge. Social media filled up with photos posted by people using one of the app's filters to make themselves appear much older. However, whenever a large volume of photos is involved, privacy is always a concern, and FaceApp found itself in the middle of a new controversy over concerns about whether it was storing all those photos users uploaded to its servers. According to FaceApp, it's not uploading photos to its servers, but that statement hasn't been enough to calm everyone's fears.
The issued started with concerns that the Russian startup was uploading photos to the cloud without making it clear that the photos were not being processed directly on the device. In a statement sent to TechCrunch, the company confirmed that most of the photo processing actually happens in the cloud rather than on users' devices.
The statement also says that FaceApp is not uploading photos that haven't specifically been selected for processing. In other words, the app isn't just uploading all the photos from users' devices, as some had feared. Only those specifically selected for processing by the user are uploaded. FaceApp also said it "might" store photos on its servers for a short time, but most photos are deleted within 48 hours of upload.
Jim Chanos Unveils Lastest Short As Fund Manager Bets On Further Market Declines
Jim Chanos has a new short target in his sights. Earlier this week, the hedge fund manager disclosed that he is betting against "legacy" data centers that face growing competition from the trio of technology giants, which have previously been their biggest customers. The fund manager, who is best known for his winning bet against Read More
Jane Wong, known for her tweets on unreleased app features and related tidbits, took a look at FaceApp's code and confirmed that she didn't see anything very "fishy" in it. That seems to back up the claim about FaceApp not uploading all photos. However, she did have one criticism:
I am not seeing much fishy in FaceApp

Photos are uploaded to FaceApp's servers on AWS w/ authorization. Not much info is being sent to FaceApp's servers other than user metrics (e.g. ui interactions)

I just wish there's an option for users to delete their photos from the server

— Jane Manchun Wong (@wongmjane) July 17, 2019
Sen. Chuck Schumer emphasized the fact that FaceApp is based in Russia in a letter he wrote to the FBI and Federal Trade Commission. He claimed that users "are required to provide full, irrevocable access to their personal photos & data" and called for an investigation. He posted the text of his letter on Twitter:
BIG: Share if you used #FaceApp:

The @FBI & @FTC must look into the national security & privacy risks now

Because millions of Americans have used it

It's owned by a Russia-based company

And users are required to provide full, irrevocable access to their personal photos & data pic.twitter.com/cejLLwBQcr

— Chuck Schumer (@SenSchumer) July 18, 2019
Schumer said he's concerned that FaceApp may present "national security and privacy risks for millions of U.S. citizens," especially due to the company's location in Russia.
CNBC notes that while FaceApp does say it owns photos after they are uploaded but adds that Snapchat and other companies have similar terms for photos and videos posted using their apps. The biggest concern at this time is—as Wong pointed out—that there's no way to tell FaceApp to delete the photos you upload.
Updated on