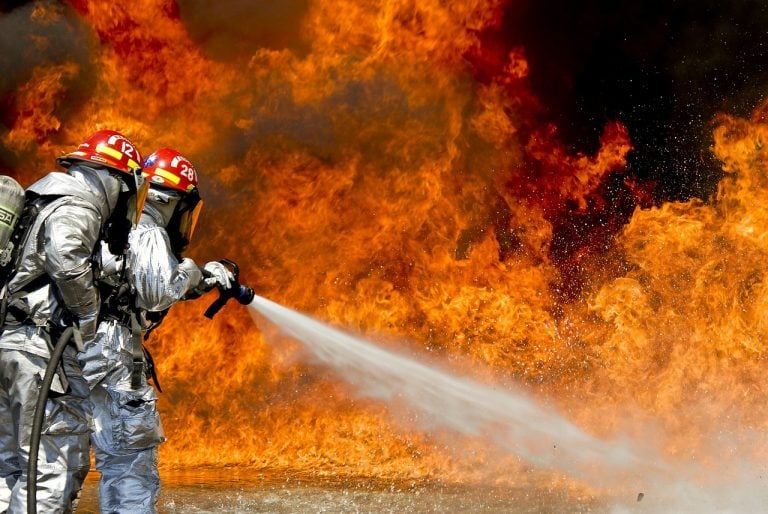 An Exxon oil plant is on fire in Baytown, Texas. The company said the fire is occurring at its Baytown Olefins Plant, and its fire team is working to put it out. In a statement, Exon said its first priority is the safety of employees, contractors and a community. The company's industrial hygiene staff has been monitoring the air quality at the site and along the fence line, and it is cooperating with regulators.

The Exxon oil plant on fire produces about 560,000 barrels of oil daily, according to Reuters. Baytown is home to about 75,000 people.
Austin, Texas TV station KXAN reports that smoke and flames are pouring out of the Exon oil plant that's on fire. Baytown officials have asked residents of the area to shelter in place, close all doors and windows, and turn off air conditioning as a precaution due to the fumes caused by the fire. The fire broke out before 11 a.m. local time, and the shelter-in-place call came from the city at around 11:35. Baytown officials tweeted a map to show city residents where the shelter-in-place order is in effect.
How A Weakening PE Market Serves As Another Sign Of A Weakening Economy
Amid the turmoil in the public markets and the staggering macroeconomic environment, it should come as no surprise that the private markets are also struggling. In fact, there are some important links between private equity and the current economic environment. A closer look at PE reveals that the industry often serves as a leading indicator Read More
The City of Baytown is issuing a precautionary order to Shelter in Place due to an emergency at ExxonMobil Baytown Area. Areas west of ExxonMobil should Shelter In Place. See the map below. Please RT. pic.twitter.com/WWXOg3RpNf

— City of Baytown, TX (@CityofBaytown) July 31, 2019
Officials said the part of the oil plant that caught fire was the division which contains polypropylene material.
Houston TV channel KPRC reported that the same Exxon oil plant caught fire in March. However, at that time, evacuation and shelter-in-place orders were not issued. The company monitored air quality at the time of that fire as well and did not believe it posed any risk to the public. The substance that caught fire in March was gasoline.
Updated on