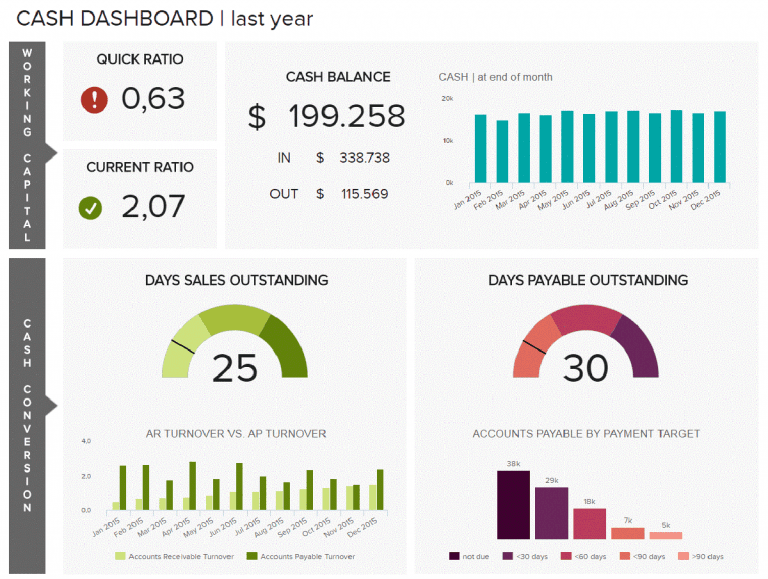 A finance dashboard is an indicator you turn to when you are in a financial or entrepreneurial journey. It gives you a fair idea whether you are headed in the right direction, ticking all the necessary boxes towards achieving your goals. Below is a discussion on some of the essentials you need to have in your financial dashboard.
Finalize Your Goals
Having clarity about your objectives can help you frame a very effective dashboard. This will be a straightforward vision about your goals, costs, revenue, and profits. Majority of the parameters are the ones that are lagging as it puts the previous quarter or month into perspective.
Seth Klarman Describes His Approach In Rare Harvard Interview
In a rare interview with Harvard Business School that was published online earlier this month, (it has since been taken down) value investor Seth Klarman spoke at length about his investment process, philosophy and the changes value investors have had to overcome during the past decade. Klarman's hedge fund, the Boston-based Baupost has one of Read More
Q1 hedge fund letters, conference, scoops etc
Make sure each metric of your finance dashboard is acquired from quantifiable data that you are monitoring. Make sure your dashboard has financial reports which can be analyzed deeply when the requirement arises. One of the notable observations on finance dashboards is that many of the business owners have lost faith in it. This is completely against the purpose of the dashboard. Make sure that the dashboard is based on proper accounting process, strict internal audits, and standard procedures. Accuracy is the key to the success of your dashboard and your business in the long run.
Choose The Important Metrics
Your dashboard should include the most relevant metrics for your business. They should give you a fair idea of your company's overall financial health. These vary depending on the type of organization. The common numbers included are revenue, profit, and cash flow. Ensure that your dashboard should include only important amounts of data. Besides, consider the audience that would be viewing the data. Interpretation should be given priority rather than summarizing the data.
Below you find a great example of a financial dashboard that focuses on key financial metrics like Quick Ratio, Current Ratio and Cash Balance.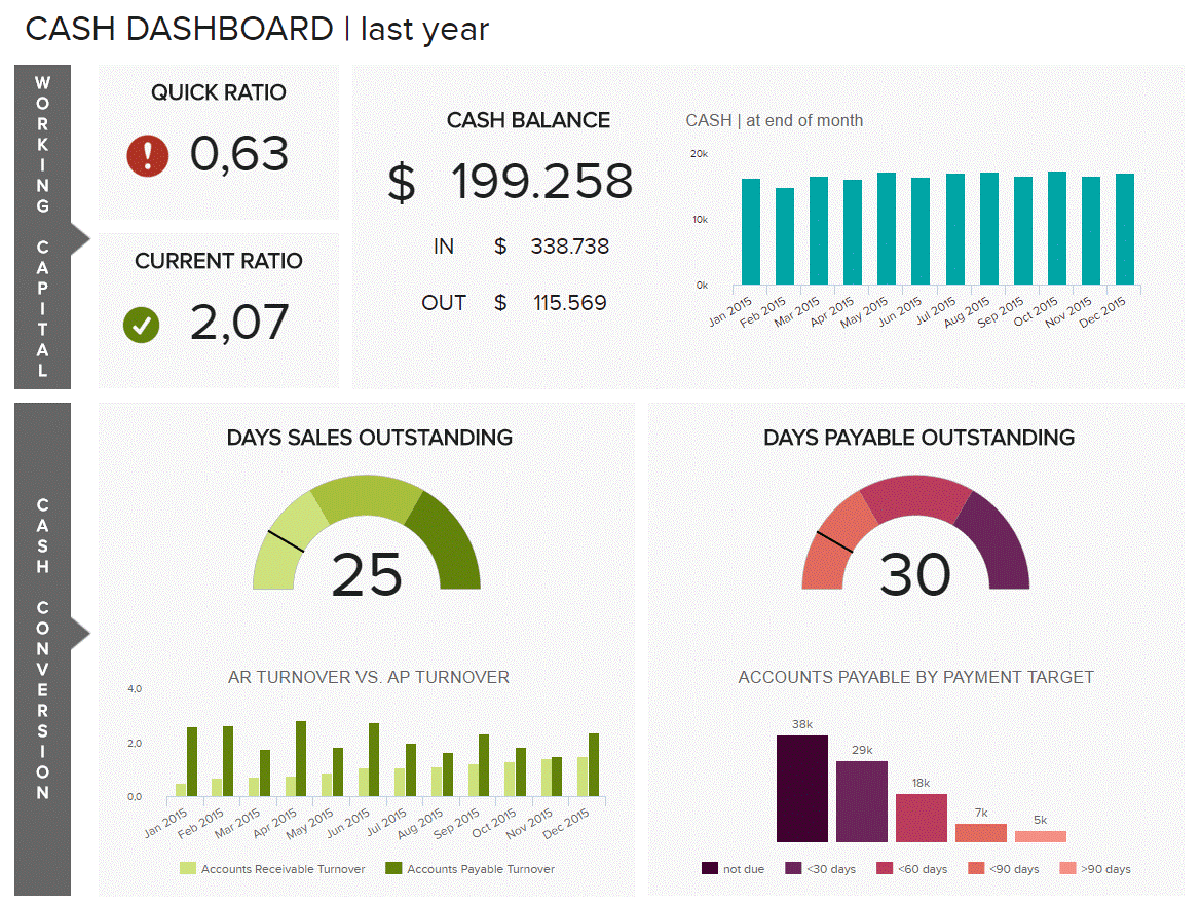 Source: datapine
Keep It Unique And Tailor Made
Businesses are not generic and similarly, your financial dashboard need not be. The metrics included and the interpretation should be customized for your company. This could include long or short term goals, stages of progress, and other key factors. This should be able to provide an answer to the most important questions concerning your company.
Since the purpose of the dashboard is to alert you regarding the most important metrics, it should be visually appealing. Ideally, a glance of your dashboard should take you to the most important priorities. In other words, the metrics should communicate with you. Charts are very effective in this regard. It is easier to understand the metrics when represented graphically instead of preparing a written draft.
An Action-Oriented Dashboard
The most useful dashboard should provide an insight into the key metrics while raising questions about the subsequent measures. These questions should be able to encourage follow-up measures. After all, the whole point of the dashboard is action in the right direction for the business. Hence, prepare reports that keep you one step ahead in your business needs and that keep you on track towards success.
Ideally, a financial dashboard should be prepared on a monthly or quarterly basis. Make sure you include the above features to come up with an effective dashboard.
Updated on