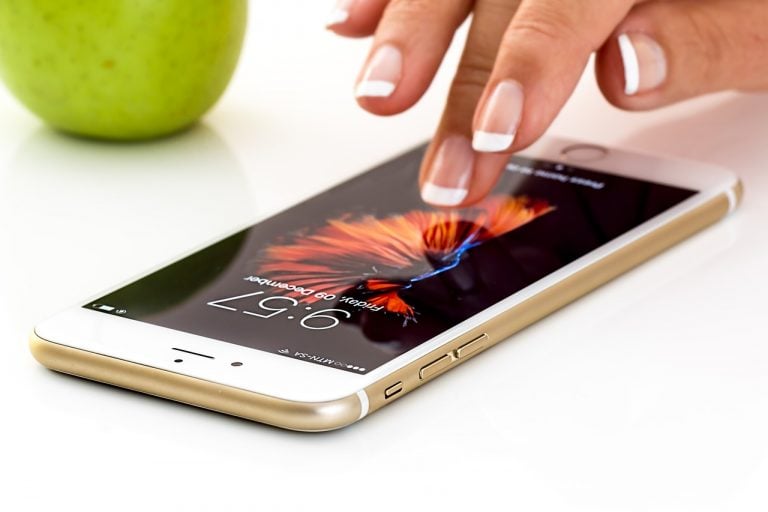 The 2019 iPhones are now just months away, and if what the rumors claim is true, there won't be much to get excited about. However, the 2020 and 2021 iPhones are expected to be much more exciting. In fact, we may even get a notch-less iPhone in 2020.

Citing an analyst at Credit Suisse, China Times claims Apple is planning an iPhone model without a notch or Face ID in 2020. Since there will be no notch, Apple will reportedly place the front camera under the display. The notch-less iPhone will also reportedly feature full-screen acoustic fingerprint authentication. It could be similar to Touch ID and would allow the user to touch anywhere on the iPhone's display.
As far as when other iPhone models will go notch-less, the analyst gives a timeline of 2021. By 2021, Apple will reportedly complete the transition to full-screen fingerprint authentication and under-screen front cameras. The news outlet also claims that Apple will use its own under-screen fingerprinting technology rather than using a third-party component.
Fund Manager Profile: Zhang Hui Of China's Southern Asset Management
Historically, the Chinese market has been relatively isolated from international investors, but much is changing there now, making China virtually impossible for the diversified investor to ignore. Earlier this year, CNBC pointed to signs that Chinese regulators may start easing up on their scrutiny of companies after months of clamping down on tech firms. That Read More
Credit Suisse's channel checks, which were presented at the MWC Shanghai exhibition recently, suggest Apple's screen suppliers are working on full-screen displays without cutouts, according to the Business Times. This also seems to point to a notch-less iPhone in 2020.
Trusted Apple analyst Ming-Chi Kuo also makes similar claims. In a new research note via Chinese website MyDrivers, the analyst notes that one of next year's iPhones will have a smaller front camera lens, resulting in a better screen-to-bezel ratio. This seems to suggest that although the notch will be there, it will be smaller and slimmer.
Further, Kuo predicts that Apple may also change the design of the handset. The analyst shared no details as to what design changes to expect, including if the changes will be related to the notch or to the overall form factor. It is also not clear if the smaller notch design will extend to all iPhone models next year or to just one. Kuo also claims that the rear-facing camera in the 2020 iPhones may have a seven-piece lens system.
Apple is expected to ramp up its iPhone lineup in 2020 to include three OLED models with screen sizes of 5.4 inches, 6.1 inches and 6.7 inches. There are also reports of Apple readying a fourth iPhone specifically for China with support for Touch ID. It is possible that this China-specific model is the same iPhone Kuo mentioned with a smaller notch. Removing the TrueDepth sensor, which is required by Face ID, will automatically result in a smaller notch.
Following a meeting with suppliers in Apple's Asian supply chain in May, Barclays also recently claimed that the 2020 iPhone models may feature acoustic fingerprint technology which will support full-screen Touch ID. Earlier this year, Apple supplier AMS also showcased under-screen ambient light and proximity sensors.
Moreover, Chinese smartphone makers such as Oppo and Xiaomi already showcased phones with under-screen front cameras. Samsung, on the other hand, has used circular and pill-shaped front camera cutouts to avoid the notch.
The notch has been a controversial feature since its launch with the iPhone X in 2017. Many felt that it hinders the smartphone experience and prevents an edge-to-edge display. Since the debut of the notch on smartphones, many have believed it is a temporary thing that smartphone makers will take away sooner or later.
Now the recent reports back such speculations. However, such reports and rumors must be taken with a grain of salt. For now, it seems highly unlikely that Apple will do away with Face ID. Earlier this week, Apple released an ad touting Face ID as a much better option than Touch ID. Thus, ditching Face ID in favor of Touch ID seems highly unlikely for now.
There are also rumors that Apple will launch four iPhone models in 2020. JPMorgan reported that Apple will launch three iPhones with OLED screens with screen sizes of 5.4 inches, 6.1 inches and 6.7 inches. These phones with OLED displays will reportedly have 5G connectivity and advanced 3D sensing camera technology. The firm reports that the fourth iPhone will have an iPhone 8-like design and be without 5G connectivity and an OLED display.
Updated on